These genius TikTok bikini hacks are perfect for summer
Buying new bikinis is SO last year. With these TikTok bikini hacks, it's all about stylishly repurposing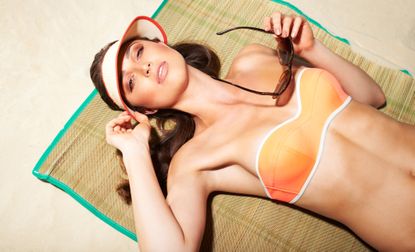 (Image credit: Getty)
Ready for sun, sand, and surf? TikTok bikini hacks have emerged across the platform just in time for your next beach outing, so plan accordingly.
(And grab a few extra towels while you're at it so you can attempt the TikTok Towel challenge after your dip.)
TikTok bikini hacks: one bikini, seven ways
Bathing suit stylist extraordinaire @madikahn offers seven different alternatives for a simple bikini top if you're keen on spicing up your look. Who says you have to go the traditional route? Take a look at the versatility below. (Yes, one of them includes the upside-down trend à la Kylie Jenner.)
@madikahn

It only takes 1 bikini #stylingtips #stylinghack #swimsuithack #fashiontiktoks #swimsuittop #stylehack #437 #437swimwear #fyp #437tiktok #haul #fyp

♬ Up - Cardi B
TikTok bikini hacks: repurposed bikini bottoms
Stylist Jordyn Megan has gone viral after blessing us with a life-changing bikini hack to help save the pennies. The Miami-based TikToker shared yet another game-changing style trick: this time it's how to reuse your old bikini bottoms to create a chic duo top. Cool, huh?
All you need to do is grab two pairs of old bikini bottoms—they can be any color and don't have to match. In fact, the look works better with clashing prints and colors. Just take each pair of bikini bottoms and fashion them into one half of a bikini top, as seen in the video below.
Gingham is taking over our wardrobes with a summer makeover
TikTok bikini hacks: add a sarong
We're down for the TikTok sarong obsession! These three-piece looks just scream "sophistication" if you ask us.
Whether you have a summer vacation booked or are merely looking for ways to jazz up your pre-loved pieces, these new swimwear ideas will help anyone kill it by the pool or your favorite beach. Which ones are you planning to try?
(Psst: this super-flattering bikini is the way to go no matter which style you opt for!)
Since December 2020, Kudzai has worked as a trainee journalist at FUTURE, writing about fashion, entertainment and beauty content for My Imperfect Life.

Kudzai previously worked as a freelance fashion wardrobe stylist, directing magazine photoshoots and coordinating the fashion direction of recording artists.

A fully qualified Journalism and Media graduate from De Mont Fort University, Kudzai graduated in the summer of 2020.