Emily in Paris' Lucas Bravo reveals the huge French cliche you might have missed
Did you pick up on this cliche when binging Emily in Paris?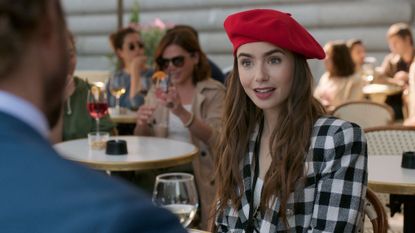 (Image credit: Netflix)
While we binged the entire first season weeks ago and can't wait for a second season of Emily in Paris to come out, it is still the topic of many of our conversations. Whether you loved it or hated it, one thing we can all agree on is that the show was full of French cliches (and left us itching for more shows like Emily in Paris).
In fact, there are so many we could probably make a drinking game out of it. However, out of the bunch, there was one French cliche even cast member Lucas Bravo, who plays Emily's neighbour Gabriel, admitted was super accurate.
Speaking to People, Bravo said: "For me the biggest cliché, so to speak - that actually is so true - is people smoking after the gym. It's so true.
"You know, 'Oh, after this big effort, the lungs are perfectly open and ready to receive some nicotine, so let's smoke a cigarette,'" he joked. "It is so French, and I was actually surprised that he [creator, Darren Star] put that in the show. It was really funny."
While some love the cliches, the hit Netflix series has also been critiqued for its portrayal of Paris. But Darren Star has since defended his show, calling it a "love letter to Paris."
"The first thing she is seeing is the clichés because it's from her point of view," he told The Hollywood Reporter. "I wanted to do a show that celebrated that part of Paris."
He added in another interview with Oprahmag.com that this will change as the show progresses, revealing that he is confident that a season 2 will be aired despite Netflix not having announced it yet. "In season 2, she's going to be more of a part of the fabric of the world she's living in. She'll be more of a resident of the city," he explained.
Well, we're sure you'll agree when we say we can't wait for the next season!
Sagal is a journalist, specialising in lifestyle, pop culture, fashion and beauty. She has written for a number of publications including Vogue, Glamour, Stylist, Evening Standard, Bustle, You Magazine, Dazed and Wonderland to name a few.