Shows like 'Emily in Paris': what to watch after season 2
Can't wait for more French fun? Shows like Emily in Paris will keep you busy until new episodes hit Netflix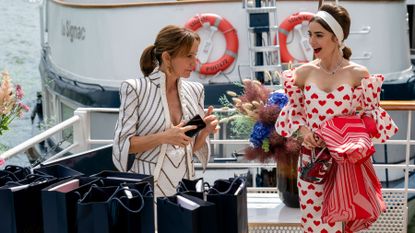 (Image credit: Stéphanie Branchu/Netflix © 2021)
While we wait for new episodes, shows like Emily in Paris will no doubt keep you occupied, especially the ones we've got in store for you.
If like us, you binged the entire first season in one weekend and then did the same again when season 2 dropped, we're here to help fill that empty hole in your TV schedule with some incredible shows that'll tie you over until that much-anticipated Emily in Paris season 3—or at least for the next few months. You can thank us later!
---
---
Series like Emily in Paris to add to your TV watch list
1. Bridgerton
Duh. The scandalous period drama has been the talk of the town since it premiered on Netflix last Christmas.

In case you've been living under a rock, Bridgerton is the adaptation of Julia Quinn's eight-part book series of the same name. It counts Shonda Rhimes (the TV queen responsible for equally as hook-worthy shows like Grey's Anatomy and Scandal) as one of its producers so you know it's TV gold.
Described as a hybrid of Downton Abbey and cult teen dramas such as Gossip Girl and Netflix's Elite, it will provide just as much intrigue as shows like Emily in Paris—but with a 19th-century twist, of course. Catch up on season one—and be ready to fall in love with Regé-Jean Page whilst you do it—before Bridgerton season 2 rolls around.
2. Love Life
In the first season of this drama from HBO Max and the BBC, Anna Kendrick plays Darby Carter, a young woman in New York City who tries to navigate the turbulent nature of millennial dating in her 20s and 30s, often looking in all the wrong places.

Everyone she meets leaves a lasting impression on her—even her high school crush—and she yearns for "the one", but finds that life works in unexpected ways.
The second season of the show follows Marcus Watkins, a Black man in his 30s, as he embarks on dating again after a divorce. He's forced to rediscover his identity as a single man whilst trying to find love again.
3. The Bold Type
Three young women juggle the ups and downs of love and friendship, all whilst working at global women's magazine Scarlet—a job that comes with a glam lifestyle but demanding duties, tight deadlines, and constant pressure.

Inspired by the life of longtime magazine editor Joanna Coles, who serves as an executive producer on the Freeform series, The Bold Type sees protagonists Jane, Kat and Sutton juggle their social lives, work lives, and dating lives whilst trying to find their own identity.
4. Good Trouble
A spin-off from the Freeform drama The Fosters, Good Trouble—which is currently streaming on Hulu in the U.S. and BBC iPlayer for U.K. viewers—follows adopted sisters Callie and Mariana as they start their new lives in Los Angeles. Callie faces the harsh realities of the American legal system as the new clerk for a federal judge, whilst Mariana tackles the male-dominated tech world.

The girls live in a commune in downtown LA where they form a new friendship group and complicated love lives, all whilst trying to find their feet as young adults. You have three full seasons to binge on (including Good Trouble season 3), and we're currently eagerly awaiting for Good Trouble season 4. That should definitely distract you until the next of Emily Cooper's Parisian adventures, no?
5. Valeria
Based on the novels by author Elísabet Benavent, the Netflix series Valeria has been described as a "Spanish Sex and the City." It follows a writer who turns to her three best friends when her marriage falls apart. She soon develops an exciting new love life that gets complicated when two men are involved. Sounds caliente!
6. Younger
Set in New York, Younger follows 40-year-old divorced mother Liza Miller, who lies about her age to appear, well, younger in order to land a job in her dream industry. We see Liza navigate her new single life with her teenage daughter as well as her new career.

There are a whopping seven seasons of the TV Land show, with Younger season 7 having dropped on April 15th on Paramount Plus. Check out the Younger season 7 trailer before you dive in on all of Liza & Co.'s antics!
7. Sex and the City
Not that this needs much of an introduction but for those who aren't familiar, Sex and the City follows the fabulous lives of writer Carrie Bradshaw and her three friends Miranda, Samantha, and Charlotte in New York City.

Despite their different personal and professional lives, the girls stick together through thick and thin, supporting one another through relationship dramas, work struggles, motherhood, and, of course, their ever-changing sex lives. Created by Darren Star, who is also behind series like Emily In Paris and Younger, it's safe to say that Carrie Bradshaw walked so Emily Cooper could run!

And yes, along with six seasons and two movie spin-offs of the series, Sex and the City is back with an HBO Max reboot, titled And Just Like That...
8. Harlem
Like the title suggests, this Amazon Prime series is set in Harlem, New York and follows four ambitious best friends as they navigate love and life as Black millennials. Just like the Sex & The City gang, Camille, Tye, Quinn, and Angie are there for each other through thick and thin, and let's just say there is plenty of both!
The ladies all met while studying at New York University and are now in their thirties, each with their own professional career and tumultuous love life, not to mention family drama and the odd tiff between one another.
9. And Just Like That
The long-awaited Sex & The City reboot finally arrived in December 2021 and it has been eventful, to say the least. And Just Like That sees BFFs Carrie, Charlotte and Miranda (sadly, Samantha is not in it so they're one woman down) living life now in their 50s in New York City. Things have changed a lot in the past 20 years and their new chapters are just as complex as ever.
Sagal is a journalist, specialising in lifestyle, pop culture, fashion and beauty. She has written for a number of publications including Vogue, Glamour, Stylist, Evening Standard, Bustle, You Magazine, Dazed and Wonderland to name a few.