Farfetch Fix is here to restore your old designer handbags
Farfetch is now offering a restoring service for all your favorite luxury items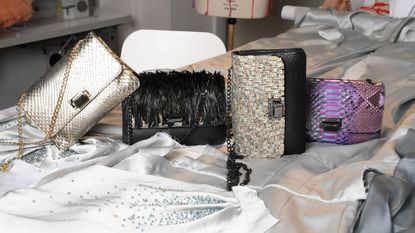 (Image credit: Getty/ Pascal Le Segretain)
Break out that old Birkin—online retailer Farfetch is now offering a luxury bag restoration service, an initiative set to help the circular economy. The new approach will help encourage shoppers to participate in pre-owned, sustainable consuming rather than buying something new.
Launched yesterday, the Farfetch Fix service was created in partnership with The Restory, a company specializing in the aftercare of designer shoes, bags and leather goods. Shoppers can now book their banged-up bags, slightly scuffed shoes and other worse-for-wear products for a much-needed pick-me-up through Farfetch's online platform.
How will it all work? Schedule a collection date and time for your items with instructions detailing exactly what you'd like repaired. Once picked up, your piece will be taken to the Restory's atelier, where expert restorers will assess your item, giving you their professional recommendations for the service you'll require. Once approved, the piece will be restored and then delivered back to you.
Vanessa Jacobs, founder and CEO of the Restory, has spoken out following the new collaboration, saying: "We've long drawn inspiration from Farfetch's mix of excellence, purpose and boldness. To power the new Farfetch Fix platform, and further the mission of more thoughtful consumption on this scale, is the culmination of years of hard work."
Jacobs added: "Farfetch will help a global community of luxury enthusiasts fall in love with their favorites all over again."
Tom Berry, director of sustainable business at Farfetch, commented: "We are delighted to partner with The Restory to offer our customers access to the very best luxury restoration service, with Farfetch Fix."
"Part of the Farfetch ethos is to be the platform for good—championing initiatives that make fashion more sustainable," Berry continued. "This partnership with The Restory will allow our customers to cherish their pieces for a little longer and hopefully also make more thoughtful purchases."
The Farfetch Fix platform is but one branch in the brand's efforts to promote sustainable living. The luxury retailer champions "designers and products that truly embrace sustainability, sourced from all over the world" with its "Positively Farfetch" initiative, and boasts more than 100,000 eco-conscious styles on its site. The company even launched an online sustainability calculator last year to help shoppers understand how their consumption choices will impact the planet.
Of its "Positively Farfetch" initiative, the retailer's team stated: "Together with our brand and boutique partners, we want to revolutionize and reinvent the fashion industry for the future. And we strongly believe that the future for the fashion industry is positively cleaner, conscious, circular, and inclusive."
Since December 2020, Kudzai has worked as a trainee journalist at FUTURE, writing about fashion, entertainment and beauty content for My Imperfect Life.

Kudzai previously worked as a freelance fashion wardrobe stylist, directing magazine photoshoots and coordinating the fashion direction of recording artists.

A fully qualified Journalism and Media graduate from De Mont Fort University, Kudzai graduated in the summer of 2020.