Are we getting a Friends movie? This is what the cast had to say during the reunion
Spoilers ahead people!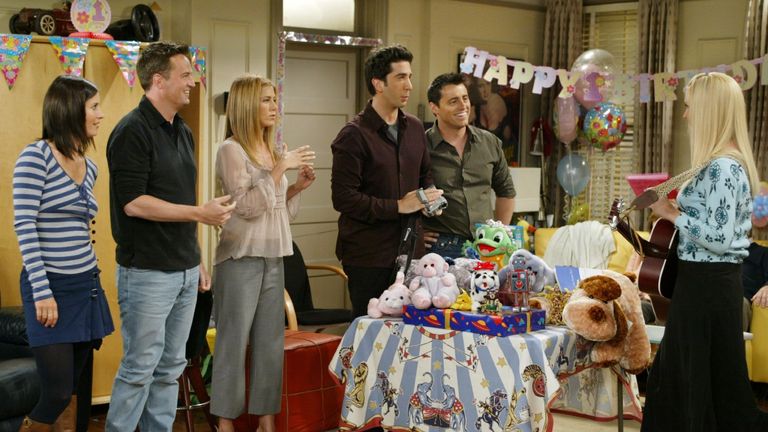 (Image credit: Getty Images / David Hume Kennerly / Contributor)
We've been eagerly awaiting the Friends reunion, and finally, all our favorite Friends characters returned to our screens. Though it gave us all the feels—a part of us still wonders if we'll ever get a new series, episode, or even a film. 
Well, the cast pretty much answered that question once and for all. When asked by James Cordan if they've considered a film or new series, Lisa Kudrow said: "No. I'm sorry, I haven't.
"I once heard Marta and David say, [The Friends creators] and I completely agree, that they ended the show very nicely, everyone's lives are very nice, and they would have to unravel all those good things in order for there to be stories.
"And I don't want anyone's happy ending unraveled. Also, at my age, to be 'floopy'? Stop. You have to grow up." (Hearing Phoebe say 'floopy' again was everything—just saying.)
There you have it—what most sequels and remakes have taught us is that sometimes you shouldn't mess with a masterpiece. As the saying goes, 'if it ain't broke, don't fix it.'
Despite that sad bombshell, the reunion gave us some real iconic moments, from never-before-seen outtakes to games, special guests, and hilarious behind-the-scenes antics. The cast even shared where their characters would be now, and Jennifer Aniston's theory for Rachel Green was something we can definitely get on board with.
 Funny moments from the Friends reunion 
One of the best came from Matt Le Blanc who recalled how Courtney Cox used to struggle with her lines and so would write them behind the fruit bowl on the table in her apartment.
He said: "You had this big speech, you were struggling with it all week long, and you wrote it on the table. And when you weren't looking I erased it and you got so mad at me!"
Joey being Joey! 😂😂❤️❤️#FriendsReunion pic.twitter.com/nYVRou0KvZMay 27, 2021
See more
Also, If you've ever wondered why Joey's arm is in a sling for some episodes of season three, they revealed that too. It was written into the show as the result of Joey jumping and falling off the bed. 
It turns out that it actually happened while filming, in fact, they had the footage and showed it during the reunion. It happened in 'The One Where No-One's Ready' when Chandler and Joey are fighting over a chair, Matt Le Blanc had to hurl himself over the furniture to reach the chair first.
"We shot it three times and it went perfectly," said Marta Kauffman. "Lord knows why we had to shoot it a fourth time."
Matt continued the story: "I went to jump over the coffee table, somehow tripped, my legs went up in the air, and my shoulder came out of its socket."
"In come all the paramedics, they've got to take him to the hospital, and that was the end of filming," said David Crane.
The reunion featured a few hilarious, never-before-seen bloopers which we won't spoil for you if you haven't seen it yet.
Special Guests 
The reunion saw the cast play the iconic trivia game and also saw the return of even more of the friends cast.
Maggie Wheeler who played the one and only, Janice ('Oh My GOD') surprised the cast and joined them for a chat. Even James Michael Tyler, who played Gunther, joined through Zoom and said: "It was the most memorable 10 years of my life."
The cast was also joined by a host of famous faces, including David Beckham, Justin Bieber, and Lady Gaga.
Naomi is trainee news writer who writes for My Imperfect life, Woman & Home and Goodto. Naomi writes articles from fashion trends and skincare to entertainment news.