This is the fans' favorite Friends character
Wait, who was voted the best Friends character? (Hint: It's not Phoebe)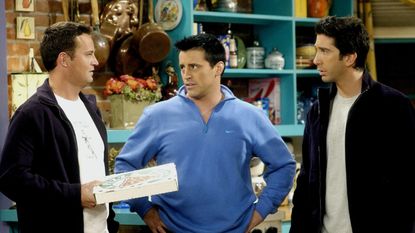 (Image credit: Alamy)
The TV show Friends has been on regular rotation in our homes since its premiere in 1994. But after all these years, one question about the long-running NBC show is still left unanswered – who is the best Friends friend?
Despite the number of TV characters we've grown to love over the years, we're sure everyone has had a favorite between Rachel Green, Monica Geller, Phoebe Buffay, Chandler Bing, Ross Geller and Joey Tribbiani. But which of these funny folks is actually the show's funniest character of all time?
A recent survey has finally revealed the truth – Chandler Bing was voted as the funniest friend among the show's six core characters. Even though all of the characters on Friends have had hilarious scenes over the years, Matthew Perry's Chandler brought those extra LOL moments, according to viewers.
A poll conducted by Ranker.com was done to settle the debate once and for all. Ranker asked diehard Friends fans to vote on all of the characters involved in the series to finally determine a winner. And Chandler Bing was voted the show's favorite character with a whopping 10,368 votes.
Matt LeBlanc's character Joey Tribbiani came in second among fans. And even though some may argue that Ross Geller, played by actor David Schwimmer, was the funniest of them all, voters thought he was only deserving of third place.
Fans definitely agreed with the overall verdict as one commenter took to Twitter to say: 'Chandler's sarcasm, Joey's reactions and Ross's expressions never failed to make me laugh'.
However, we're not too pleased that none of the show''s female cast members made it into the top three, or even the top four, with Phoebe's husband Mike (played by Paul Rudd) coming in fourth.
The ever-stylish Rachel Green, famously portrayed by Jennifer Aniston, finished fifth. Rounding out the main cast are Monica Geller (Courteney Cox) at number six and Phoebe Buffay (Lisa Kudrow) at seven.
Despite the fact that he deserved to be among the top five, Gunther, a.k.a. the best barista in town, came in 10th place, just behind Chandler's ex-girlfriend Janice and, randomly, Monica and Ross's dad, Jack Geller.
Since December 2020, Kudzai has worked as a trainee journalist at FUTURE, writing about fashion, entertainment and beauty content for My Imperfect Life.

Kudzai previously worked as a freelance fashion wardrobe stylist, directing magazine photoshoots and coordinating the fashion direction of recording artists.

A fully qualified Journalism and Media graduate from De Mont Fort University, Kudzai graduated in the summer of 2020.