Gigi Hadid's fresh set of bangs are going viral - and you can see why
Gigi Hadid's bangs are, well, bang on trend.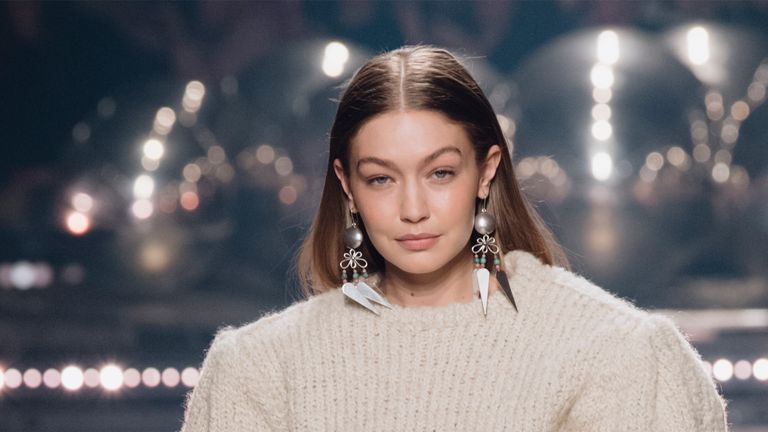 (Image credit: PARIS, FRANCE - FEBRUARY 27: (EDITORIAL USE ONLY) Gigi Hadid walks the runway during the Isabel Marant show as part of Paris Fashion Week Womenswear Fall/Winter 2020/2021 on February 27, 2020 in Paris, France. (Photo by Kristy Sparow/Getty Images))
Meet our new obsession: Gigi Hadid's bangs. Only a week ago we predicted that this would be the most requested hair cut of 2021. As if to prove the point, Gigi Hadid just went and got the cutest curtain bangs for winter.
The supermodel took to Instagram today to debut her new haircut by Alejandra Hernandez of Tesler Salon to her 61.7 million followers. Opting for wispy, cheek-grazing curtain bangs rather than a blunt cut, Hadid proves that face framing bangs are the most flattering style.
There may be another reason for Hadid's new hair, which comes three months after her daughter's birth in September. Many women suffer from postpartum hair loss - the result of oestrogen during pregnancy preventing hair falling out as it normally would. The subsequent sudden shedding is a particular issue around the hairline - something a cleverly styled fringe can disguise.
The best way to style softly feathered bangs is to use a good round brush to add volume to bangs as you blow-dry, always twisting the brush away from your face.
Christophe Potin, Artistic Director & Academy Educator at Aveda told myimperfectlife.com at the beginning of December that bangs are a big trend this season: "Bangs make the eyes pop! Cut around cheek bones and blended into the rest of the hair, they create the perfect balance between cool and modern and 'peek-a-boo' softness."
More good news: since they're a bit longer, curtain bangs are surprisingly low-maintenance; they don't need to be trimmed every two to three weeks like typical bangs, so you can let them grow out relatively easily.
Hadid's bangs seem to be a winner - 3.6 million people (and counting seem) to agree.