Glow Recipe is selling more products than on Black Friday - and it's all thanks to TikTok
*Watermelon Sugar playing in background*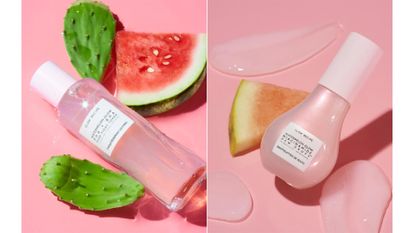 (Image credit: Glow Recipe)
The hashtag #tiktokmademedoit has become synonymous with beauty purchases we've all been inspired to make thanks to posts by influencers. And it seems the hashtag has struck again, to the sheer delight of Glow Recipe.
Hailing from South Korea, Glow Recipe was founded by two skincare obsessives - Sarah Lee and Christine Chang - who, with 20 years experience in the beauty industry between them, decided to build a brand around that infamous SoKo glow.
Indeed, in doing so, the pair swerved the trend for the best retinol serums and best vitamin C serums, staying true to the brand's roots and making it one of the best Asian and Korean skincare lines out there.
Two TikTokers have been credited with Glow Recipe's sales for the Watermelon Glow PHA +BHA Pore-Tight Toner and Watermelon Glow Niacinamide Dew Drops going through the roof, surpassing even the brand's Black Friday takings.
The first post came from Glamzilla, who made a video about the duo in which she says, "Over time your skin is just going to get better and better." Then Mikayla Nogueira followed suit.
So what is it about this Glow Recipe duo that has set the world of social media alight?
Well, as the moniker suggests, the Watermelon Glow PHA +BHA Pore-Tight Toner is powered by watermelon extract, a hero ingredient in Korea on account of its ability to flood skin with restorative vitamins, antioxidants and amino acids. It also contains hyaluronic acid at five different molecular weights, making it perfect for giving dull, lacklustre skin a giant hit of moisture. There's also an acid, which buffs aways dead cells and unclogs blocked pores, before calming tea tree and centella asiatica step in on the off chance of any irritation.
When used with the Dew Drops serum, your skin takes on an almost luminous glow. A hybrid of a serum and a highlighter, it brightens with only good-for-skin ingredients including niacinamide to tackle pigmentation and avoids additives like mica, glitter or pearls.
So if you want your skin to be bathed in the ultimate candlelit glow, you know what two products to stock up on!
Fiona Embleton is a multi-award-winning beauty editor who has tested over 10,000 products in her 10 years + of writing and shooting beauty stories. For the past four years, she was the Senior Beauty Editor at Marie Claire, having previously worked in the role of Beauty Editor at both Stylist and Cosmopolitan. She has recently gone freelance and alongside My Imperfect Life, she has written for titles including ELLE UK, ELLE Canada, Buro 247, Harper's Bazaar Arabia, Vogue Scandinavia, and ES Magazine. Beauty journalism allowed her to marry up her first-class degree in English Literature and Language (she's a stickler for grammar and a self-confessed ingredients geek) with a passion for make-up and skincare, photography, and catwalk trends. She loves jumping on the latest internet-breaking beauty news, dissecting the best red carpet looks, and having the crème de la crème of dermatologists, make-up artists, and hairstylists on speed dial so she can tap them for the best advice. She's a discerning beauty shopper and knows it can be confusing trying to navigate what's hype and what really works. So if she really likes something, you can trust that she has reached that opinion by vetting it against everything else she's ever tried. Her career highs? Interviewing Cate Blanchett and winning a Jasmine Award for the deeply personal feature Cancer Stole My Mother's Scent.