The best Asian and Korean skincare products that beauty experts swear by
Our edit of the best Asian and Korean skincare products will immerse you in the beauty buys that help set the global beauty agenda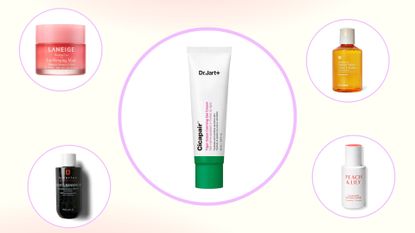 (Image credit: Future/brands pictured)
The best Asian and Korean skincare products have played a huge part in setting the global beauty agenda, be that through trends or getting us hooked on entire product categories. These super popular buys sometimes fly under the radar, but you'll find many brilliant and notable finds stashed in beauty experts' bathroom cabinets.
There's an undeniable pleasure in running to a store to pick up those tried-and-trusted beauty favorites for just a few bucks, and drugstore staples like CeraVe and La Roche-Posay will always have a place in our beauty regimes. But here's the thing: the best Asian and Korean skincare products really raise the bar on the anti-aging and glow-galvanizing results of that regime, be they the best vitamin C serums or the best moisturizers for dry skin.
The products in this corner of the world often have fun names and whimsical packaging, injecting a bit of personality into the hum-drum role call of cleansing, moisturizing and masking—and we're all for beauty taking itself a little less seriously. But don't be fooled as, most importantly, the best Asian and Korean skincare products have efficacy at their core. They also contain science-backed ingredients influenced by eastern medicine, paired with the approach that healthy skin is the non-negotiable basis for everything that comes next.
To kickstart your immersion into the worlds of K-beauty, J-beauty journey and co, our expert beauty contributors have pulled together an edit of the best-selling and top-performing buys you *need* to try. Trust us, once you've tried them and realised what you've been missing, there'll be no going back.
How we tested the best Asian and Korean skincare products
Between them, My Imperfect Life's team of contributing beauty editors has a lot of knowledge on the skincare world, and has spent decades testing products in the name of journalism. To that end, many of the best Asian and Korean skincare products are already on their radar, but to make it into this edit they were assessed based on the following factors.
Price
Packaging
Key ingredients
Texture and how they feel on the skin
How skin feels shortly after using
Long-term benefits
1. Erborian Black Cleansing Oil
Best Korean cleansing oil
Specifications
RRP : $29/£24
Key ingredients: Charcoal, sesame seed oil, glycerin, cica, herbs
Reasons to buy
+
Contains purifying charcoal
+
Removes even waterproof makeup
+
Doesn't strip the skin
Reasons to avoid
-
Only available in one 190ml size
Once we got over the counter-intuitive idea that this sooty-looking cleansing oil is actually going to clean your skin, you can begin to appreciate how the charcoal in the formula hoovers up makeup, oil and daily grime. Cleansing oils are great for removing particularly tough makeup and not leaving the skin feeling stripped of all life, and most formulas play well with both dry and oily skin types. Shoppers also tout this particular oil from French-Korean beauty brand Erborian as being good for sensitive skin types, too.
2. Dr.Jart+ Cicapair Tiger Grass Calming Gel Cream
Best Korean moisturizer for sensitive skin
Specifications
RRP : $49/£30
Key ingredients : Cica, glycerin, probiotics, herbs
Reasons to buy
+
Lightweight moisture
+
Very calming thanks to Cica
+
Brand is a hit with TikTok
Dr Jart+ has become the byword for ultra-healing formulas. Alongside the now legendary tiger grass extract, cica (full name centella asiatica), which works to quell irritation, it also contains four probiotic ferments to help strengthen dry, depleted, and compromised skin. And while the color-correcting treatment is the one you probably recognize best if you're on beauty TikTok, the rest of the range shouldn't be overlooked, in my opinon—particularly this lightweight and soothing gel-cream, which is loaded with glycerin and a probiotic ferment as well as cica to moisturize and calm the skin. For those with drier skin types, there is a thicker moisturizer available in the range, too.
3. Laneige Lip Sleeping Mask
Best Korean lip treatment
Reasons to avoid
-
Can feel a little greasy
Perhaps not a product that you ever thought you needed, but whose buttery texture big dose of hyaluronic acid will win you over just like it did me. Combined with innovative mineral water technology, it form a protective veil over the lips to moisturize and reduce flakiness overnight. It's got a silky, admittedly slightly sticky, texture that softens like no other. As beauty contributor Lucy Abbersteen says: "but I can tell you from experience that this little pot will last you months, because you only need to apply a tiny amount at a time to get results. If you won't take my word for it alone, though, it is in fact so good that one of these sells every minute in the US. There are several flavors to choose from, from vanilla to grapefruit, but I rely on the original to keep things simple."
4. BLITHE Patting Splash Mask Energy Yellow Citrus & Honey
Best Korean liquid mask
Specifications
RRP : $29/£29
Key ingredients : Lactic acid, vitamin C, honey
Reasons to buy
+
Gently exfoliates for brighter skin
+
Inspired by traditional Korean skincare method
+
Ideal for skin that's on the dry side
Reasons to avoid
-
Some people might prefer the usual mask format
Inspired by a Korean bathhouse tradition of splashing botanical water on the face after cleansing, this "splash mask" gets to works in a matter of seconds. Just pat the lactic acid–filled liquid over your damp face and let the vitamin C, honey and lactic and citrus acids (AKA alpha hydroxy acids) brighten, energise and clarify skin. Some skincare enthusiasts might prefer a thicker, leave-on product, but our skin was noticeably brighter after using it, and we enjoyed this lesser-seen masking method.
5. Neogen Dermalogy Bio-Peel Gauze Peeling Lemon Face Pads
Best Korean exfoliating pads
Specifications
RRP : $28/£22
Key ingredients : Vitamin C, citrus extracts, lactic and glycolic acids
Reasons to buy
+
Gentle exfoliating pads
+
Pack a hit of vitamin C
+
Aesthetically pleasing packaging
Like the Cliff Notes of exfoliation, these cotton pads make easy work of a brighter, buffed complexion. The key is in the chemical exfoliation, which is down to the inclusion of both lactic and glycolic acid—two types of alpha-hydroxy acids. Soaked in a vitamin C rich serum that also contains lemongrass to tighten the appearance of pores and improve elasticity, you'll wonder what you ever did without them. One downside we would point out is that the pads are single-used, which isn't the best skincare format environmentally speaking, however it cuts out the risk of overdosing your skincare and makes for a relatively fuss-free experience.
6. Peach & Lily Glass Skin Refining Serum
Best Korean serum for glass skin
Specifications
RRP: $39/£69
Key ingredients: Niacinamide, hyaluronic acid peach extract
Reasons to buy
+
Deeply hydrates thanks to hyaluronic acid
+
Brightens and firms thanks to niacinamide
+
A does-it-all formula to help achieve glass skin
Few skincare products boast a 25,000-strong waiting list of shoppers who can't wait to snap it up on account of how lustrous it will make their skin look. But that's precisely the sort of fanfare that surrounds this Glass Skin Refining Serum and its "Superskin Ingredients" list. That includes niacinamide to help calm inflammation; hyaluronic acid for hydration; East Asian mountain yam for added suppleness and peach extract, which is rich in vitamins and essential fatty acids. It's a little tricker to get hold of in the UK, but if you can get your hands on it, I deem it more than worth the effort.
Fiona Embleton is a multi-award-winning beauty editor who has tested over 10,000 products in her 10 years + of writing and shooting beauty stories. For the past four years, she was the Senior Beauty Editor at Marie Claire, having previously worked in the role of Beauty Editor at both Stylist and Cosmopolitan. She has recently gone freelance and alongside My Imperfect Life, she has written for titles including ELLE UK, ELLE Canada, Buro 247, Harper's Bazaar Arabia, Vogue Scandinavia, and ES Magazine. Beauty journalism allowed her to marry up her first-class degree in English Literature and Language (she's a stickler for grammar and a self-confessed ingredients geek) with a passion for make-up and skincare, photography, and catwalk trends. She loves jumping on the latest internet-breaking beauty news, dissecting the best red carpet looks, and having the crème de la crème of dermatologists, make-up artists, and hairstylists on speed dial so she can tap them for the best advice. She's a discerning beauty shopper and knows it can be confusing trying to navigate what's hype and what really works. So if she really likes something, you can trust that she has reached that opinion by vetting it against everything else she's ever tried. Her career highs? Interviewing Cate Blanchett and winning a Jasmine Award for the deeply personal feature Cancer Stole My Mother's Scent.