Red spots on your cheeks could mean you have the same skin condition as Hailey Bieber
Hailey Bieber has opened up about perioral dermatitis triggers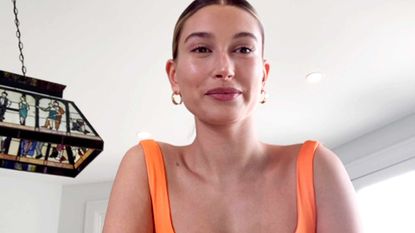 (Image credit: Getty Images/Getty Images for SHEIN)
Hailey Bieber has opened up about perioral dermatitis after a recent flare-up.
She may be one of the world's top models but her candid description of her skin condition proves that this doesn't make her immune to skincare gripes.
Refreshingly she took to Instagram Stories this week to give her followers real insight into what it's like to suffer from perioral dermatitis saying, "I like to be as transparent as possible about my skin."
In the first picture, Hailey circled an area of inflammation on her cheek, characterized by redness and a few tiny bumps.
In the caption she explains, "I have something called perioral dermatitis which I've had for a few years now. It gets triggered by different things and usually shows up on my cheeks, around my mouth or sometimes around and under my eyes. Some things that I noticed trigger it: trying a new product, a product that's too harsh, weather, masks, sometimes certain SPF."
She also clarifies, "That's why for my skin personally I go for super gentle anti-inflammatory products that will help soothe my skin and won't trigger a dermatitis breakout! It also took me getting the proper diagnosis from a dermatologist after stubbornly trying to treat it myself. Sometimes it gets so irritated only a prescription cream will calm it down."
Hailey continues, "A HUGE dermatitis trigger is also laundry detergent!! I have to use hypoallergenic/organic laundry detergent always."
Note, if you've been experiencing similar skincare symptoms you could be suffering from perioral dermatitis, but it's always worth checking with your doctor or a dermatologist to confirm. Hayley herself concedes, "Self diagnosing is a no no."
What Is Peri-oral Dermatitis?
According to the American Academy of Dermatology Association this is the definition of perioral dermatitis - and while it looks like spots, it's not to be confused with acne-prone skin.
"This rash often looks like small, red, acne-like breakouts in people with light-colored skin and skin-colored breakouts in people who have skin of color. It's not entirely clear what causes this rash. Something may be irritating your skin, such as a skin care product.
"Skin care can play an important role in treating this rash. You may need to switch to a mild, fragrance-free cleanser and be very gentle when you wash your face. You may need to use fragrance-free skin care products."
Hailey's favourite fragrance-free skincare products
Hailey has often talked about her love for this mask, which is made with blemish-prone skin in mind. Zinc is the star ingredient, which helps to control excess sebum and soothe spots and bumps under the skin.
Five types of hyaluronic acid ensure this serum packs a hydrating punch for Hailey, who cites changes in weather as a trigger for her perioral dermatitis. She says it "has helped skin from getting chapped in the cold."
Celebrities adore this science-led skin treatment - and with good reason as it's one of the best moisturizers for dry skin. It leaves out unnecessary filler ingredients or anything irritating, focussing instead on a special complex (TFC8) that helps your stem cells go into repair mode.
Fiona Embleton is a multi-award-winning beauty editor who has tested over 10,000 products in her 10 years + of writing and shooting beauty stories. For the past four years, she was the Senior Beauty Editor at Marie Claire, having previously worked in the role of Beauty Editor at both Stylist and Cosmopolitan. She has recently gone freelance and alongside My Imperfect Life, she has written for titles including ELLE UK, ELLE Canada, Buro 247, Harper's Bazaar Arabia, Vogue Scandinavia, and ES Magazine. Beauty journalism allowed her to marry up her first-class degree in English Literature and Language (she's a stickler for grammar and a self-confessed ingredients geek) with a passion for make-up and skincare, photography, and catwalk trends. She loves jumping on the latest internet-breaking beauty news, dissecting the best red carpet looks, and having the crème de la crème of dermatologists, make-up artists, and hairstylists on speed dial so she can tap them for the best advice. She's a discerning beauty shopper and knows it can be confusing trying to navigate what's hype and what really works. So if she really likes something, you can trust that she has reached that opinion by vetting it against everything else she's ever tried. Her career highs? Interviewing Cate Blanchett and winning a Jasmine Award for the deeply personal feature Cancer Stole My Mother's Scent.