H&M launches 'science story'—a new sustainable collection filled with acid brights
And there's a lot more where that came from…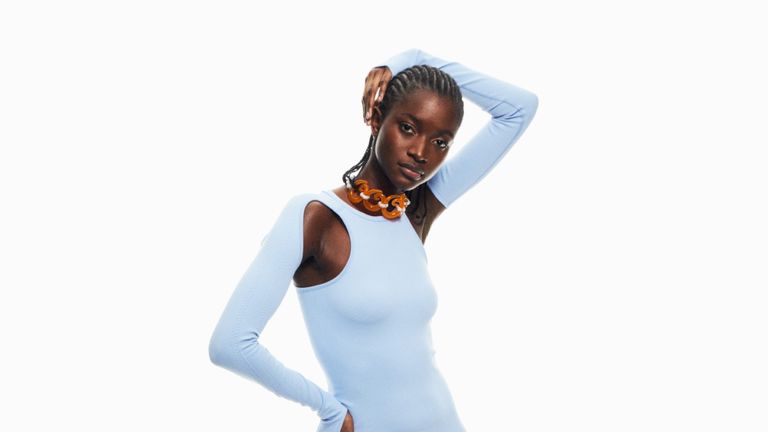 (Image credit: H&M)
Sustainability is growing slowly but surely in the fashion industry. As we all become more socially and environmentally conscious, we are wanting to opt for more eco-friendly choices. This is getting so much easier as more brands are ditching their fast-fashion roots—nowadays, you can buy sustainable activewear, beauty products, and even sustainable face masks. 
The future of fashion looks bright, and the science behind the new innovative ways of making planet-friendly fabric is incredible.
Reformation recently announced its own sustainable denim line and now H&M is boldly following suit. The global fashion retailer has said they want all their clothes to be 100-percent sustainable by the end of 2021.
H&M has announced their sustainability mission called "Innovation stories," which will see new style collections drop throughout the year. The first drop is "Science Story," which debuted today in the UK and will launch in the US on April 1st. The collection "pays tribute to the brilliant minds behind fabrications of the future."
Ann-Sofie Johansson, Creative Advisor at H&M, told Glamour UK: "For this collection, we wanted to bring the customers closer to the brilliant sustainability-story behind each of these designs."
Johansson continued: "Every piece is crafted from awe-inspiring materials that scientists and innovators have spent years trialing. The Science Story collection celebrates the beauty of that journey."
The collection boasts neon colors, the classic basics like white T-shirts, and some really trendy shapes. There are oversized tees, bodysuits, jeans, neon-green sandals, blazers, accessories and much more. The collection ranges from £12.99–£119.99
H&M is being fully open and honest with its customers, allowing them to see what fabric is being used for the items and how it's been made. The fabrics include:
VO by Fulgar®, a bio-based yarn made from castor oil
Eastman Naia™ Renew Cellulosic Fibre, which is produced in a closed-loop chemical system from 60-percent wood pulp and 40-percent recycled waste plastics
Texloop™, a type of recycled cotton called RCOT™t
Desserto, a plant-based vegan alternative to leather made from cactus plants
Agraloop™ Hemp Biofibre™. Converted food crop waste, this fabric is made from oilseed hemp.
In the words of H&M: "Let's make fashion sustainable and sustainability fashionable."
Shop the collection below, but be quick—the pieces are selling fast!
H&M Cotton shirt dress | £49.99View Deal
H&M Naia™ Renew jacket  | £119.99View Deal
H&M Wide High Waist Jeans | £49.99View Deal
H&M Sandals | £79.99View Deal
Naomi is trainee news writer who writes for My Imperfect life, Woman & Home and Goodto. Naomi writes articles from fashion trends and skincare to entertainment news.