Iskra Lawrence shares stories of harassment and assault in new podcast
The fashion influencer recounted some awful stories of harassment in a recent podcast appearance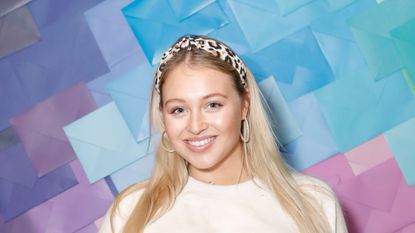 (Image credit: Gonzalo Marroquin / Stringer)
TW: this article includes some stories of harassment/sexual assault that some readers may find triggering
Joining fellow brave women like AOC and Evan Rachel Wood, British model Iskra Lawrence has recently opened up about instances of sexual harassment and assault she's experienced—experiences which will be all too familiar to some.
The influencer, who has more than four and a half million followers on Instagram, welcomed her first child, a baby girl, at the start of the pandemic.
Appearing on the latest episode of Make It Reign: The Podcast this week, Lawrence described how she had been spat at in public and sexually assaulted in a nightclub.
"There was a gentleman this one time, where I thought he was going to ask me for money," she explained to host Josh Smith. "As I was trying to find my money in my purse, he literally came up close enough, almost as if he was about to kiss me and then spat in my face—that was super uncomfortable."
During the episode, Lawrence also recounted a harrowing story of being groped by a stranger at a bar during a night out.
How can women feel safe right now? Two psychologists on how to cope with the dark realities of Sarah Everard's case
"One time when I was at a nightclub, I was at the bar and I saw this guy behind me and as I reached over to pay, he put his hand down my top and I wasn't wearing a bra. So he literally felt my breast and I turned around and I was like, 'excuse me!'
She continued: "Then two of his friends came and then there were three men essentially, like making me think if I said anything else, they were going to hurt me."
"Luckily, thank goodness, the bouncer had seen what had gone on and came in and he removed them from the club. But if they'd followed me home, or if the bouncer hadn't have seen me so uncomfortable, would anyone have believed me?"
The social media star added that she got a sense of victim blaming from the men in question. "I could already sense it was that mentality of, 'well, you're in this club, you're wearing that dress and that we can assert ourselves and do anything, because aren't you here for our attention?' I've definitely been in multiple conversations like that."
We applaud Lawrence for sharing her story, calling out misogynistic and abusive behavior and the systems that have allowed it to happen for too long.
Lucy is a beauty journalist who has written for titles including Marie Claire, Cosmopolitan, OK!, woman&home and Women's Health, as well as regularly contributing to My Imperfect Life. Her work covers everything from skin and haircare tips to trying and testing the latest beauty launches, and interviewing celebrities and experts. A certified dog person, her other interests include mental wellbeing, books, piña coladas and not getting caught in the rain.