Therapy vs counseling: what's the difference?
Therapy vs counseling. Which one do you need, and what's the difference, anyway?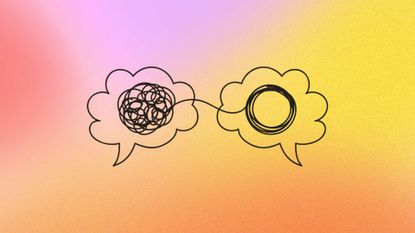 (Image credit: Getty Images Plus / iStock / tomozina)
Therapy vs counseling. Which one do you need, and what's the difference, anyway?
Life gets tricky sometimes. Whether you're struggling to make choices for your career, working through a difficult relationship, processing past trauma, dealing with depression or anxiety, or simply questioning what you want to do with your life, you might realize you need some professional help navigating it all. Your mental health is worth it, and more and more people are taking control of their mental well-being by seeking help from a therapist or counselor.
Therapists, counselors, and other mental health professionals
Different states and countries have different laws regarding therapy and counseling practices, and some reserve certain titles for practitioners with particular education and credentials. However, when it comes to therapy vs. counseling, the terms are often used interchangeably.
A general distinction may come down to the level of education – a counselor may have a diploma or a degree and a certificate for work on a specific issue (like addiction or couples counseling), while a therapist may have a master's degree and offer more specialized therapies. However, it pays to note that some practitioners simply prefer one title over the other, and if the state or country makes no law about which they use, they can call themselves whatever they like.
Another distinction is sometimes made regarding the duration of your relationship with the professional. In the UK, counselors tend to help their clients through short-term issues, like grief or relationship troubles, while therapists often work with clients over a longer period of time to address their thoughts, feelings, and general approach to life.
Again, these are not hard-and-fast definitions. Mayo Clinic and the National Alliance on Mental Illness outline different types of mental health professionals:
Psychiatrist: physicians who specialize in mental health. They can diagnose and treat mental disorders with psychotherapy or by prescribing medications.
Psychologist: professionals who typically hold a doctoral degree in psychology and are licensed by the state in which they practice. They can also diagnose and treat mental disorders, but they cannot prescribe medication unless specifically licensed to do so. Instead, they may work closely with a physician who can write prescriptions when necessary.
Therapist or counselor: professionals who typically have a postgraduate degree in counseling, family therapy, or other specialties. They cannot prescribe medication. Licensing requirements vary by state, so your therapist or counselor may have credentials like Licensed Professional Counselor (LPC), Licensed Marriage and Family Therapist (LMFT), Licensed Clinical Alcohol and Drug Abuse Counselor (LCADAC), and others.
Getting expert help from an educated, experienced professional
Since therapy and counseling are more or less the same thing, it's not so much about comparing therapy vs. counseling as it is about finding the right mental health professional for you. Here are a few questions to ask yourself:
Is the therapist licensed and credentialed? Look for advanced degrees as well as specialty certifications, and make sure he or she meets all local requirements for counselors or therapists.
How long has the counselor been in practice? You might want to start by working with someone who has an established practice with a history of satisfied patients or clients.
What do you need help with? Look for someone with the education and experience to match your needs, whether you need help with a relationship, addiction, depression, or an eating disorder. If your concerns include physical symptoms or trouble going about your daily life, you may want to start by consulting your physician. They can do an examination and refer you to specialists as needed.
Do you have insurance? See if your insurance covers appointments with particular professionals.
How does the counselor approach the work? What techniques does the counselor or therapist use? What is their philosophy and approach to mental health?
Do you feel comfortable with this person? Choose your therapist or counselor carefully. This is someone you will need to be open and honest with, and while therapy and healing can be uncomfortable and challenging at times, you want to feel secure with the person you choose to work with. Start by asking for recommendations from your doctor or your friends and family, then interview your final few choices.
Taking charge of your mental health
Your mental health is an important part of your overall health, and that starts even before you consider therapy vs. counseling. Committing to reducing your stress, perhaps by practicing yoga, walking in nature, or downloading some of the best meditation apps, can help you feel better throughout the day and keep things in perspective. However, it's important to remember there are professionals who are ready to help you when you need it, and there's no reason to delay in seeking that help.
Take charge of your mental health. Whether it's therapy vs. counseling, talk to a professional who can see you through the challenge and help you develop the tools you need to move forward.
The My Imperfect Life team is all about helping you navigate your world. We bring you the latest on fashion, beauty, travel and wellness so you can live life on your terms.