Why we're loving Jane Fonda's epic Golden Globes speech
Jane Fonda called on Hollywood to address inequality so all can be seen and heard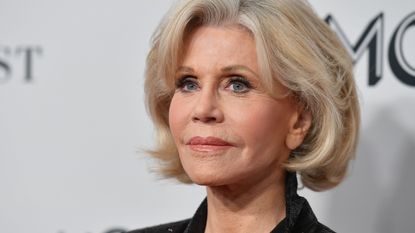 (Image credit: Getty/ ANGELA WEISS )
Jane Fonda accepted the Cecil B. DeMille award at last night's Golden Globes ceremony, an iconic prize fit for an iconic actress. The legendary 9 to 5 star accepted the prestigious award with a powerful speech calling out Hollywood's lack of representation, a major criticism levied against the Globes' Hollywood Foreign Press Association ahead of this year's award show.
Although she never directly mentioned the recent HFPA scandal—in which a Los Angeles Times investigation found there were no Black members on the voting panel behind the Golden Globes—Fonda used her time on the podium to shine a light on inequality in and around the film industry.
The actress-activist called out to her "community of storytellers" who have been outcasts in an industry built to benefit the privileged. Fonda addressed the diversity crisis in her inspiring monologue as "turbulent", acknowledging moments such as Chloé Zhao's historic Best Director win.
In true Fonda fashion, the two-time Oscar winner challenged Hollywood to get "in step with emerging diversity", adding: "Stories can change our hearts and our minds, they can help us see each other in a new light, to have empathy, to recognize that, for all our diversity, we are humans first."
She continued: "You know, I've seen a lot of diversity in my long life, and at times I've been challenged to understand some of the people I have met. But inevitably, if my heart is open and I look beneath the surface, I feel kinship."
The 15-time Golden Globe nominee added: "Doing this simply means acknowledging what's true, being in step with the emerging diversity that's happening because of all those who've marched and fought in the past and those who've picked up the baton today. After all, art has always been not just in step with history, but has lit the way. Let's be leaders. Okay? Thank you. Thank you so much."
You can watch the full speech below.
Since December 2020, Kudzai has worked as a trainee journalist at FUTURE, writing about fashion, entertainment and beauty content for My Imperfect Life.

Kudzai previously worked as a freelance fashion wardrobe stylist, directing magazine photoshoots and coordinating the fashion direction of recording artists.

A fully qualified Journalism and Media graduate from De Mont Fort University, Kudzai graduated in the summer of 2020.