After seeing JLo make-up free, THIS is the product our beauty editor is buying
This JLo Beauty sheet mask is everything.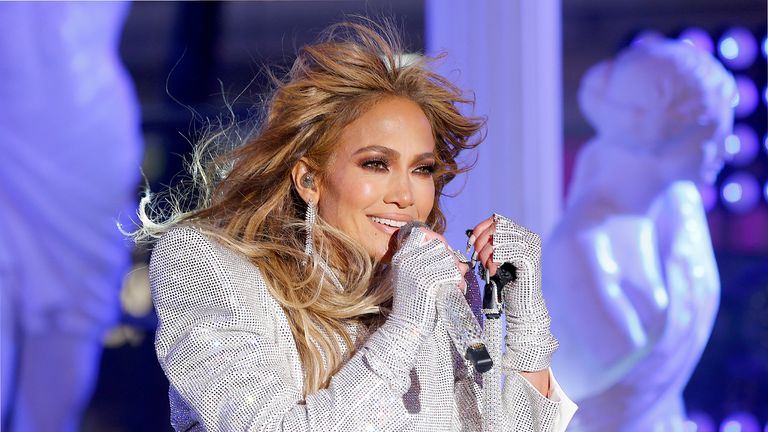 (Image credit: Pool/Getty Images)
No one does 'glow' quite like JLo and after seeing her plump, dewy skin post JLo Beauty sheet mask, I've swiftly added it to my Sephora shopping basket. I mean, just look at that skin - it's virtually luminous and the texture is smoother than a plum.
Celebrity beauty is a tricky minefield to navigate. With skincare sales rising exponentially since the beginning of the pandemic, celebrities are of course following the money and switching from fragrance endorsements to their own line of face savers.
Not that we're blindly buying into them, mind. Kylie Jenner's walnut facial scrub is a case in point. It caused a furore last year as everyone from derms to fans lamented that the walnut particles could be abrasive and leave skin sensitized. As for Melania Trump's caviar range? Well, we'll just leave that one to beauty folklore.
Jennifer's skincare line JLo Beauty, however, continues to storm up the charts. In fact, the internet almost crashed when it was revealed that the secret to JLo's glow is in your kitchen cupboard. Yup, we're talking about the olive oil and olive-derived squalane at the heart of the range.
Humble as these ingredients may sound, they are also rooted in science. One study published in the International Journal of Molecular Sciences revealed that olive oil has antioxidant properties higher than vitamin E. And squalane is currently one of the hottest derm-approved moisturizers for dry skin.
Aesthetic doctor Dr Jane Leonard says: "Squalane is an incredible moisturizing ingredient and also helps to repair the barrier of our skin, protecting it against external environmental aggressors."
Why is the JLo Beauty That Limitless Glow sheet mask so good?
The beauty of Jennifer's JLo Beauty That Limitless Glow sheet mask is that it is soaked in one ounce of Jennifer's That JLo Glow Serum, which contains the aforementioned olive complex and Japanese rice fermented sake to brighten and hydrate. While the occlusive nature of the mask means skin can drink in these ingredients, the way it wraps around the ears gives skin on the cheeks and jawline extra lift.
Since launching her JLo Beauty, the 51-year-old star has spoken openly about whether or not she's ever tried Botox or had any cosmetic surgery.
Recently, JLo addressed the issue once more, after someone commented on one of her Instagram photos and suggested that the superstar had "definitely" undergone Botox. Jennifer replied: "LOL thats just my face!!! ....For the 500 millionth time... I have never done Botox or any injectable or surgery!! Just sayin' 😊."
And I'm just sayin' get ready to slay wrinkles with that sheet mask.