Why lactobionic acid is the secret to glowing winter skin
Even the most sensitive skin won't freak out with lactobionic acid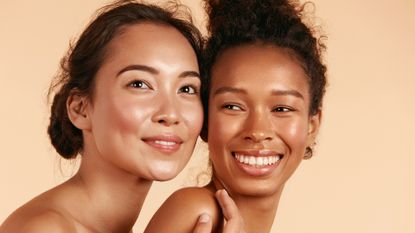 (Image credit: Puhhha/Getty Images)
Lactobionic acid is the new acid to drop if you want your winter skin to outshine even the best KiraKira filter.
If further proof were needed, searches for this skincare ingredient have risen by a staggering 510% since WFH and dropping temperatures conspired to create the perfect storm for 'meh' skin.
We know, we know, it's yet *another* acid to add to your skincare lexicon. But trust us, you'll want to familiarise yourself with this buzzy ingredient, especially if your skin is freaking out right now.
Don't get us wrong, we're not dissing AHAs. They are still some of the most transformative ingredients out there. But on the downside, they can be too harsh if you haven't already dabbled with them.
The equivalent of an AHA's gentle little sister, lactobionic acid is better tolerated. Hence, it's going to to be a better bet for the easily-sensitive set.
What is lactobionic acid?
Lactobionic acid is an oxidized form of lactose, which is derived from milk. A gentle chemical exfoliator, it belongs to a family of acids known as polyhydroxy acids (or PHAs for short).
What are the skin benefits of lactobionic acid?
First and foremost, lactobionic acid will resurface while still babying sensitive skin. Precisely why Cleopatra loved bathing in the stuff.
"All polyhydroxy acids have a larger molecular structure than AHAs," says Dr Dendy Engelman, a board certified dermatologist at New York's Shafer Clinic. "They're less irritating because they only lift away the first layer of dead cells, revealing more radiant skin underneath."
That is to say, the skin brightening results stack up without causing irritation or unwanted peeling because lactobionic acid can't deep dive into the skin like glycolic acid does.
So you can expect a more even skin tone, plus a lessening of scars, dark spots and fine lines from an at-home peel like Dr Jart Micro Milk Peel or Omorovicza Blue Diamond Peel.
While we're here, it's not uncommon to see AHAs and PHAs like lactobionic acid in the same formula. They play nicely together in Elemis Pro-Collagen Tri-Acid Peel but, as always, do take it slow if your skin is on the sensitive side.
It's not only sensitive skin that reaps the benefits of lactobionic acid. There is a sound scientific argument that says lactobionic acid is an attractive option for dry skin sufferers, too. This is because it also acts as a humectant, drawing water to the skin to hydrate it.
One study published in the Journal of Cosmetic Dermatology concluded that "lactobionic acid is a highly moisturizing agent".
While another study measured the difference in skin PH before, and one hour after, applying a 10% lactic acid emulsion. It concluded that lactobionic acid "reduces skin surface pH without irritation and skin barrier impairment."
So you may not look for lactobionic acid in your serum but it is absolutely beneficial if you want to speed up cell turnover and improve the look of fine lines, enlarged pores, pigmentation and dry patches on a daily basis.
The Exuviance Radiance Serum is a good case in point as it also contains cosseting marine botanicals to calm easily riled skin.
Who said you can't have it all?
Fiona Embleton is a multi-award-winning beauty editor who has tested over 10,000 products in her 10 years + of writing and shooting beauty stories. For the past four years, she was the Senior Beauty Editor at Marie Claire, having previously worked in the role of Beauty Editor at both Stylist and Cosmopolitan. She has recently gone freelance and alongside My Imperfect Life, she has written for titles including ELLE UK, ELLE Canada, Buro 247, Harper's Bazaar Arabia, Vogue Scandinavia, and ES Magazine. Beauty journalism allowed her to marry up her first-class degree in English Literature and Language (she's a stickler for grammar and a self-confessed ingredients geek) with a passion for make-up and skincare, photography, and catwalk trends. She loves jumping on the latest internet-breaking beauty news, dissecting the best red carpet looks, and having the crème de la crème of dermatologists, make-up artists, and hairstylists on speed dial so she can tap them for the best advice. She's a discerning beauty shopper and knows it can be confusing trying to navigate what's hype and what really works. So if she really likes something, you can trust that she has reached that opinion by vetting it against everything else she's ever tried. Her career highs? Interviewing Cate Blanchett and winning a Jasmine Award for the deeply personal feature Cancer Stole My Mother's Scent.