How to deal with winter skin, according to the experts
These clever skincare hacks will help you get rid of winter skin during the colder months, so fear not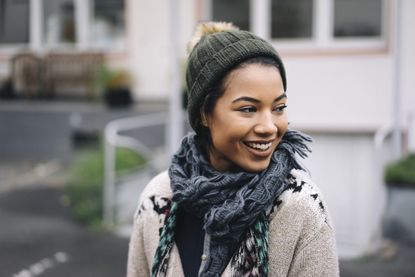 (Image credit: Getty)
The change of seasons brings us many joys, but winter skin isn't one of them.
Even with the help of the best moisturizers for dry skin, skin can feel drier, patchier, flakier in the colder months. We still have to endure a battle against the elements—wind, rain and frost, and dehydrating central heating—which can all wreck havoc with our complexion.
But while we may know how to apply moisturizer efficiently, what else can we do to ensure our skin stays clear, bright and hydrated throughout the winter months? We turned to the pros for some advice.
---
---
How to avoid winter skin during cold weather
1. Switch up your moisturizer
The change in seasons calls for a change in skincare, and for most of us that means our moisturizer. You may want to go for a thicker formula in the winter months to protect your skin from the harsher weather—just make sure you choose the right type.
"Look out for some really hydrating ingredients like glycerin, hyaluronic acid, urea and ceramides," advises Dr Ifeoma Ejikeme, renowned aesthetic doctor and medical director of Adonia Medical Clinic.
Ceramides are essential oils already found in the skin. It's a popular ingredient in moisturizers for dry skin; a moisturizer like CeraVe's Moisturising Cream has three different types of ceramides to keep skin hydrated.
"For a cheap and simple moisturizer during the winter months, I would recommend E45 or Doublebase, which contain a gentle formula, yet deeply moistens dry or chapped skin, providing rapid relief from itching," Dr Ross Perry, cosmetic doctor and managing director of Cosmedics Skin Clinics, told us.
"For slightly more money, I'd recommend La Roche Posay Effaclar H Moisturiser, which instantly soothes and hydrates even the driest of skin."
2. Layer products
The common consensus among skincare experts is that we should change up our skincare routine with the seasons. "Treat your skin like you do your clothing," explains skincare guru and author of Skin Care, Caroline Hirons. "If you're layering clothing, layer your skincare."
And while we may think to slip on a thermal jumper and woolly scarf clothing-wise, for our skin, this could mean incorporating a nourishing oil into our nightly routine before moisturizing, and layering on a lip butter throughout the day.
Caroline's signature trick is also to keep a facial spritz on hand at all times for an impromptu hydration boost whenever we need it. (All thanks to you, central heating.)
3. Don't over-cleanse
"Your skin needs all the moisture it can get this time of year," says Caroline. "If your skin is dry/sensitive and you are using harsh cleansers suitable for the summer months, or even worse, overusing the electronic facial cleansing brushes, it may be very unforgiving."
Instead, you could opt for a gentle cleansing milk or balm. We love Elemis' Pro-Collagen Cleansing Balm.
4. Keep your water temperature in check
While it may be tempting to hop in a piping hot shower or bath, hot water—especially if it's directly on your face in the shower—can have detrimental effects on your poor skin.
"Do not be tempted to stand under a hot shower to warm up. Your skin will not thank you for it," says Caroline. "Keep it warm-hot, not boiling!"
A lukewarm bubble bath is a more gentle way to cleanse your skin by opening your pores, without stripping it of its natural oils. Plus, is there anything more luxurious than a long soak in the tub on a cold winter's night?
5. Opt for a nourishing night mask
There's no need to stay away from face masks during the winter months, but rather than opting for a drying clay mask, instead try a hydrating formula that will boost your skin. We'd recommend slathering one on before bed to wake up with a smooth and dewy complexion. Origins Drink Up Intensive Overnight Mask With Avocado and Glacier Water works like a charm and smells divine.
If you want to specifically target the delicate eye area—the first place skin will show dehydration—we love Estée Lauder's Advanced Night Repair Concentrated Recovery Eye Mask, which will soothe the under-eye area and help prevent the damaging effects of the stresses of modern life.
6. Don't forget about sunscreen
Days at the beach are few and far between during the winter, but that doesn't mean you should skip out on sunblock.
The experts at Tajmeeli insist that UVA rays are still harmful during the cold weather, even if the skies are grey. Continue shopping for SPF, even if you're in your parka and hat.
7. Get a humidifier
If your central heat is on full blast from October to March, you're definitely going to feel the effects. If you find that your favorite spots in the house are a bit too tough to take, try snagging a humidifier.
"Use it to add moisture to the air in the rooms you spend the most time in. This will help to keep your skin's barrier hydrated," the experts at Tajmeeli advise.
8. Try TikTok's wet skin trend
Though there are plenty of questionable TikTok beauty hacks, the Wet Skin trend has gotten the professionals' seal of approval.
Aptly named, this hack involves applying moisturizer to a wet face.
"It's the best remedy to get more moisture and hydration into the skin as when your skin is hydrated and plump, the surface will absorb the moisture from products more effectively," says Tori Rosero, MUA and founder of Glowbade Academy. "This technique is great during the winter months, especially for those with dry and tight skin."
Lauren is deputy editor at woman&home.com and became a journalist mainly because she enjoys being nosy.
As well as keeping up with the latest news and most-talked-about TV shows, Lauren loves helping people share their stories, bringing experiences and adventures to life online. A big fan of adventure herself, she also loves sharing tips on where to find the best places to eat, drink, and be merry off the beaten track. Lauren has written a series of travel guides for London hotels and loves sharing her insights into a destination's cultural and culinary offerings. At the weekend, you'll usually find her hanging out with her pet cat (or anyone else's pet she can get her hands on), escaping to the countryside, or devouring a good book. You can mainly find pictures of her cat (and a few humans for good measure) on Instagram at @laurenkatehughes.