This is the exact lipstick Lady Gaga wore for her inauguration performance
Here's where you can buy the lipstick Lady Gaga wore for the inauguration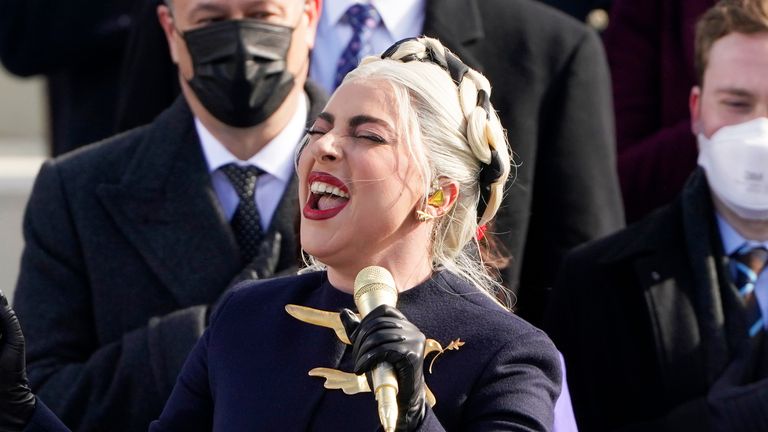 (Image credit: PATRICK SEMANSKY / Contributor via Getty Images)
In case you missed it, yesterday saw Joe Biden sworn in as the 46th President of the United States, with performances from Jennifer Lopez, Lady Gaga and the youngest ever inauguration poet, Amanda Gorman. And what a spectacle it was!
Shortly before both Vice President Kamala Harris and our new POTUS were sworn in, Lady Gaga performed an emotional rendition of the national anthem – wearing a full-skirted Schiaparelli Haute Couture ballgown with matching red lipstick.
If you're wondering were you can get your hands on said lipstick, Gaga's make-up artist Sarah Tanno has just shared the exact lipstick the star wore for the occasion.
"While her make-up was classic and romantic, with the perfect shade of red lipstick, which felt appropriate for such a vibrant day, the rest of her make-up was soft and luminous," she told Vogue.
The lipstick used was none other than Lady Gaga's very own Haus Laboratories Le Monster Matte Lip Crayon in 1950, the perfect bold, vintage red shade, lined with RIP Lip Liner in Slayer.
Haus Laboratories Le Monster Matte Lip Crayon in 1950, $18, Amazon (UK £18, Haus Laboratories)View Deal
Haus Laboratories RIP Lip Liner in Slayer, $16/£12.83, AmazonView Deal
Tanno also revealed to the publication that she used Marc Jacobs Velvet Noir Mascara and the Glam Room Fame Palette on Lady Gaga's eyes for the day, topping off the look with a little Haus Laboratories blush and bronzer.
The singer's look was completed with an enormous braided crown interwoven with black ribbon. Overall, a very regal look!
Marc Jacobs Velvet Noir Major Volume Mascara, $27, Sephora (UK £25, Harvey Nichols)View Deal
Haus Laboratories Glam Room Palette in Fame, $26.17/£33, AmazonView Deal
Next up, here's a timeline of Lady Gaga and Joe Biden's relationship that'll warm even the coldest of hearts.
Adding all of these to our online shopping carts, stat.