Everyone is obsessed with Netflix's Emily In Paris' iPhone case - here's where you can buy it
The true star of the show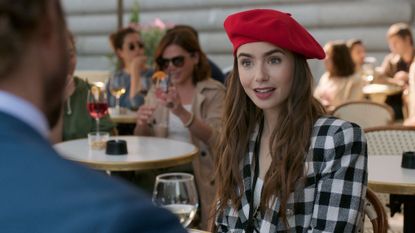 (Image credit: Netflix)
If, like us, you spent the weekend binge-watching the entire first season of Lily Colins' hit new Netflix series Emily In Paris, and drooling over her outfits (and love interests) then you'll be familiar with her super cool iPhone case.
But what if we told you it has gone just as viral as Emily's social media campaign for that le vagin product?
It may not quite have garnered the attention of Brigitte Macron - or any other spouses of political leaders for that matter- but Emily's iPhone case has become a huge hit among us "ringardes" (that's French for basic b*itch for those who haven't watched yet).
The case is by accessory brand Awsaccy and looks like a retro camera, but the best bit is that unlike Emily's Chanel flap bags, it won't cost you fortune. Instead it's priced at less than £10.
The bad news however, is that ever since the show aired on Netflix the iPhone case is completely sold out on Amazon (opens in new tab). Luckily, we've found a few alternatives that are just as chic and in stock.
VIEW NOW: UnnFiko iPhone case, £11.87, Amazon.co.uk (opens in new tab)
UnnFiko Wallet Case (opens in new tab) has the same retro camera design and comes in a pastel pink and blue colourway. Priced at just £11.87, it's available for iPhone 6 and 6 plus. Similarly, Etsy (opens in new tab) is selling one that looks a lot more like Emily's one for £15.95 and it's available for iPhones and Samsung.
It may not be handpicked by Darren Star, the man who gave us the immaculate wardrobe of Carrie Bradshaw in Sex And The City, and now Emily Cooper, but it's as close as you can get. Get yours while you can, we will!
Sagal is a journalist, specialising in lifestyle, pop culture, fashion and beauty. She has written for a number of publications including Vogue, Glamour, Stylist, Evening Standard, Bustle, You Magazine, Dazed and Wonderland to name a few.