Love Island's Remi wants 'justice' as he accuses Jacques and Luca of 'bullying' him on TikTok
Love Island's Remi Lambert responded after he featured in a conversation between fellow Love Island stars Jacques O'Neill and Luca Bish...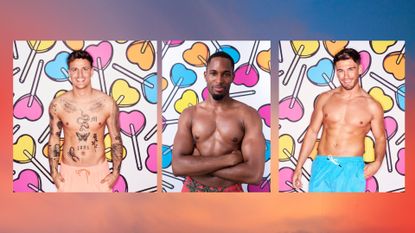 (Image credit: ITV)
It seems the Love Island 2022 drama is showing no signs of abating, even with the show wrapped up. The Love Island reunion episode at the weekend saw the female contestants come to a head—with Summer Botwe and Coco Lodge rowing on set, and evident tensions between Ekin-Su Cülcüloğlu and Gemma Owen.
However, it seems that things aren't exactly swell between the male islanders either. In an Instagram livestream yesterday between Luca Bish and Jacques O'Neill—during which the latter commented for the first time on Paige Thorne and Adam Collard's budding romance—their conversation turned to fellow islander Remi Lambert.
Now, a little recap. After departing the villa towards the start of the series, Remi revealed that he hadn't got on with Jacques while on the show. Speaking about their relationship on the podcast Reality with Will Njobvu, he recalled: "There was a lot of stuff that wasn't aired, lots of stuff that went on. Basically, me and Jacques got into quite a lot of arguments, it made my experience s**t, it ruined it for me. People were saying it was because he has a rugby persona, but you can't treat anyone like that."
Fast forward to yesterday's chat between Luca and Jacques, who wrongly believe that an account belonging to Remi has commented: "What have you boys been saying about me and my rapping?" This was in reference to the contestant, who is an up-and-coming rapper, being asked to perform on the show. The pair can be seen struggling to stifle laughter. In response, Jacques sarcastically replied: "It's really, really good, you should turn pro."
What happened between Love Island's Remi and Jacques and Luca?
Their exchange prompted Remi to deny that it was his account that had asked the initial question. In a post on Instagram, he wrote: "I never joined their live so I didn't comment actually. A fake account called remilamb0 did. Don't know why these guys have such a problem with me, clearly got some serious issues they need to sort out.
"Everyone said I lied about the way I was treated in that villa, but this here is an example of what was going on whilst I was in there. Don't know why they [weren't] kicked out for their behavior to be honest. It's not banter, it's clear signs of bullying. I wish everyone could see all of the crap I went through.
"[There are] 24 hours in a day and you only see like about three to five 10-second clips of me out of the whole day, so you could never tell what was truly happening. Jacques said bad things about my appearance and the way I speak, whilst Luca was encouraging it. After about three strikes from Jacques I told him I won't be speaking to him anymore in the villa. Later on he tried apologizing to me but like 10 minutes after he started with the snide comments again. I've tried to avoid this guy multiple times but he always ends up starting again. I don't know when it will stop."
Referring to Jacques's comments about leaving the villa early for his own wellbeing, Remi continued: "Worst person to represent mental health and ADHD campaigns. He's still out here mocking not just me but other islanders too. You'd think with such a big platform they would use it to promote peace, but they're using it to troll and they're loving the attention. Immature. These guys are not role models or good people. They have not once thought about my mental health. If I wasn't soo strong minded I could've done something stupid to myself by now, but they don't care at all. I want justice."
His post—viewed more than 400,000 times—received an outpouring of support from social media users, with over 4,000 leaving messages. Influencer Grace Victory wrote: "Grim people." Another follower commented: "That's terrible, I'm so sorry to hear you went through this." A third shared: "Truth always comes out in the end, well done for standing up for yourself." What's more, fans quickly spotted that Tasha Ghouri—who was herself left upset about treatment from Luca as well as Dami Hope—had 'liked' Remi's post and unfollowed Jacques on the site.
Remi from Love Island's Instagram
Remi can be found on Instagram @remilambo, where he has 78,000 followers.
The 22-year-old from Manchester keeps fans up-to-date with his modeling work and budding rapping career.
Lauren is a freelance writer and editor with more than six years of digital and magazine experience. Most recently, she has been the Acting Commissioning Editor of Women's Health—where she co-produced the Going For Goal podcast—and has previously also written news and features for titles including The Telegraph, Grazia, Stylist, Dazed, The Sun's Fabulous, Yahoo Style UK and Get The Gloss. She covers all aspects of lifestyle, specializing in health, beauty, and travel. Can't live without: oat milk lattes, new podcast episodes, long walks, and great skincare.