Who is Love Island's Ekin-Su Cülcüloğlu? Everything we know about the queen of the villa
What we know about Love Island's Ekin-Su Cülcüloğlu's job, family, relationships and her romantic journey...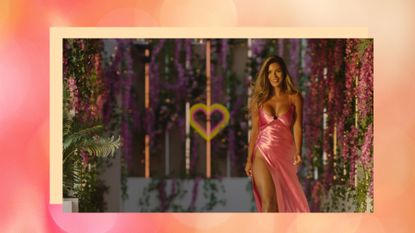 (Image credit: ITV)
One of the breakout stars of the Love Island UK 2022 series is Ekin-Su Cülcüloğlu. The stunning islander emerged victorious from the show alongside beau Davide Sanclimenti at the grand finale. Indeed, viewers felt that she very much deserved to win the series.
Since arriving back home, Ekin-Su has given fans a teeny glimpse into her regular UK life as she continues her relationship with the 27-year-old Italian businessman—and of course she's reunited with all of her fellow Love Island cast at the Love Island reunion.
In the meantime, here's what we know about Ekin-Su—other than her love of working out and passion for a good gossip (can we be BFFs already?). Read on to find out about everything about her—from where she is from and her age, to whether she has had plastic surgery and her internet-famous little brother...
Who is Love Island's Ekin-Su Cülcüloğlu and what is her job?
Ekin-Su is an actress and model from Essex. In 2020, she played the character of Isil on the Turkish soap opera Kuzey Yıldızı İlk Aşk.
However, the brunette star has now become better known as a reality TV star after becoming cast in summer 2022 in Love Island series eight, which she went on to win. Her social media following has since blossomed, rising from 35,000 to 2.3 million followers on Instagram.
Of her reasoning for entering the villa, Ekin-Su said that she was after a "serious relationship". She explained: "I'm looking for that real genuine spark and they just see me as me. I think the concept of the show brings back true and raw feelings."
How old is Ekin-Su?
The popular islander was born on August 21st, 1994. This makes her currently 27 years old—and, perhaps unsurprisingly given her big character, a Leo.
We're sure she's excited to spend her upcoming birthday with new beau Davide now that they're out of the villa.q
Where is Ekin-Su Love Island from?
Ekin-Su's nationality is Turkish-English, and she was raised in both countries. Before entering the villa she split her time between London and Istanbul.
You're probably wondering where her name derives from. Ekin is of Turkish origin, has no gender and means "harvest". Similarly, Su has the same origin and means "water".
Was Ekin-Su Miss Ireland?
Since Ekin-Su's Love Island win, it has emerged that the star competed as Miss Ireland at the 2011 Miss Asia Pacific World pageant.
She didn't mention any Irish heritage during her time on the show, but was spotted adopting an Irish accent during an argument with fellow contestant Dami Hope, who is from Dublin.
Ekin-Su before plastic surgery—has she had work done?
The Love Island star has been open about work she has had done, including a breast augmentation which she revealed on Instagram had caused a high level of pain post-surgery.
She also visited Dental Design in Antalya, Turkey for £4,000 veneers to achieve a flawless smile.
It also appears Ekin-Su had procedures done to her face shortly before entering the villa. Her surgeon, Dr Rosh, explained on Instagram that he made "subtle" changes to ensure everything was kept looking "natural".
He said: "First, we added tear trough filler to fill the hollows and give her that gorgeous '8-hour beauty sleep' refreshed look. Then, I feathered in some filler into the lateral cheeks to soften her middle cheek fullness and jaw filler to lift and create more definition."
Who are Ekin-Su's family?
Fans became acquainted with Ekin-Su's mum and younger brother Arda during an episode of Love Island. Asked by host Laura Whitmore what he thought of the male contestants, her sibling replied: "I'm gonna be honest with you, I hate them all, I hate all the guys there"—a reply that fans weren't surprised by given the accusations of Love Island misogyny and bullying by the male islanders during this past season.
Arda's profile appears to be rising just like his now-famous sister. Since the islanders returned to the UK, he has been spotted on TikTok hanging out with Dami, and fans have likened the teenager to Timothée Chalomet.
Little is known about Ekin-Su's dad, however, the star has posted about him multiple times on her Instagram account.
What was Ekin-Su's Love Island journey?
Ekin-Su arrived in the villa as bombshell and immediately set her sights on Davide. The pair began to flirt, with her joining him at the gym, and they eventually coupled up.
That was until Jay Younger entered the villa. This love triangle sparked the now-infamous 'liar actress' Love Island meme from Davide, after he discovered that—in what has become an iconic Love Island moment—Ekin-Su had crawled onto the terrace to share a smooch with the new arrival. Their explosive row spelled the end of 'Ekin-De' romantically, with the pair becoming the enemies of the villa.
However, shortly afterward Jay—who she had decoupled with—turned his attention to Paige Thorne, much to her fury and delight of Davide, who wasted no time at winding her up over the situation.
Then, Charlie Radnedge entered the villa and expressed his interest in Ekin-Su, but she shocked everyone by choosing Davide over both Charlie and Jay in the recoupling. Slowly the pair began to rekindle their relationship, even going on a date to a vineyard.
Next came Casa Amor! Davide was not exactly well-behaved, and snogged two of the girls. But he chose to stick with Ekin-Su, who also decided to stay put. However, her little nighttime moment with one of the boys came back to haunt her during Mad Movies—although they quickly made up.
We then saw the couple become exclusive after Davide popped the question to Ekin-Su over a homemade piece of tiramisu. After that, arrived the Love Island finalist couples' final date, where Ekin and Davide both told each other that they loved one another and spoke about making plans for the future.
Lauren is a freelance writer and editor with more than six years of digital and magazine experience. Most recently, she has been the Acting Commissioning Editor of Women's Health—where she co-produced the Going For Goal podcast—and has previously also written news and features for titles including The Telegraph, Grazia, Stylist, Dazed, The Sun's Fabulous, Yahoo Style UK and Get The Gloss. She covers all aspects of lifestyle, specializing in health, beauty, and travel. Can't live without: oat milk lattes, new podcast episodes, long walks, and great skincare.