The new makeup rules for when you wear a face covering
Face coverings mean you need to switch up your makeup routine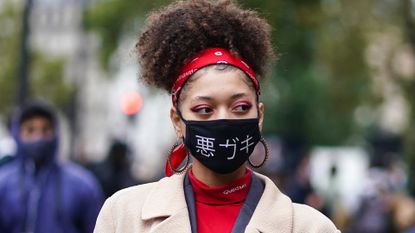 (Image credit: Edward Berthelot/Getty Images)
It's the million dollar question: do you wear a face covering with makeup or embrace your naked face with just a laminated brow and kickass mascara for company?
Whichever camp you fall in, one thing is certain: you're going to have to make some tweaks to your routine if you want to avoid painful breakouts or your makeup simply transferring onto your face mask.
Ahead an aesthetician and a make-up artist talk us through the do's and don'ts of mask etiquette...
Skincare prep is key
Should you have any doubt that your face mask is playing havoc with your skin, think about this.
"There's dirt, make-up and bacteria on your mask so it's really important to keep your skin clean," says aesthetic doctor Dr Barbara Sturm, who counts Hailey Bieber as a client. "If you can, cleanse halfway through the day as well as morning and night and reapply the Calming Serum. Your skin should stay hydrated all the time as your mask can cause friction. This disrupts the skin barrier, which can cause bad acne breakouts, dryness and irritation."
The Calming Serum is rich in botanicals like purslane that quell unwelcome irritation. But if you just want a straight-forward nourishing serum to apply before your mask, look for humectant ingredients such as hyaluronic acid and repairing niacinamide as these are considered the best moisturizers for dry skin.
Then top these off with an occlusive layer of ceramides, such as Drunk Elephant's Lala Retro Whipped Cream.
Oh and you may also want to skip the retinol right now as any additional chafing will only exacerbate the situation.
Choose a 'smart' mask
There's no doubting that long periods wearing a mask can result in everything from breakouts to dryness and irritation. Luckily for us, Dr Sturm has created a new 'smart mask' that aims to prevent that thanks to nano-silver technology. "The mask is breathable, anti-microbial, anti friction and antibacterial," explains Sturm.
Another smart buy is a silk face mask, which you then mist with a salicylic acid spray on the side that touches your skin. "Salicylic acid cleans out the oil and debris within your pores preventing acne," says skincare expert Sandra Lee, aka Dr Pimple Popper. One to try is the Murad Clarifying Body Spray.
Only wear foundation and concealer where your skin is on show
For most of us, a full-face of foundation is as automatic a reaction as brushing our teeth in the morning.
But with only part of your face on show, perhaps now is the time to curb your addiction to base. Especially if you don't want the humidity underneath your mask to mix with the oils in your foundation and ramp up sebum production.
"For a super polished, flawless finish try only applying foundation where needed," says Warren Dowdall, senior pro artist at Bobbi Brown, who recommends the Skin Foundation Stick.
"Use a full coverage face brush to stipple (or press) the foundation over blemishes or any areas of high colour like the cheeks and nose and buff out for a modern and fresh look."
If you really can't be parted from your full-beat routine, then try misting Charlotte Tilbury's Airbrush Flawless Setting Spray over the top as film formers will keep your make-up from settling on your face covering instead of your skin.
Make nude lipstick your best friend
There's a high chance that even a longwear lipstick will transfer onto your face covering so stick to nudes as the fallout won't be so obvious. "Anything from soft blush to chocolate shades work well," says Dowdall.
You're right to be wary of nude lipstick as there is some science involved when picking the right shade - and avoiding looking like you've swiped on concealer by mistake.
"Look at the colour just inside your lower lip - that will give you the best indication of the nude shade that will flatter your skin tone most," adds Dowdall. "I also love more moisturizing formulas that you can wear as a stain or build up to a fuller coverage."
Opt for waterproof eyeliner and mascara
If humidity from inside your mask is making your glasses steam up, imagine the effect on your mascara and eyeliner.
To avoid some serious smearing onto cheekbones, choose a waterproof formula instead.
"Or simply apply a single layer of waterproof mascara over the top of your favourite everyday mascara as this acts as a 'raincoat'," explains Dowdall. "There are just two things to consider: make sure the waterproof texture is thin to avoid adding heaviness to lashes and use an oil-based makeup remover to lift it away at the end of the day."
Fiona Embleton is a multi-award-winning beauty editor who has tested over 10,000 products in her 10 years + of writing and shooting beauty stories. For the past four years, she was the Senior Beauty Editor at Marie Claire, having previously worked in the role of Beauty Editor at both Stylist and Cosmopolitan. She has recently gone freelance and alongside My Imperfect Life, she has written for titles including ELLE UK, ELLE Canada, Buro 247, Harper's Bazaar Arabia, Vogue Scandinavia, and ES Magazine. Beauty journalism allowed her to marry up her first-class degree in English Literature and Language (she's a stickler for grammar and a self-confessed ingredients geek) with a passion for make-up and skincare, photography, and catwalk trends. She loves jumping on the latest internet-breaking beauty news, dissecting the best red carpet looks, and having the crème de la crème of dermatologists, make-up artists, and hairstylists on speed dial so she can tap them for the best advice. She's a discerning beauty shopper and knows it can be confusing trying to navigate what's hype and what really works. So if she really likes something, you can trust that she has reached that opinion by vetting it against everything else she's ever tried. Her career highs? Interviewing Cate Blanchett and winning a Jasmine Award for the deeply personal feature Cancer Stole My Mother's Scent.