Calling all jewelry lovers: Grow your collection with this Missoma deal
This no purchase saving is the perfect way to add to your jewelry collection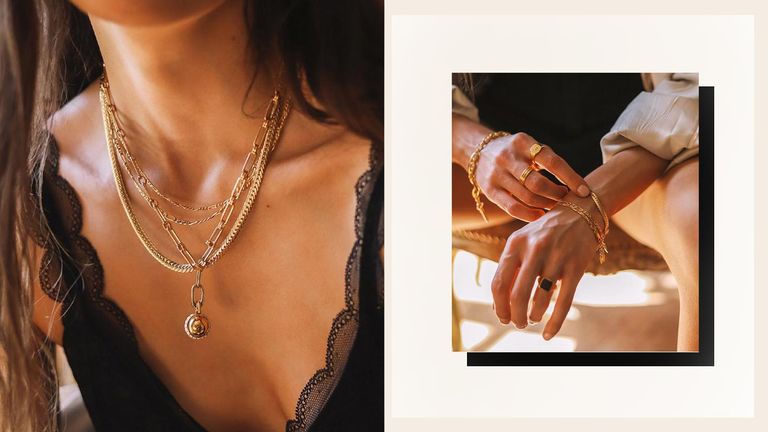 (Image credit: Missoma)
It's no secret that we're fans of Missoma here at My Imperfect Life. And, there's nothing quite like a new piece of jewelry to update your wardrobe, keep your outfits fresh and more importantly on-trend.
So, when we found out that Missoma is offering 10% off our interest was suitably piqued. All you have to do is sign up for the Missoma updates to receive the discount off your first order. But that's not all, you'll also get exclusive access to new collections and promotions before anyone else, so it's a win-win situation really.
Whether you're into layering or you're more about wearing statement jewelry, to whet your appetite we've picked some of our favourite Missoma pieces.
For the layering novice
Missoma Gold Filia & Camail Chain necklace set, £340 (opens in new tab)
We get it, not everyone can throw well-put-together look on in an instant. That's why when it comes to layering, Missoma really is the best. They've taken all the hard work out of it for you by perfectly coordinating your necklaces with their necklace sets. The set includes the Camail snake chain which gives big 70's energy and the best selling Double Filla chain. You essentially make another saving buying them together so really, what's not to love?
For bracelet lovers
Missoma, Gold Snake Camail Chain bracelet set, £270 (opens in new tab)
The layering doesn't have to be confined to necklaces, why not throw caution to the wind and layer up your bracelets too. With three retro-inspired bracelets, the best selling Vervelle and Filla and chunky Camail snake chain bracelet.
For ring lovers
Missoma, Gold Bond Ring, £79 (opens in new tab)
You've probably seen this ring all over your IG feed on all your favourite influencers. The unique chain design makes for a truly standout and rather chic addition to your jewelry collection. Stack them up for added impact.
For him
Missoma, Men's Silver Chunky Chain Necklace, £215 (opens in new tab)
The latest addition to the world of Missoma is a collection of pieces just for him (well, you can probably borrow it too). From necklaces both chunky and fine to bracelets - these are the perfect gifts for the men in your life.
So what are you waiting for? Sign up and get shopping now.
Sunil Makan is the digital editor of Marie Claire UK. With over 12 years of publishing experience, working on print publications and their digital counterparts, national newspapers, and digital pure plays he is an Editor, Strategist, Content Producer, and Creative Director. In his most recent role, Sunil was deputy editor of My Imperfect Life and before that, he was the Associate Editor of British Marie Claire. Prior to that he worked at ELLE, InStyle, Shortlist Media and freelanced at titles such as Mr Porter, Saks Fifth Avenue, Floral Street fragrance, and The Times.
Sunil's specialisms include Fashion, Beauty and Grooming, Lifestyle, and Culture. He has reported and covered fashion trends at International fashion weeks in London, Milan, and Paris, smelled and tested countless fragrances, beauty treatments, slathered on more serums, moisturizers, and masks than he cares to mention plus reviewed some of the best hotels in the world—and the worst.
Sunil has appeared on and led workshops and panels like the All-Party Parliamentary Group (APPG) for Creative Diversity roundtable, the British Fashion Council's Diversity and Inclusion Board, and Fujifilm reader events. A lover of—in no particular order—fragrance, fine wine, champagne, Dior, food, and chicken wings.