This is officially the most expensive fictional wedding ever
These fictional weddings looked impressive - but this is how much they cost…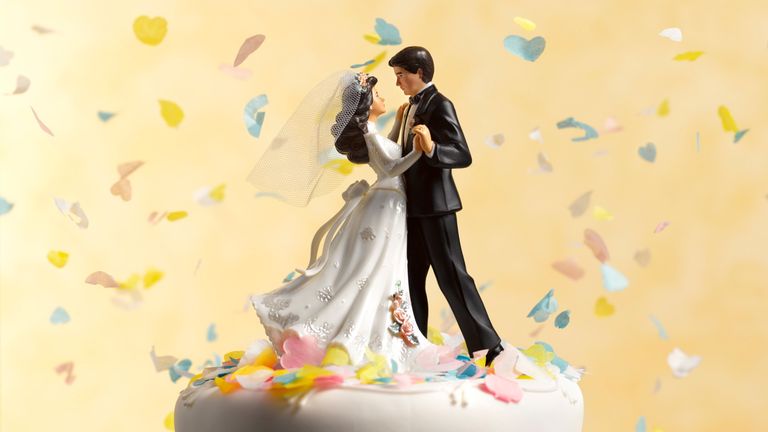 (Image credit: Peter Dazeley via Getty)
Fictional weddings are often the most memorable parts of our favorite films or tv shows. Seeing all the characters come together wearing their best outfits, often accompanied by some form of dramatic reveal or twist, never fails to draw us in. And when a fictional wedding you've been eagerly waiting so long to see finally takes place, it's all too easy to get swept away by the beautiful details, costumes, and romance.
But when it comes to the cost of these fictional weddings, we don't often stop and think exactly how costly these fabulous occasions would be if they took place in real life. Some may think that Crazy Rich Asians has some similarities to everyone's favorite glamorous show, Bling Empire. And when it comes to the film's fictional wedding, it's certainly clear that some serious money would have been spent.
Whilst Sex and the City and Downton Abbey also feature their fair share of expensive wedding scenes. Now a new study by Raisin UK has looked into just how much the couples from these hit shows and films would've *really* spent on these majestic nuptials.
Prepare yourself for some pretty shocking calculations as we reveal which the most expensive fictional wedding is….
What is the most expensive fictional wedding?
Crazy Rich Asians - Colin and Araminta's wedding
It may come as no surprise to anyone that of the weddings analyzed, it was Colin and Araminta from Crazy Rich Asians who came out on top with their fabulous fictional wedding. The couple's nuptials were stunning - and that shows in the price, with research suggesting that it cost around $8,916654.15 (£6.45million). This is based upon estimated costs of the venue, dress, entertainment, flowers and transport, of course.
And all of that may have stunned audiences, but as the wedding of the heir to a property and hotel chain, for the fictional couple, it may only have been a drop in the ocean. After all, these characters are - as the film title suggests - incredibly rich!
Which other fiction weddings cost the most?
Downton Abbey - Matthew and Mary's wedding
Downton Abbey fans were kept waiting for Matthew Crawley and Lady Mary Crawley's big day to finally arrive for so long. But when it finally did, they certainly weren't left disappointed as the stylish elegance of the bride in her white dress and glittering hair leaf-shaped hair accessory and the dapper groom in his smart suit complimented the other perfectly. And it shows in the cost - an estimated $219,882.31 (£159,021)!
Sex and the City - Carrie and Big's wedding
Everyone remembers Sex and the City's Carrie Bradshaw and the ceremony that never was. In the Sex and the City movie, Big may have ended up calling off their original wedding, but it also came in the top tier of expensive fictional weddings, costing an estimated $158,265.77 (£114,484).
This is undoubtedly a huge amount of money, especially given Mr. Big got cold feet, but there were a few factors that kept the cost down for the couple. Carrie's Vivienne Westwood dress was gifted to her following a Vogue cover shoot and in the end, their wedding reception wasn't really necessary!
Bridesmaids - Lillian and Doug's wedding
Who could forget Bridesmaids characters, Lillian and Doug's wedding? This dream day would have cost around $135,267.72 (£97,848) and the heartfelt ceremony was primarily funded by Lillian's dad, which no doubt helped the lucky couple achieve their rather costly wedding vision.
Father of the Bride - Annie and Bryan's wedding
Wrapping up the top five is Annie and Bryan's wedding from Father of the Bride. In the film, Bryan's parents live in a Bel-Air mansion, so perhaps they could have helped the couple out with the substantial costs of their fictional wedding, which comes in at around $93,758.96 (£67,822).
Bridget Jones's Baby - Bridget and Mark's wedding
The joining together of everyone's favorite relatable heroine, Bridget Jones, and lawyer Mark Darcy is something fans had been waiting to see for so long that it almost seemed it never would.
But their wedding at the end of the third film, Bridget Jones's Baby, was definitely worth the wait.
Taking place at what appears to be a country estate, the wedding with its marquee looked spectacular and Bridget's full-skirt white dress was a beautifully stylish choice. Mark and Bridget's special day cost an estimated $80,180.77 (£58,000) - so we're glad the two of them looked to have settled together for good!
Which of these fictional weddings was your favorite?