The 'Bling Empire' season 2 trailer is here, and the drama is intense
Not-so-patiently waiting for 'Bling Empire' season 2? This juicy trailer will give you a sneak peek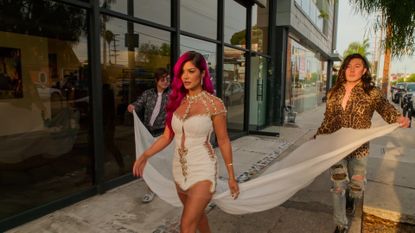 (Image credit: Netflix © 2022)
Ready for Bling Empire season 2? The Netflix series is about to bless us with more "luxury, glamour and crazy." No need to tell us twice.
In the debut season, we got a taste of mega-wealthy Asian socialites in LA who are as rich as they are entertaining. So what's next for Anna Shay, Kevin Kreider, Kim Lee and the rest of the crew?
Buckle up: we'll fill you in on everything you need to know about the next Bling Empire installment.
What is the 'Bling Empire' season 2 release date?
The wait won't be terribly excruciating: the sophomore season is coming to screens on May 13.
There are eight 40-minute long episodes in total, and if you ask us, that's a prime opportunity for a TV binge. (No need to ask Netflix—we'll be watching.)
Selling Sunset and Bling Empire have both been renewed for new seasons! Anyone else think they should do a crossover where Anna goes to one of Chrishell's open houses? pic.twitter.com/MGDgvs6cYKMarch 10, 2021
See more
Is there a 'Bling Empire' season 2 trailer?
Luxury cars, opulent jewelry and over-the-top outfits abound in the Bling Empire season 2 trailer. Did you expect any less?
Not only do fans get montage of this luxurious lifestyle, but they get a small glimpse at the chaos that is about to unfold, and it's a doozy.
Kevin is potentially taking things to a new level with Kim while OG cast members question newcomer Dorothy's intentions. There are arguments, unwanted get-togethers, stalled wedding plans and news of second families.
WOW! Are you going to be able to keep up?
What can we expect from 'Bling Empire' season 2?
The second season of Bling Empire will reveal even more secrets about the cast—as if estranged fathers, fertility issues and penis pumps weren't private enough.
Showrunner Brandon Panaligan revealed in an interview with Yong Chavez on YouTube: "There are so many layers to all of them. So the second season, I'd expect to see more parts of their lives that we didn't see before, meet more of their friends, meet more of their family and just kind of broaden it out so we can know them a lot more."
How about the rest of the cast? *Predictions incoming!*
Christine Chiu
Resident mean girl Christine Chiu was firmly against having a second child but has hinted that we can expect her to share a huge piece of information once the cameras start rolling again.
Several weeks before the season 2 premiere, she told E! "I take a lot of the hits just for the overall benefit of the show." What does that mean?!
Kelly and Andrew
It seems that the saga of Kelly and Andrew's relationship may have actually come to end. Plus we hear her state, "I'm single, finally" in the teaser, so it looks like a new chapter is about to begin.
Kevin and Kim
Kevin was pretty set on winning over Kelly (even when she was still with Andrew) but by the end of season one, he realized Kim was a better match for him. Judging from the trailer, he seems set on winning over her heart, but will his "man whore" ways come back to haunt him?
Jessey Lee and Chèrie Chan
These two moved quickly: news of their engagement began circulating in late August 2021. By early September, they said "I do" at the Château de Saran castle in Champagne, France. Talk about efficiency.
We're curious what's next for their storyline.
Kane Lim
Kane has big plans for the next season, as he revealed he would love to travel with the whole cast to another country—namely his home country, Singapore.
"I would actually like to fly the whole cast to Singapore to show them what Singapore truly is," he told ET. "I know you watch the movies, you've seen all the glamorous stuff, but there's so much more to Singapore. Like the food, the culture, the people."
Are we going to get a taste of what's happening abroad? Time will tell!
'Bling Empire' season 2 cast: Who's back and who's new?
Bling Empire season 2 should bring back all the familiar faces of season 1, plus a few newbies.
Although fans had suspicions about Filipina actress-singer Heart Evangelista, it appears she's not joining the ranks alongside season 2 novices Dorothy Wang and Mimi Morris.
"People like Dorothy, all they do is create gossip and drama," we hear in the teaser. Meanwhile, Mimi "takes it to a whole new level."
Who else will be tuning in? Until then, we'll be here, keeping busy with Selling Sunset season 5, of course.
Mariana is Editor of My Imperfect Life. She has previously worked for titles including woman&home and Goodto, covering all aspects of women's lifestyle — from beauty and fashion to wellness and travel. She was nominated for AOP Digital Journalist of the Year in 2020, and for New Digital Talent of the Year at the 2016 PPA Digital Awards. She's mildly obsessed with reality TV (Love Island memes included) and spends far too much time checking her horoscope and figuring out the perfect curly hair routine.