This is the most popular fetish in the world
A new sex study found the top 10 most popular fetishes and kinks in the world—and the findings might surprise you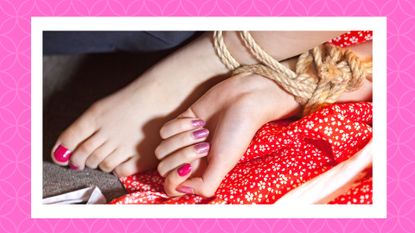 (Image credit: Getty Images)
We're a kink-positive bunch over here at My Imperfect Life—we're well-versed in bondage, aftercare and the best sex toys, after all—but new findings on the most popular fetish worldwide surprised even us.
A new study by Joy Love Dolls, the leading supplier of life-like sex dolls, collated "reputable seed lists exploring the most popular sex fetishes, published in the last 12 months" with the help of Google search trends. "Each fetish was extracted, and a final list of 24 fetishes was refined," per the company.
"Cultivating a healthy understanding of fetishes within consensual relationships can hugely enhance intimacy and pleasure within your relationship. As the search term 'sex fetish' has increased in searches by 82% over the past 30 days worldwide, it's essential to approach fetishes with an open mind, respect, and clear communication between those involved," says Melissa Stone, sex and relationship expert at Joy Love Dolls.
"Whether it's role play, BDSM or even using realistic sex dolls, what may seem unconventional to some is a source of excitement and fulfillment for others," she adds.
So exactly which "source of excitement" is the most popular fetish in the world? Let's dive in.
These are the top 10 most popular fetishes in the world
Coming in at number one on Joy Love Dolls' sex fetish study is sadism, defined by the company as "infliction of physical or psychological suffering on another person to stimulate sexual excitement and orgasm," which had an average yearly search volume worldwide of 9,876,000.
The other half of S&M, masochism—or "the tendency to derive sexual gratification from one's own pain or humiliation," either physically or verbally—took second place with a search volume of 6,600,000. In third, with more than five million searches, is CBT. No, not "cognitive behavioral therapy," but "cock and ball torture," the "application of pain or constriction to the penis or testicles."
The fourth top fetish might surprise you: it's claustrophobia—yes, that claustrophobia. "Sexual arousal by or interest in being confined in small spaces" clocked in at number four with a search volume of 3,612,000. And rounding out the top five is vicarphilia, a.k.a. "becoming aroused by other people's sexual stories, and living vicariously through them."
Check out the full top 10 of sexual fetishes from Joy Love Dolls' study below:

Christina Izzo is the Deputy Editor of My Imperfect Life.
More generally, she is a writer-editor covering food and drink, travel, lifestyle and culture in New York City. She was previously the Features Editor at Rachael Ray In Season and Reveal, as well as the Food & Drink Editor and chief restaurant critic at Time Out New York.
When she's not doing all that, she can probably be found eating cheese somewhere.