The most disturbing thing we've learnt from Netflix's 'Operation Varsity Blues' doc
'Operation Varsity Blues' unpicks one of the biggest scandals to rock U.S. education.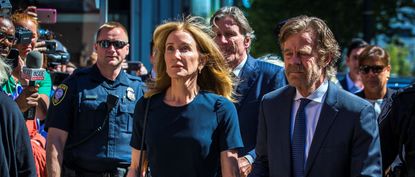 (Image credit: Boston Globe/Getty)
For the uninitiated, Netflix's Operation Varsity Blues is the latest documentary that has gripped the nation, after we were all left frantically Googling "What really happened to Elisa Lam at the Cecil Hotel?" following the streamer's last viral docuseries.
Unravelling the U.S. college admissions scandal that saw Hollywood actresses Felicity Hoffman, Lori Loughlin, and other wealthy parents sentenced to jail time after using bribery and fraud to get their children into elite universities across America, Operation Varsity Blues is enough to make any hardworking high school student's blood boil.
But perhaps the most disturbing takeaway is just how prevalent "back door" deals are for the very wealthy to ensure their children's applications to Ivy League institutions are favorably met. In fact, writing big donation checks to prestigious schools doesn't appear to be as rare as it sounds.
Jared Kushner, who served as a top aide to Donald Trump, had his acceptance to Harvard University investigated as part of the 2006 book The Price of Admission, written by Daniel Golden. It was claimed that Kushner was accepted at the school shortly after his father Charles Kushner, a wealthy real estate developer, pledged a $2.5 million donation to Harvard in 1998.
So while the FBI indicted 50 people and the college admissions fraud investigation made headlines around the world, it's unclear how much of that culture has in fact really changed.
The sting that Operation Varsity Blues centers on sees college admissions counselor Rick Singer wheeling and dealing with parents for a "side door" into some of the best higher education institutions in the U.S. There's talk of folks photoshopping students' heads onto pictures of sportsmen and someone paying to have her daughter's SAT test scores changed.
The aforementioned "side door" refers to paying a bribe to an official or coach at the university by way of "donating" to The Key Worldwide, the nonprofit foundation that forms part of Singer's college counseling business, The Key. (The "front door" is the legit way to apply to college, while the "back door" involves making a donation directly to the university—a ballpark figure of around $45 million at Harvard, according to Singer).
In a reenactment of an October 15, 2018 phone call captured on tape by the FBI, Singer tells a father inquiring about the "cost" of Harvard (as in, how much would he need to "donate" to get his kid in) that he had done upward of 730 "side door" deals to arrange admission.
Yes, Singer pleaded guilty to racketeering conspiracy, money laundering conspiracy, conspiracy to defraud the United States and obstruction of justice, and agreed to cooperate with authorities. And yes, some celebrities were arrested. But as Operation Varsity Blues point out, perhaps the biggest tragedy is that no one thought to issue hefty fines that could then be used to aid actually hardworking, underprivileged students around the country to get into their own dream schools.
Fiona Embleton is a multi-award-winning beauty editor who has tested over 10,000 products in her 10 years + of writing and shooting beauty stories. For the past four years, she was the Senior Beauty Editor at Marie Claire, having previously worked in the role of Beauty Editor at both Stylist and Cosmopolitan. She has recently gone freelance and alongside My Imperfect Life, she has written for titles including ELLE UK, ELLE Canada, Buro 247, Harper's Bazaar Arabia, Vogue Scandinavia, and ES Magazine. Beauty journalism allowed her to marry up her first-class degree in English Literature and Language (she's a stickler for grammar and a self-confessed ingredients geek) with a passion for make-up and skincare, photography, and catwalk trends. She loves jumping on the latest internet-breaking beauty news, dissecting the best red carpet looks, and having the crème de la crème of dermatologists, make-up artists, and hairstylists on speed dial so she can tap them for the best advice. She's a discerning beauty shopper and knows it can be confusing trying to navigate what's hype and what really works. So if she really likes something, you can trust that she has reached that opinion by vetting it against everything else she's ever tried. Her career highs? Interviewing Cate Blanchett and winning a Jasmine Award for the deeply personal feature Cancer Stole My Mother's Scent.