Online daters only need 30 seconds to form a connection according to new research
Apparently you can tell if there's a spark within less than a minute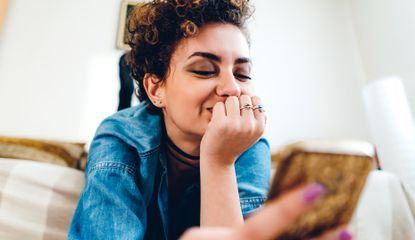 (Image credit: Getty Images)
Dating apps have become the main way to meet new people and form romances in the last decade and during lockdown, many of us sought to the likes of Hinge, Bumble and Tinder to connect with others - especially as socializing IRL came to a complete standstill.
But as anyone who's ever tried online dating, they can be tiring, disheartening and sometimes even a complete waste of time. On the flip side, they can also be thrilling, fun and the perfect platform to meet the love of your life. But how long does it take to find what you're looking for?
New research by Virgin Media suggests that online daters can tell if they have formed a connection with someone in just 30 seconds - yes, 30 seconds!
According to a new poll, adults dating online reported that they knew almost immediately if there was a spark with the person they were in contact with or not. Obviously, we're assuming this is based on first impressions which is mainly appearance on dating apps, hence why we can swipe right or left so fast.
The research also revealed that many of us are enjoying our "new dating normal", with six in ten people saying they're enjoying chatting with people over video, while one in four say they'll actually continue to keep up virtual dating even after the pandemic is fully over, whenever that may be.
Virtual dating is also a lot cheaper, as Virgin Media suggests the average person will spent at least $23 (£18) per date, so that's some money saved. Plus, if you're not quite feeling it, all you have to do is fake a poor Wifi connection and you can be out of there in no time. What's not to love?
In fact, the average time spent on an online date is 60 minutes, compared to 86 minutes for a date in-person, so it looks like money isn't the only thing we're saving in the new age of dating...
Sagal is a journalist, specialising in lifestyle, pop culture, fashion and beauty. She has written for a number of publications including Vogue, Glamour, Stylist, Evening Standard, Bustle, You Magazine, Dazed and Wonderland to name a few.