Pandora sustainable diamond collection: it's here and we're in love
The Pandora sustainable diamond collection is here—take our money now!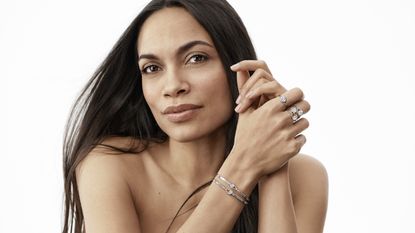 (Image credit: Pandora)
Sustainability is on our minds more and more as fashion and make-up brands have started making conscious efforts to become more eco-friendly. Finding the best sustainable jewelry brands to complete your planet-friendly wardrobe is now easier than ever, and from today you can add Pandora to that list too.
Pandora's new 'Brilliance collection' features 100% recycled gold and silver and sustainable lab-made diamonds.
The super chic campaign, fronted by Ashley Graham and actress Rosario Dawson is timeless and is a real embodiment of the collection which includes rings, bracelets, bangles, necklaces, and earrings—perfect if you want to achieve the piercing trends of 2021. The aim of the collection, Pandora says, was to create 'high quality, beautiful diamonds at a more attractive price point.'
The pieces range from £250 to £1,290 and are made from either 14k yellow gold, white gold, or sterling silver, so something to fit everyone's style.
Each diamond is one of a kind, and, 'selected for its impeccable high quality.' Pandora says: 'lab-created diamonds have the same properties and characteristics as mined diamonds and are held to the same standards—cut, color, clarity, and carat—before being set within the Pandora Brilliance collection (opens in new tab).' Over 99% of all the stones Pandora now uses in their jewelry are man-made.
The collection is Pandora's first-ever CarbonNeutral® certified products, they announced that by 2025 they will be completely carbon neutral as a brand. Pandora also switched to 100% renewable energy at their crafting facilities.
What better way to treat yourself or a friend, than with a piece of jewelry not only kind to the eye, but also to the planet.
The inspiration of the collection is 'Infinite possibilities' each piece features an infinity motif and a solitary diamond.
Pandora has said the idea behind the collection was to empower women, the collection is aimed at women, 'who want to purchase a diamond for themselves, as a commitment to their own goals and future.' As the song goes, diamonds are a girl's best friend.
Shop the collection now