The key ear piercing trends you need to know about right now
Looking for ear candy inspiration? These are the ear piercing trends you need to know about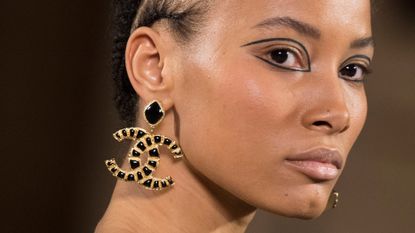 (Image credit: Getty Images / Victor VIRGILE )
There's officially never been a better time to have an ear-piercing. Trends keep popping up left and right, and super-stylish celebrities like Dua Lipa, Zoë Kravitz, Scarlett Johansson, and Rihanna have been seen sporting multiple piercings and earrings stacks, providing plenty of ear candy inspo.
From animal shapes to safety pins, supersized stones to pearl hoops, single earrings are currently enjoying the style spotlight again, too. A wearable way of ticking trend boxes, cuffs, hoops, huggies, drop earrings and more are upping the style stakes this year. Plus, ear decoration is an easy way to dress up some comfy loungewear during those work-from-home video calls!
As celebrity stylist Donna McCulloch, a.k.a. Sulky Doll Styling, confirms: "I always say to clients, go big or go home with ear jewelry. If not in earring size, in a number of piercings."
Whether you love to be bold or are drawn towards multiple understated earrings, here are the top ear piercing trends you need to know about:
---
---
1. Rearing earrings
Donna McCulloch suggests using ear jewelry to easily dial up your style. She says: "Earrings are a brilliant way of adding personality and a little bit of drama to an otherwise neutral look." And this year, there are plenty of bold earring picks to choose between.
If you like to get ahead of the crowd, "rearing" earrings are one of the stand-out ear piercing trends of the year. They create a reverse effect: the classic earring hook is seen at the front of your lobe, with the piece of jewelry threading through to hang underneath.

Winding animal motifs, like snakes, are a stunning rearing style, but you can also explore elaborate crystals, crosses, chunky chains, bright shapes, and big hoops. Basically, the more extra, the better!
2. Safety pins
Safety pin earrings have reigned supreme on runways the past few months, throwing it back to the 1970s punk era. Subtle or stan-out, safety pin earrings in various sizes and styles bring an edgy and eclectic vibe to the ear party.
3. Cuff earrings
Ear cuffs and ear climber earrings offer the option of maximum jewelry coverage with minimum piercings. Aimée Downey, owner of Ffreckle online jewelry store, says: "These can start in the lobe piercing and wrap around to the top cartilage of the ear. I'm seeing both understated ones pop up as well as those reaching the ear's mid-point."
Many ear cuffs don't require any piercings and are an optional addition to update your existing ear jewelry. Similarly, single hoop-style cuffs can be worn as standalone pieces or stacked, culminating in a layered earring effect.
4. Pearl earrings
Classic and timeless, pearl earrings are being given an updated twist this past year. Marc Jacobs, Chanel, Jil Sander and Simone Rocha all focused on pearl jewellery and earrings for AW20 in their catwalk shows. Moschino showed a French Revolution look, with pearl earrings being a pivotal feature. Pearl studs, pearl drop earrings and hoops or cuffs with pearls on, are all a stylish nod.
5. Colorful stones
Colourful stones will be your go-to for brightening up a look, and rainbow huggies are a simple way of achieving this. Build up the bling wearing coloured crystal huggies in multiple piercings, seeking out bright shades such as turquoise opal stones too. With jewel tones a key theme for AW20 fashion in general, earrings ensure a wearable take without revamping your entire wardrobe.
6. Single earrings
As seen from Dior at AW20 fashion month, single earrings are back with a bang. Worn on one side only to dial up the dramatic impact, this look can be paired with a stud or leave your other lobe bare.

The style of these jewelry singletons? Anything from the aforementioned safety pins to long drop earrings, which look like a sculpted work of art.
7. Layered earrings
Keep an eye out for multi-layered hoops as one of this year's biggest ear piercing trends. The chunkier piece encompasses two or three hoops coming from the same piercing. Alternatively, placing a pair of mid-sized hoops beside each other on the same ear also earns double style points.
Helen is a freelance writer, who has contributed to titles including Glamour, Grazia, The Independent, Fabulous and Fit & Well. Specialising in beauty, fashion, and lifestyle, she writes about new finds, standout brands, and expert insight. Helen loves multiple ear piercings, layering up looks and seeking out fresh style inspiration.