The cult serum that promises you 'glass skin' and had a 25,000 waiting list is now 50% off at Ulta
Prepare to be wowed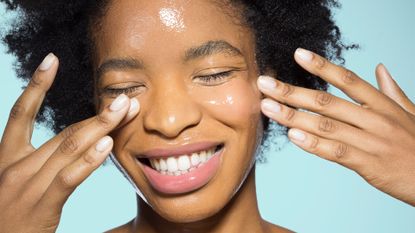 (Image credit: Jonathan Knowles/Getty Images)
Peach and Lily's Glass Skin Refining Serum is nothing short of a phenomenon. Few skincare products can boast a 25,000-strong waiting list of women who can't wait to snap it up. Fewer still have over 1,000 perfect reviews, have sold out 12 times since launch and are adored by beauty editors.
So you'll be pleased to know that right now you can bag yourself a bargain as Peach and Lily's Glass Skin Refining Serum is currently 50% off at Ulta.
For the uninitiated, 'glass skin' is a term that describes exceptionally smooth, even-toned skin that is so lustrous and light-reflecting that it has the appearance of glass. It is also the main #skingoal of Korean skincare, where glass skin is most closely equated with a youthful glow.
To that end, beauty insiders have praised the effects of the Glass Skin Refining Serum and what it calls its 'Superskin Ingredients' since its debut. That includes niacinamide to help calm inflammation; hyaluronic acid for hydration; East Asian mountain yam for added suppleness and peach extract, which is rich in vitamins and essential fatty acids. These arm your skin with more bounce (and bounce back from irritants) making it one of the best moisturizers for dry skin.
More impressive still is the fact that this hero product has stormed up the skincare charts despite not containing the usual suspect, retinol.
One happy customer said, "It is my new holy grail! ...I use it twice a day and it makes my skin velvety smooth. I cannot recommend this enough! I also use it with the cleanser and the matcha moisturizer."
While another praised its speedy effects. "I started using this consistently each morning and night. Within about one week I notice that my skin feels softer and smoother. My skin just looks all around better and healthier. I don't usually see significant differences with skincare but I am very happy with this product!"
Tempted? Snap up the Glass Skin Refining Serum for just $19.50, instead of the usual $39 (and enjoy a free Glass Skin Water-Gel Moisturizer mini with any $30 Peach & Lily purchase). After all, our skin's bumps and dark shadows aren't fooling anyone on Zoom calls.
Fiona Embleton is a multi-award-winning beauty editor who has tested over 10,000 products in her 10 years + of writing and shooting beauty stories. For the past four years, she was the Senior Beauty Editor at Marie Claire, having previously worked in the role of Beauty Editor at both Stylist and Cosmopolitan. She has recently gone freelance and alongside My Imperfect Life, she has written for titles including ELLE UK, ELLE Canada, Buro 247, Harper's Bazaar Arabia, Vogue Scandinavia, and ES Magazine. Beauty journalism allowed her to marry up her first-class degree in English Literature and Language (she's a stickler for grammar and a self-confessed ingredients geek) with a passion for make-up and skincare, photography, and catwalk trends. She loves jumping on the latest internet-breaking beauty news, dissecting the best red carpet looks, and having the crème de la crème of dermatologists, make-up artists, and hairstylists on speed dial so she can tap them for the best advice. She's a discerning beauty shopper and knows it can be confusing trying to navigate what's hype and what really works. So if she really likes something, you can trust that she has reached that opinion by vetting it against everything else she's ever tried. Her career highs? Interviewing Cate Blanchett and winning a Jasmine Award for the deeply personal feature Cancer Stole My Mother's Scent.