This Princess Diana meme is the best thing on the internet right now
A Princess Diana meme from The Crown is going viral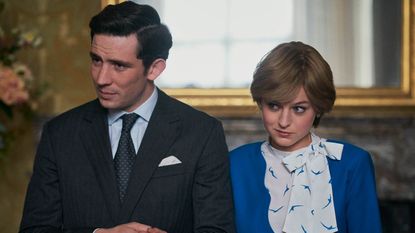 (Image credit: Netflix / The Crown)
If you've been watching season four of The Crown (one of the new shows added to Netflix in November), then you'll know actress Emma Corrin. She plays the late Princess Diana and is simply sublime. From her tone of voice to her mannerisms, she has nailed her portrayal of Princess Di (including her struggle with bulimia).
And now, a hilarious meme from one of our favourite scenes from the series has gone viral.
There are plenty of reasons why the world fell in love with Princess Diana, from her impeccable style and inviting charm, to her public embrace of motherhood, which during her time was profound for a member of the royal family. Another reason we love here, which has been highlighted by the hit Netflix show is that she's incredibly memeable... or at least Emma Corrin is!
Me trying to decide what to have for dinner pic.twitter.com/cy1CVrMaXkNovember 16, 2020
See more
The moment in question comes in episode three of the new season. Titled "Fairytale", it plays out the day Prince Charles (played by Josh O'Connor) asked Diana to marry him and the show did a pretty good job at recreating the historic 1981 event, with everything from the outfits to the public announcement matching up to the real thing.
In the scene, there is a moment where the camera zooms in on Diana's (aka Corrin's) face as she blushes shyly and her eyes swing around the room from side to side. Naturally, one Twitter user, named Wayne David, decided this was the perfect content to create a meme out of and he was right. Making a gif of the clip, he tweeted "me deciding what to have for dinner".
It didn't take long for Twitter to do its thing as the hilarious meme went viral within seconds and now has over four million views and many other versions.
Me on a Zoom call pretending I'm listening and not just looking at myself pic.twitter.com/NzcZhZQvItNovember 16, 2020
See more
Me getting to the front of the queue at Greggs and ordering the last 2 steak bakes. pic.twitter.com/lsyO9Wfyx2November 20, 2020
See more
Me trying to catch the attention of the bar staff so I can be served next pic.twitter.com/CI1WVkneKPNovember 20, 2020
See more
me, on mute on the Zoom but trying to show that I am actively listening to the call pic.twitter.com/tU4znHUqtfNovember 17, 2020
See more
Speaking to BuzzFeed, meme creator Wayne, who is actually a DJ based in south London, said of Diana after watching The Crown: "She basically looks like a rabbit in the headlights", before praising Corrin's performance.
"Taking on the role of the most famous woman in the world must have been very daunting!" He said. "In those early scenes, you really are reminded of how young Diana was when she was thrust into the spotlight. I think she captured that perfectly."
We couldn't agree more!
Sagal is a journalist, specialising in lifestyle, pop culture, fashion and beauty. She has written for a number of publications including Vogue, Glamour, Stylist, Evening Standard, Bustle, You Magazine, Dazed and Wonderland to name a few.