One of Rachel Green's most iconic dresses is now available to buy
Ace your post-lockdown look with this 90s style dress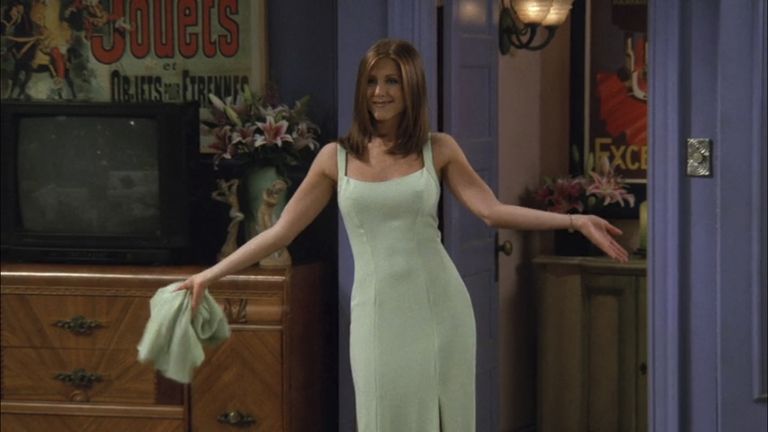 (Image credit: Warner Bros)
Friends shaped our lives in many ways over the course of its 10-season run, from how not to shift a couch (PIVOT) to mastering the art of unagi. Yet the most important lesson from the show over the years was how to master Rachel Green's '90s style—and there are a few pieces we'd love to add to our capsule wardrobe.
Although Monica had impeccable taste in boots and Phoebe satisfied our need for outlandish outfits, it was Rachel—the group's resident fashion expert—who we looked to most, for her incredible 90s fashion trends.
Rachel has inspired countless fashion and beauty looks—we've even found the exact lipstick shade Rachel Green wore—and, while it's hard to pick our favorite Rachel look, we'd probably go with the stunning floor-length dress she wore in season three's The One Where No One's Ready.
The One Where No One's Ready; Rachel Green pic.twitter.com/bp6JK6XKUoMay 29, 2018
See more
Since Rachel stopped gracing our screens with her iconic style moments, we've been at a total loss but take note: Whistles has released a dress that looks almost identical. The most exciting part? It's now on sale with 20% off.
Whistles have replicated the classic cool mint color that has stood the test of time, along the glamorous side slit, and it's also available in navy.
Whistles Maria bridesmaid dress
Don't let the fact that this is a bridesmaid dress deter you from adding it to your shopping cart. The piece is elegant and minimal and includes a sleek square collar, chunky straps, and a sexy slit on the left-hand side.
Take a page from Rachel's book and pair yours with silver strappy sandals for spring nights out, or for a more updated spin, we think this dress will look uber cool with sneakers, socks, and a denim jacket—and pair with the exact lipstick Rachel Green wore.
Since December 2020, Kudzai has worked as a trainee journalist at FUTURE, writing about fashion, entertainment and beauty content for My Imperfect Life.

Kudzai previously worked as a freelance fashion wardrobe stylist, directing magazine photoshoots and coordinating the fashion direction of recording artists.

A fully qualified Journalism and Media graduate from De Mont Fort University, Kudzai graduated in the summer of 2020.