Reese Witherspoon just showed us how to make the perfect fall cocktail
The star's homemade seasonal take on an Aperol Spritz looks delicious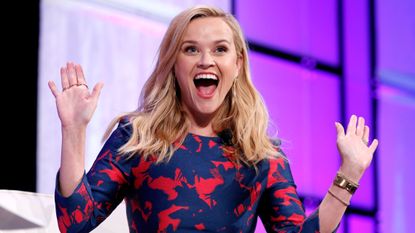 (Image credit: Marla Aufmuth/Getty Images for Watermark Conference for Women 2018)
Reese Witherspoon really is a jack of all trades. Not only is she Hollywood royalty - fronting some of our favourite movies and TV shows thanks to her stellar acting range - but she's also been at the forefront of dismantling sexism and discrimination for years, whilst being everyone's go-to for book recommendations. And now, she can add top mixologist to her CV too.
The Little Fires Everywhere star recently shared her recipe for the ultimate fall cocktail with fans and naturally, they (including us) went crazy for it.
Taking to her Instagram account, Reese posted a video reel of herself making her favourite drink for the season, a Fizzy Apple Cider cocktail, in her kitchen and it wasn't long before some of her 24 million followers tuned in for the tutorial.
A cosy take on the Aperol Spritz, the cocktail was nice and simple to make consisting of just four ingredients: apple cider, Aperol, club soda, and Prosecco. However, it looked like a bit of a free pouring situation as Reese didn't provide any instructions for measurement, meaning it's up to you how much or how little you add of all the ingredients (not forgetting the amount of sugar in alcohol of course...).
While making her drink, she has a slight accident with the fizzy apple cider bottle exploding everywhere. But the show must go on and last but not least, Reese adds the all-important garnish: a slice of apple which is carefully placed on the rim of her glass, making the cocktail not only taste good but look it too.
She ends the adorable video with a little dance before taking a big sip of her homemade cocktail. "Perfect for fall," Reese wrote in her caption. "And pairs well with just about any dance move."
The video received almost 400,000 likes, with celebrity friends like Kerry Washington and Gabriel Union giving it a double tap too.
"Cocktails With Reese! You need to start a YouTube and show us all the recipes and your sweet dance moves," read one of the 7,000+ comments and we couldn't agree more.
In the meantime, we know what we'll be doing this weekend!
Sagal is a journalist, specialising in lifestyle, pop culture, fashion and beauty. She has written for a number of publications including Vogue, Glamour, Stylist, Evening Standard, Bustle, You Magazine, Dazed and Wonderland to name a few.