Which beauty icon from Sex And The City would you be? Plus the products they would use today
The ultimate Sex And The City beauty tips.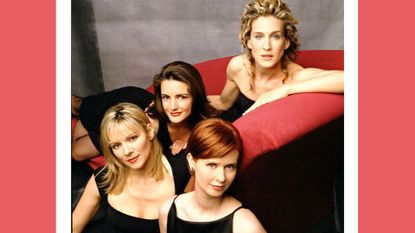 (Image credit: HBO/Getty)
Rewind to 2010 when we last Googled Sex And The City beauty tips and Carrie introduced kajal eyeliner to our makeup lexicon courtesy of SATC2. It was nothing short of a seminal moment for avid fans and a great way of bonding over a Cosmopolitan or three.
It's fair to say that 2020 hasn't got off to the best start. But then the entertainment gods twigged that us gals were binge watching Sex And The City re-runs in our ratty old sweatpants and a seed was planted. Yesterday, Sarah Jessica Parker confirmed that those four sassy Manhattenites are making a welcome return to our screens.
Cue we fell down a rabbit hole, bookmarking which SATC star's beauty looks we're most likely to channel. So whether you're a Carrie, Samantha, Miranda or Charlotte, these are the products we reckon they'll climax for in #SATCNextChapter.
Carrie: fun, feminine but edgy
Nars Orgasm Blush, $30 (opens in new tab) [£25, Cult Beauty (opens in new tab)]
Carrie's cheeks always have a coy pink flush, especially when she's around Mr Big. Nars Orgasm Blush is the perfect way to fake it until you make it.
Victoria Beckham Satin Kajal Liner in Black, $28 [£22], Net-A-Porter (opens in new tab)
Sales of kajal eyeliner (opens in new tab) skyrocketed after we spotted Carrie buying one in a Moroccan Souk in SATC2. Ringing her eyes in black liner always brings out the icy blue shade and being a fashion maven we reckon she'd be a fan of Victoria Beckham's beauty line.
Too Faced Better Than Sex Mascara, $26, Ulta (opens in new tab)[£22, Cult Beauty (opens in new tab)]
No matter how thrilling her liaisons with Aidan, this mascara is always a product Carrie can rely on for getting her trademark long, full-bodied lashes.
Glossier Balm Dotcom in Birthday, $12 [£10] (opens in new tab)
Carrie loves cake - this lip balm smells like cake and we reckon she'd be a die-hard Glossier (opens in new tab)fan.
Silk Works London Large Silk Scrunchie in Pink, £12 (opens in new tab)
Carrie may have mocked boyfriend Berger for mentioning a scrunchie in his novel, but the 80s hair tie is back on trend and being made of silk, this one reduces tangles, kinks and frizz.
Lovely by Sarah Jessica Parker EDT, $52 (opens in new tab) [£19.50, Boots (opens in new tab)]
No doubt its apple martini accord, alongside creamy orchid and sensuous woods, would be Carrie's signature scent.
Charlotte: Pure Park Avenue meets prim and proper 50s glamour
Benefit Gimme Brow+ Gel in 04, $24 (opens in new tab) [£18, Lookfantastic (opens in new tab)]
Charlotte's makeup is pared back but strategic. Perfectly arched, on fleek brows are a perennial favourite.
Bobbi Brown Long-Wear Gel Eyeliner in Sepia Ink, $32.97, Amazon (opens in new tab) [£21, Lookfantastic (opens in new tab)]
Charlotte is like the poster girl for Bobbi Brown's safe-but-pretty makeup looks. Watch closely and you'll notice she only ever draws along the upper lash line (one of the make-up maestro's mantras) to really open up the eye.
Essie 6 Ballet Slippers Nail Polish, $9 (opens in new tab) [£7.99, Lookfantastic (opens in new tab)]
Nothing looks more polished or elongates the nail than a nude nail color. These days think Charlotte would take her beauty inspiration from the Duchess of Cambridge who famously wore this shade on her wedding day.
Charlotte Tilbury K.I.S.S.I.NG Coral Kiss Lipstick, $34 [£25] (opens in new tab)
Coral is Charlotte's trademark lipstick shade and this one has the added benefit of lift-reflecting pigments to make your pout look fuller and waxes to prevent color bleeding outside your lip line.
Dior Absolutely Blooming Eau de Parum, $105 (opens in new tab) [£78, Boots (opens in new tab)]
A designer fragrance that smells fresh and floral is likely to appeal to Charlotte. Dior's Absolutely Blooming ticks all those boxes.

Miranda: lawyer, mom and all-round ball-breaker, it's all about no-frills beauty
John Frieda Radiant Red Boosting Shampoo, $11.99, Ulta (opens in new tab) [£6.99, Feelunique (opens in new tab)]
Miranda's signature is her fiery red hair. With nourishing pomegranate extract and vitamin E, the red pigments in this shampoo prevent colour fade.
Urban Decay Naked 3 Eyeshadow Palette, $54 (opens in new tab) [£43, Cult Beauty (opens in new tab)]
Miranda favours a smoky eye and this 12-shade palette houses everything she needs in one place - from warm browns to cooler tones - for makeup on the go.
Kiehl's Avocado Nourishing Hydration Mask, $45 (opens in new tab) [£36, Feelunique (opens in new tab)]
Eagle-eyed viewers will have spotted Kiehl's Algae Masque on Miranda's bathroom shelf. This product may have been discontinued but we reckon time-short Miranda would love the Avocado Nourishing Hydration Mask instead, which hydrates in 15 minutes flat.
Chanel Rouge Coco Flash in Attitude, $40, Nordstrom (opens in new tab)[£31, Selfridges (opens in new tab)]
Could there be more perfect shade name for Miranda? We think not - plus the rust colour packs a punch against her pale skin.
Frank Body Original Body Scrub, $16.95 (opens in new tab) [£6.95, Cult Beauty (opens in new tab)]
Miranda's love of coffee is legendary. This way you can get your caffeine hit with an all-natural, vegan coffee scrub to buff away dead skin cells and ramp up the circulation.
Samantha: sex kitten and not adverse to a few tweakments
Creed Spring Flower Eau de Parfum, $230, Norsdtrom (opens in new tab) [£130, Liberty London (opens in new tab)]
This flirtatious, fruity floral scent with a heart of jasmine and rose was spotted on Samantha's vanity and it's just as addictive now as it was then.
Nars Climax Extreme Mascara, $24, Ulta (opens in new tab)[£22, Lookfantastic (opens in new tab)]
Sorry couldn't not go there. That said, Samantha's flirty flutter is courtesy of a good mascara and they don't get much better than this jet-black formula with a latex-like finish to beef up spindly lashes. Disclaimer: we also think Samantha LOVES latex.
Victoria Beckham Beauty by Augustines Bader Golden Cell Rejuvenating Priming Moisturizer, $145 [£140], Net-A-Porter (opens in new tab)
Samantha's skin always has a golden sheen that borders on looking oily. We think she'd prefer this lightweight primer with naturally exfoliating papaya enzymes and pearlescent particles to ramp up her glow.
Dr Dennis Gross Skincare Alpha Beta Universal Daily Peel, $17 (opens in new tab) [£19, Cult Beauty (opens in new tab)]
Who can forget that episode of SATC and Samantha's infamous chemical peel experience? Nowadays her go-to would be a these cult 2-part peel pads: step one swipes on skin-buffing AHAs while the neutraliser takes down any unsociable redness.
Fiona Embleton is a multi-award-winning beauty editor who has tested over 10,000 products in her 10 years + of writing and shooting beauty stories. For the past four years, she was the Senior Beauty Editor at Marie Claire, having previously worked in the role of Beauty Editor at both Stylist and Cosmopolitan. She has recently gone freelance and alongside My Imperfect Life, she has written for titles including ELLE UK, ELLE Canada, Buro 247, Harper's Bazaar Arabia, Vogue Scandinavia, and ES Magazine. Beauty journalism allowed her to marry up her first-class degree in English Literature and Language (she's a stickler for grammar and a self-confessed ingredients geek) with a passion for make-up and skincare, photography, and catwalk trends. She loves jumping on the latest internet-breaking beauty news, dissecting the best red carpet looks, and having the crème de la crème of dermatologists, make-up artists, and hairstylists on speed dial so she can tap them for the best advice. She's a discerning beauty shopper and knows it can be confusing trying to navigate what's hype and what really works. So if she really likes something, you can trust that she has reached that opinion by vetting it against everything else she's ever tried. Her career highs? Interviewing Cate Blanchett and winning a Jasmine Award for the deeply personal feature Cancer Stole My Mother's Scent.