This gadget will revolutionize the way you clean and dry your make-up brushes
This will take SO much hassle out of cleaning your brushes!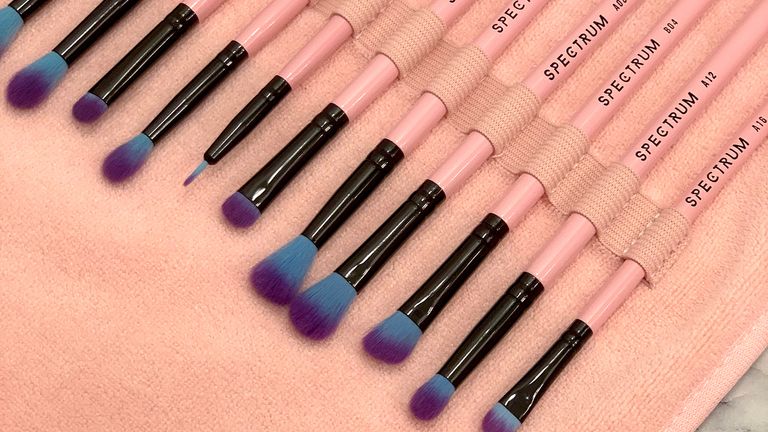 (Image credit: Spectrum Collections)
Cleaning your make-up brushes is a real chore. We get it. But it is a must on the hygiene and skin health front – and this newly launched gadget from Spectrum Collections really changes the game. 
Founded by Welsh sisters Sophie and Hannah from their garage, Spectrum's tools are some of the best vegan make-up brushes in the business. Professional level and affordable, the brand is now one of the go-tos for make-up artists. And their latest launch is, hand on heart, one of the handiest beauty gadgets we've ever seen.
One of the big drags about cleaning your brushes is of course having the space (and time) to allow them to dry properly post-wash. The brand has just launched a towel that'll revolutionise the process, complete with slots for your brushes while they dry.
The towel is made from super absorbent microfiber material and has enough space to hold up to 32 brushes a time. The attached hooks also mean that it can easily be hung over a door, radiator or any warm space to allow your brushes to dry facing downwards. Genius.
In the Brush Laundrette Bundle, as well as the towel you'll also get the vegan brush cleaning soap in a lovely Bergamot and Grapefruit scent. This also has a silicone cleaning pad in the lid, which makes the wash all the more easier.
Spectrum Collections Brush Launderette Towel, $25/£16.99, spectrumcollections.comView Deal
Spectrum Collections Bergamot and Grapefruit Vegan Brush Soap, $25/£16.99, spectrumcollections.comView Deal
Spectrum Collections Brush Launderette Bundle, $43/£29.99, spectrumcollections.comView Deal
At only 25 bucks, this will definitely take a lot of the hassle out of the make-up brush cleaning process without breaking the bank. We love a beauty bargain.
Adding this to our online baskets, stat!
Lucy is a beauty journalist who has written for titles including Marie Claire, Cosmopolitan, Women's Health, InStyle and Woman & Home, and regularly contributes to My Imperfect Life. Most recently she was Junior Beauty Editor at Marie Claire. Covering skincare, haircare, make-up and wellbeing, her job involves anything from picking the brains of the world's top dermatologists to swatching the latest and greatest foundations. When she's not got beauty on the brain, you're most likely to find her spending time with dogs (her sister owns one very sassy cockapoo), reading or sleeping. She's also a big fan of RuPaul's Drag Race, rosé and and house plants that stay alive.