This is the beauty look you should wear based on your star sign
Looking for beauty inspo for 2021? Look no further than the zodiac...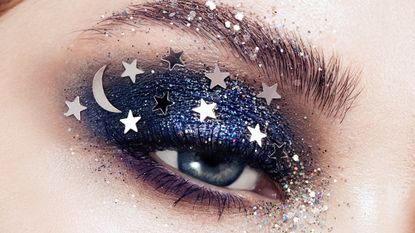 (Image credit: heckmannoleg via Getty Images)
Ever wondered what make-up suits your star sign? Wonder no more. Glossybox has just rounded up the beauty looks that complement each zodiac sign, and it's all the make-up inspo you'll need for 2021.
Just because we're still going to be spending a fair amount of time at home this year, that doesn't mean we can't get our glow on for our daily video meetings or Friday night Zoom drinks.
So whether you're a passionate Scorpio or mysterious Pisces, below is a breakdown of the products and looks that best suit your star sign. Keep reading to find out your zodiac beauty matches...
Best beauty looks for your star sign
Aries (March 21-April 19)
As the first sign of the zodiac, Aries marks all things fresh and new. Make-up wise, think dewy complexions paired with a red lip and cat eye, and hair-wise classic updos or a low bun or ponytail. Aries is always on the go and needs their look to stay put, so long wear products are a must.
Taurus (April 20-May 20)
Taurus' favorite make-up looks are all about romance. Go-to shades for a Taurus include timeless creams, soft pinks, golds and coppers, as well as those all-important romantic rosy shades. Known to be perfectionists, they won't settle until their look is 10/10 – and you can expect lots of pampering in their spare time.
Gemini (May 21-June 20)
Gemini's open mind makes them super creative when it comes to their make-up. They love to have endless shades at their disposal and so you can expect their make-up bags to be overflowing with tools and products. Geminis love a bold and colorful eye, and are sure to experiment with new shades and looks.
Cancer (June 21-July 22)
Cancer is known to be a sensitive and emotional sign, so you can expect their make-up to reflect their mood for that day. Either way, they love a neutral palette that they can build on – adding bolder or sparkly shades if they're feeling daring. As a water sign, they also love to try new skincare in their search for the best products.
Leo (July 23-August 22)
Leos are the life and soul of the party, no question, so you can expect standout statement colors to fill their make-up bags. Think gold tones, highlighters, bronzers and illuminating primers and sprays galore. As lions, they're also very conscious of their manes – so haircare and styling is a big priority, too.
Virgo (August 23-September 22)
Virgos are known for being down to earth, efficient and practical, which equates to simplicity in their beauty regimes – think straightforward skincare routine and understated, chic make-up. They're also very interested in their products being vegan, cruelty free and clean. Their signature look? Perfectly matched foundation, a little blush and lash-lengthening mascara.
Libra (September 23-October 22)
Libras are big fans of all things beautiful, luxe and – dare we say it? – expensive. This is reflected in their color palette of choice: champagne pink, light greys and lilacs, which they love across eyes, lips and nails.
Scorpio (October 23-November 21)
Scorpio is decisive and passionate, and knows what works for them when it comes to beauty. As well as having their signature daytime look down to a tee, they know how to turn up the drama for night time with a bold smokey eye. Think strong, bold shades like a deep wine lip or dark plum eye.
Sagittarius (November 22-December 21)
Sagittarius loves their free time, and so they don't want to be spending a great deal of time on their beauty routines – they'd rather get out there and do! Their make-up bags are made up of the essentials and multipurpose products, like lip balm and a good cheek/lip stain, and they love blush pinks, warm browns and golds.
Capricorn (December 22-January 19)
Capricorns have a strong sense of what they like, favoring a relaxed and comfortable style, but also like the best quality products that have been carefully created. In terms of color palette, they love earthy shades like greens and browns, and hair-wise enjoy loose waves that frame the face.
Aquarius (January 20-February 18)
Aquarius is a forward-thinking sign, which means they love to take care of their skin and choose products that will stand the test of time. When it comes to their color palette, they love all things ocean – think marine blues, greens and purples.
Pisces (February 19-March 20)