The meaningful symbolism in Halsey's pregnancy announcement revealed
Halsey's pregnancy posts have had a rainbow reference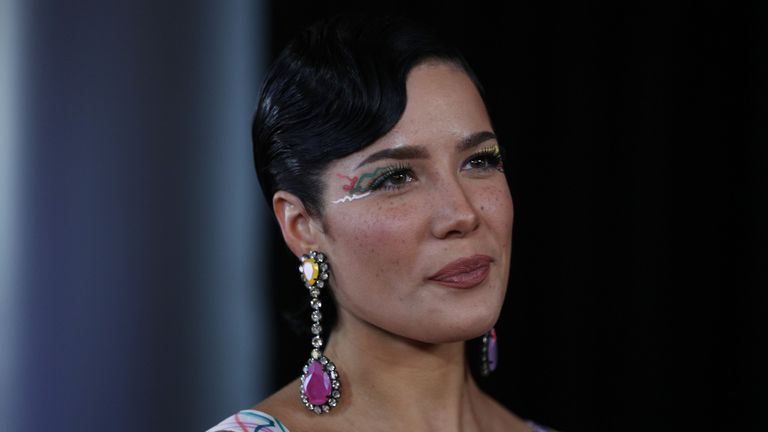 (Image credit: Photo by Don Arnold/WireImage via Getty)
The potential symbolism in Halsey's pregnancy announcement may not have been spotted by everyone, but it seems there could be a meaningful message behind her references. Singer Halsey took to social media on Wednesday to share the exciting news that she is expecting her first child with her boyfriend Alev Aydin. Currently used to giving brilliant on-stage performances and entrancing fans with her voice, it won't be long before Halsey will be on the lookout for the best sleep masks and some of the best crystals to help you sleep, as she becomes a new mom in need of a bit of relaxation.
Halsey's pregnancy announcement was made via a series of beautiful pregnancy photographs posted on the star's Instagram account.
Proudly showing her growing baby bump, Halsey is wearing jeans and a rainbow crochet-style top. In the caption, she echoed this colorful theme, writing simply: 'surprise! 🍼🌈👼🏻'
Over on the singer's Twitter account, she tweeted 'my rainbow' with another matching emoji. And it seems some fans have already begun to wonder about a potential symbolism in Halsey's choice of rainbow reference when it comes to her pregnancy announcement.
What is the symbolism in Halsey's pregnancy announcement?
One follower replied to Halsey's Tweet, commenting: 'rainbow baby definition: A rainbow baby is a name coined for a healthy baby born after losing a baby due to miscarriage, infant loss, stillbirth, or neonatal death. The name "rainbow baby" comes from the idea of a rainbow appearing in the sky after a storm, or after a dark time.'
Whilst another wrote: 'she has had issues with that before... hence why she called the baby her rainbow....'
And another also shared: 'a rainbow baby is a baby that's born after a miscarriage halsey is having a rainbow baby'.
The successful singer has previously opened up about pregnancy losses in the past and about how she lives with endometriosis. Speaking to The Guardian last year, she explained: "It's the most inadequate I've ever felt."
"Here I am achieving this out-of-control life, and I can't do the one thing I'm biologically put on this earth to do. Then I have to go onstage and be this sex symbol of femininity and empowerment? It is demoralizing."
In the same interview, she is understood to have added that motherhood is "looking like something that's gonna happen for me. That's a miracle."
Though Halsey has not confirmed the exact reasoning behind her use of the rainbow reference, the deeply poignant potential symbolism is incredibly powerful. Her announcement and pregnancy journey is an inspiration to all.
We wish the parents-to-be congratulations!