Crystals to help sleep: the best picks to help you get a great night's sleep
Forget lavender oil—these calming crystals to help sleep are your new bedtime must-haves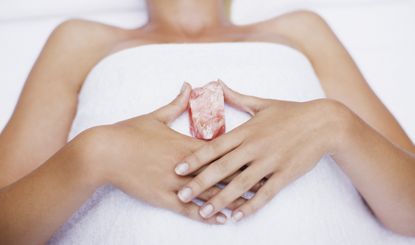 (Image credit: Getty)
"Crystals to help sleep": we'd be lying if we said we hadn't Googled it once or twice when trying to alleviate the catch-22 of sleeplessness—namely, worrying about why we haven't drifted off yet.
There is no exact science for getting the perfect night's sleep—though working to create the perfect sleep environment can definitely help. Switching off blue light devices is thought to help regulate our circadian rhythm. But it seems we're still failing miserably at catching more zzzs. According to the Centers for Disease Control and Prevention, 35-percent of adult Americans don't get enough sleep (seven hours per night), while Fortune Magazine reports that lack of sleep costs the United States around $411 billion annually.
Perhaps it's time to try a crystal associated with better sleep, says Giselle La Pompe-Moore, spiritual guide and founder of Project Ajna. You may even find yourself drawn to one of the best crystals for beginners for the task.
"Energy is both within us and outside of us and in everything from your phone to your bed, which makes us all connected," says La Pompe-Moore. "As crystals hold energy alongside pretty powerful vibrations, we can harness the different energetic qualities they possess to work with our individual goals. The crystals can direct and amplify our energy and intentions, including helping us to sleep."
La Pompe-Moore adds: "But, it's important to remember that this isn't about throwing a rock under your pillow and hoping that it cures your insomnia. It's important that you spend some time with the crystal and charge it up with your intention first."
Finding a suitable sleep set-up requires some experimentation. We tapped La Pompe-Moore for advice on the best crystals for sleep—and, equally important, how to relax while using them.
What are the best crystals to help sleep?
Celestite
"For a dose of calm, peace and serenity, this is what you're looking for."
Lepidolite
"Sleep easy with this stone that works wonders when you're feeling stressed out and your mind is racing."
Amethyst
"A protective stone that's a great tool for meditation and the equivalent of a lullaby for helping you fall asleep."
Rose Quartz
"This soft stone is ideal for promoting compassion and self-soothing, and making your bedroom a self-kindness sanctuary."
Moonstone
"Perfect for balancing emotions, connecting to your intuition and assisting in full moon and new moon rituals."
The best crystals to help sleep to add to your collection
1. TBalance Crystals moonstone and enamel bracelets, $125 [£70], Net-A-Porter
The best crystal to help you sleep for most people
Specifications
Price: $125 [£70]
Number of bracelets: Two
Crystal: Moonstone
Size : Circumference 17cm/6.6 in
Reasons to buy
+
Sophisticated, no-fuss crystal option if you want to keep your crystal fetish discreet
+
Good entry-level option
+
Ideal if your bedroom is too small for a shard of rock
+
Can double up as worry beads for when you meditate
+
The intention 'peace' is already spelled out for you—repeat as a mantra when your thoughts start whirring
Reasons to avoid
-
Could get tangled in long hair
Exclusively at Net-A-Porter, these TBalance Crystals bracelets are an easy (and chic) way to bring crystals into your everyday life. They also make for the perfect gift for someone who needs a little balance in their lives. Both bracelets are elasticated and threaded with iridescent moonstones—one is tipped with gold-painted enamel beads that spell out the word 'Peace'. Slip it on and make peace your pre-sleep mantra.
2. Jia Jia celestine geode, $350 [£335], Net-A-Porter
The best premium crystal to help you sleep
Specifications
Price: $350 [£335]
Crystal: Celestine
Size: 14cm (H)/10cm (L)/8cm (W)
Reasons to buy
+
Selected by hand so has an artisan feel
+
Uncut and untreated
+
Has a natural, one-of-a-kind beauty
+
Beautiful ornamental piece
+
Brings tranquility and mindfulness to your bedroom
Reasons to avoid
-
A bit on the pricey side
Jia Jia's crystals are selected by hand, uncut and untreated, so you know each piece is a one-of-a-kind crystal that's beautiful in its own unique way. This rare celestine geode is said to bring tranquility and mindfulness to your home and makes a striking centerpiece for your bedroom. It's the sort of crystal we imagine an interior designer would invest in for their home.
3. QGEM pack of 3 amethyst healing chakra crystal column, $8.99, Amazon.com
The best budget crystal to help you sleep
Specifications
Price: $8.99
Number: 3
Material: Stone
Color: Amethyst
Size: 1.18 x 0.31 x 0.3 inches
Reasons to buy
+
Good for placing under your pillow or in a small bowl on your nightstand
+
Ideal for a small bedroom where a big shard of crystal would be imposing
+
You can hold these small stones in your palms when meditating
+
You can also lay them on your energy points
+
Good for balancing the emotions
Reasons to avoid
-
Small enough to potentially slip behind the bed
This visually attractive stone is said to soothe the soul and calm an anxious mind. Amethyst is also good if you're mulling over a problem before bed as it helps you reach clarity by helping you to relax. After all, things always seem better when we attack an issue calmly! The pack of three crystals means you can keep one under your pillow and one for each hand when meditating before bed.
4. Kora Organics rose quartz facial sculptor, $58 [£53], Net-A-Porter
The best crystal to help you sleep for under your pillow
Specifications
Price: $58 [£53]
Crystal: Rose quartz
Size: 11cm (H), 11cm (L), 3cm (W)
How to use: After applying facial oil, gently massage your face and neck in an upward and outward motion starting from the neck area.
Reasons to buy
+
Banishes a puffy face. Stick in the refrigerator to reduce inflammation, increase circulation and expel toxins
+
Helps to chisel cheekbones
+
Its ergonomic and different parts of the heart shape can be used to massage the face
+
It's an easy way to make crystals part of your nighttime routine—use on the face and then slip under your pillow
+
Rose quartz is said to carry soothing energy—something you bring to your skin and emotional state with this tool
Reasons to avoid
-
It's small so not for someone looking to add a crystal feature to their bedroom
Facial sculptors stimulate circulation to promote a youthful glow and firm the muscles that loosen as you age. This heart-shaped one by Kora Organics is made from rose quartz, a healing stone that helps to ease tension, stress and anxiety, as well as promote feelings of happiness and emotional wellbeing.

Use it in the mornings to reduce puffiness and eliminate toxins by massaging it in an upward and outward motion starting from the neck area, moving along to your chin, cheeks and around to the eye area. Then pop it under your pillow again.
5. Crystal geode celestite crystal cluster, £18.95, Amazon
The best crystal to help you sleep for your nightstand
Specifications
Price: £18.95
Crystal: Celestite
Size: 8cm (W), 7cm (H), 4cm (D)
Extras: Crystal Geode Cleansing and Crystal Guide
Reasons to buy
+
Good value for money considering the size
+
Comes complete with a Crystal Geode Cleansing and Crystal Guide for beginners
+
The blue color is visually calming and uplifting
+
It's believed to be one of the best stress relievers
+
Adds interest to your room
Reasons to avoid
-
Could be too big for smaller bedrooms
Color therapy meets crystal healing with this stone. The pale blue shade instills a feeling of tranquility, while the stone is known to be a stress reliever that helps you feel more in control when the pace of life feels overwhelming. According to La Pompe-Moore: "For a dose of calm, peace and serenity, this is what you're looking for."
---
---
How to use crystals to get a better night's sleep
1. Intuitively select the crystal you want to work with
"Close your eyes and just take a moment to connect to yourself or anything you believe in (the universe, spirit, God, your higher self) and ask to be shown the crystal that you need to help you sleep. See where your hands guide you and then you can check to see what properties the crystal has. You might pick a crystal that corresponds to reducing an active mind, which could guide you to journaling before bed. Be open to how crystals want to work through you."
2. Place the crystal underneath your pillow or bedside table
"Then set an intention before bed by holding the crystal and saying something like: 'I am working with amethyst and setting an intention to aid in a peaceful and calm night's sleep.' Or you might be setting an intention to remember your dreams."
3. Spend some time "dating" your crystals
"Get to know them by spending some quality time with your crystals before introducing them into your bedtime routine. You can do this by holding the crystal in your hand, closing your eyes and just taking some deep breaths. Notice how the crystal feels in your hand: if it's heavy or light, if it feels comfortable in your presence, and the texture of it. Then pay attention to how the crystal makes you feel: grounded, calm or maybe more energized. This is a good indication of how you can work with the crystal. If it feels intense, for example, then you may not want to use that particular crystal in your bedroom as it could be counterintuitive to a restful night's sleep."
4. Work out where to place the crystal in your bedroom
"Then you just want to play around with your crystal in your bedroom. Try it next to your bedside table and see what happens; if you find that it's too much, then you can move it away from your bed. When it comes to sleep, a minimal approach is best and it may require some trial and error as your relationship with your crystals is a very personal one. You might be able to sleep with a piece of amethyst under your pillow while for others they may need to place it further away. Trust your intuition."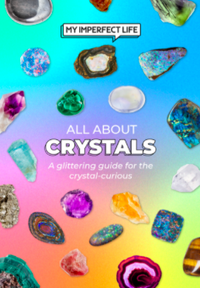 Fiona Embleton is a multi-award-winning beauty editor who has tested over 10,000 products in her 10 years + of writing and shooting beauty stories. For the past four years, she was the Senior Beauty Editor at Marie Claire, having previously worked in the role of Beauty Editor at both Stylist and Cosmopolitan. She has recently gone freelance and alongside My Imperfect Life, she has written for titles including ELLE UK, ELLE Canada, Buro 247, Harper's Bazaar Arabia, Vogue Scandinavia, and ES Magazine. Beauty journalism allowed her to marry up her first-class degree in English Literature and Language (she's a stickler for grammar and a self-confessed ingredients geek) with a passion for make-up and skincare, photography, and catwalk trends. She loves jumping on the latest internet-breaking beauty news, dissecting the best red carpet looks, and having the crème de la crème of dermatologists, make-up artists, and hairstylists on speed dial so she can tap them for the best advice. She's a discerning beauty shopper and knows it can be confusing trying to navigate what's hype and what really works. So if she really likes something, you can trust that she has reached that opinion by vetting it against everything else she's ever tried. Her career highs? Interviewing Cate Blanchett and winning a Jasmine Award for the deeply personal feature Cancer Stole My Mother's Scent.