Best sleep mask: rest your eyes for a better night's sleep
The best sleep masks for a restful night, with options for side sleepers, dry eyes, and travel.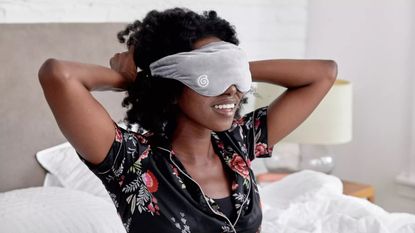 (Image credit: Target)
Sleep masks will guarantee you those seven-to-nine hours of shut-eye you need to wake up feeling rested, and with options for side sleepers, dry eyes, and even with headphones, we've definitely found the best sleep mask for you right here.
Your body sometimes needs certain conditions to lull it to sleep, and if you struggle with unwanted light in your bedroom or you need to get some rest as you travel, a sleep mask can recreate those conditions, making it easier for you to doze off. They're functional, but the best sleep masks are also available with some fun designs and patterns. We've found silky sleep masks or even a fuzzy faux-fur design that will match your favorite pair of PJs or look great on your bedside table.
Sleep masks can do more than cover your eyes as you snooze. We've found some great weighted options that cover key relaxation pressure points with evenly distributed beads. These beads can also be used in cooling sleep masks, which can be placed in the refrigerator and then worn to bring freshness to tired and dry eyes. For this and more great sleep mask options, keep on reading.
Best sleep aid: The greatest accessories to help you finally get a good night's shut-eye
---
Best sleep mask for most people
Women's faux fur eye mask
A super affordable face mask with seven color options
Specifications
Material: Polyester
Adjustable strap: No
Weighted: No
Reasons to buy
+
Cheap as they come
+
Seven color options
+
Stylish
Reasons to avoid
-
The elastic strap isn't adjustable
The Target Women's Faux Fur Eyemask is our top pick overall, in part because it's so affordable. As one of the cheapest sleep masks you can buy, it packs in a lot of style and comes in seven color options. This includes black, pink, red, and a jazzy leopard print.
The faux fur exterior may be soft to touch, but the lining is made of plush satin that won't irritate your eyes. The strap that goes around your head isn't adjustable, but it is elasticated, and it's coated by that same satin. This means it won't tangle your hair or cause any frizziness, making this a great choice for those on the go.
Best sleep mask for side sleepers
TXFHLXW cotton sleep mask
Cover your eyes and ears with this sleep mask
Specifications
Material: Cotton
Adjustable strap: No
Weighted: No
Reasons to buy
+
It won't budge
+
Covers eyes and ears
+
Soft cotton finish
It doesn't look like the average sleep mask, but there's a reason for the TXFHLXW cotton sleep mask's wide-band design. The thick band on this sleep mask will reduce the pressure that a fine band can place on your head, and it won't budge even if you sleep on your side.
The cotton face mask also covers your ears, which makes it a great choice for blocking out noise as you travel. It has an easily fastened velcro back which, while it can't be adjusted, you can secure at different widths for a variety of head sizes.
---
Best sleep mask for dry eyes
Earth Therapeutics Sleep Eye Mask
An affordable cooling face mask to soothe your eyes
Specifications
Material: Polyester
Adjustable strap: Yes
Weighted: Yes
Reasons to buy
+
Cool gel beads
+
Blocks out light
+
Soft lining
Reasons to avoid
-
Not best for wearing all night
The Earth Therapeutics sleep eye mask is a cooling sleep mask that will win you some soothing restful naptime. It's not ideal for wearing through the night because your eyes could get pretty cold, but you can simply place this sleep mask in the fridge or freezer before use for some cooling and refreshing naps.
This eye mask has an elasticated velcro strap that's guaranteed to fit any user, and its lining is soft and fuzzy. Use without pre-cooling for the effect of a weighted sleep mask thanks to the even distribution of the gel beads.
---
Best sleep mask with headphones
Thumbs Up wireless music sleep mask
Headphones and a sleep mask in one, great for travel or soothing playlists
Specifications
Material: Cotton/polyester
Adjustable strap: No
Weighted: Yes
Reasons to buy
+
Thick, soft lining
+
Integrated headphones
+
Plugs right into your phone
Reasons to avoid
-
Takes a while to recharge
The Thumbs Up wireless music sleep mask needs to be charged for two hours, but once it's ready to go it will play music or meditation tracks for up to six hours as you sleep. You can pair this mask with your phone and adjust the track, pause, and change volume on the touchpad included.
With a soft and padded exterior, this wireless sleep mask can be used even if you're not listening to music. If you do like to listen to mindfulness tracks, meditation playlists, or calming music as you doze off though, it's the perfect choice.
Best weighted sleep mask
Gravity weighted sleep mask
This weighted sleep mask evenly distributes a pound of pressure across your face
Specifications
Material: Cotton/polyester
Adjustable strap: No
Weighted: Yes
Reasons to buy
+
Premium quality
+
Satin interior
+
In-built beads for easy distribution
The Gravity weighted sleep mask has a removable weighted inner lining filled with beads for easy weight distribution. Weighing in at one pound, this sleep mask hits key pressure points for the ultimate relaxing night's sleep, and even if you just need a moment to rest your eyes it will calm your nervous system whenever you want some peace.
You can take out this inner lining and make the most of the sleep mask for light blocking and travel. With a fleece exterior and satin inner lining, this mask is incredibly comfortable.
---
Best sleep mask for travel
YANSER luxury silk sleep mask
A lightweight, travel-friendly sleep mask
Specifications
Material: Silk
Adjustable strap: No
Weighted: No
Reasons to buy
+
Silky finish
+
Several colors
+
Handy travel pouch
Reasons to avoid
-
Expensive for a sleep mask
Made of soft cotton sandwiched with silk, this face mask is chic, lightweight, and easy to travel with. It comes in a beautiful caramel color, along with pink and black options, and the back strap is elasticated and coated with silk to prevent any frizzy hair or tangles.
The YANSER luxury silk sleep mask comes with a silk carry case, so it won't get damaged or dirty in your travel bag. It also comes in a lovely box with an inner message, making it a great gifting option.
Millie is a staff writer for RealHomes.com—joining in 2021, after working at TopTenReviews as a Staff Writer. She is constantly on the hunt for the latest (and best) kitchen appliances, and reviewing these products hands-on. As a baking enthusiast, Millie's job at Real Homes is the perfect excuse to cook up an endless supply of snacks. When she's not in the kitchen though, she loves knitting and exploring the country with her black Labrador.