Why talking about sex could be the key to a better sex life
It's time to talk your way to mind-blowing sex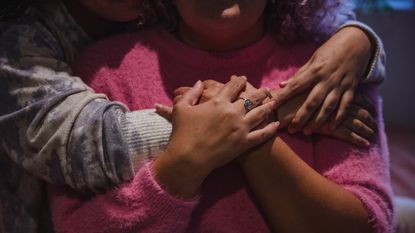 (Image credit: Getty Images / Bobbi Lockyer/Refinery29 Australia - We Are Many Image Gallery)
When it comes to sex it's not always plain sailing. We can get stressed about sex, experience orgasm anxiety, and don't even get us started about the effects of bad sex. But sex therapists say that talking about sex could be the key to a great sex life and an ever better relationship.
As we know, being present and open is really important when it comes to sex, which is why practicing mindful sex can be so beneficial to a couple's sex life, and so too can good ol' communication.
To explore just how important communication is to a healthy sex life, We-Vibe (opens in new tab)partnered up with a team of sex therapists to give counseling sessions to participants.
The study found that a whopping 85% of couples felt communication and coaching had a positive effect on their relationship.
Rachel Wright, a psychotherapist who was part of the study said: "When couples come to me, they are usually in distress already. Because we don't learn how to communicate in a healthy way or what a healthy relationship or sex life looks like, therapy or coaching or even attending a workshop ends up being a way to try and save the relationship."
In the study, 27% of couples said issues in their relationship were caused by a lack of time together, 22 % said a lack of sex played a part and 13% said a lack of closeness was having a negative impact.
Following the study, 70% of participants said that the coaching helped them discuss issues they had never talked about before and the exercises in communication had made them feel more comfortable in their relationships.
Now, obviously, this doesn't mean you and your partner need to rush to sex coaching sessions, but what this information does tell us, is that openly talking about sex with your lover can do your relationship the world of good.
In another study from We-Vibe, they found that only 45% said they were comfortable discussing their sexual preferences, but as discussed, talking about your likes and dislikes can have a big impact.
As Rachel says: "We have to get rid or at least begin to lessen the relationship we've created between shame & sex."
That's where sex toys come in, playing around with the best app-controlled vibrators or hands-free vibrators can really amp things up in the bedroom, and let you and your partner experience new sensations in a safe space.
So there you have it. Consider this as your sign to get talking because more talk = better sex. And, while you're at it, why not introduce a new buzzy toy to the bedroom…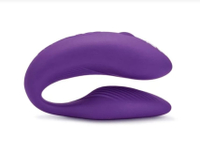 (opens in new tab)
We-Vibe, Chorus ($199 (opens in new tab) | £179 (opens in new tab))
We-Vibe also has the five-star chorus which is made for couples, with its dual stimulation, 10 vibration modes, and an app control feature for hand-free fun. It's also 100% waterproof so you can get adventurous.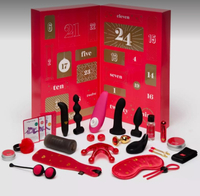 (opens in new tab)
Lovehoney, Best Sex Of Your Life Couple's Sex Toy Advent Calendar ($199 (opens in new tab) |£120 (opens in new tab))
If you're in the mood to get festive, the Love Honey Couples advent calendar (opens in new tab) is the perfect way to experiment. You get something new for every day of December...