The Weeknd's Super Bowl halftime show's producer says we can expect big surprises this weekend
Get ready for the performance of a lifetime from The Weeknd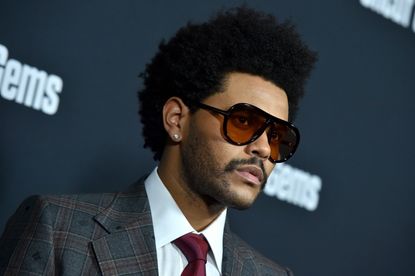 (Image credit: Photo by Axelle/Bauer-Griffin/FilmMagic)
After much speculation around whether The Weeknd's plastic surgery is real, now he's getting ready to put on the show of a lifetime.
If you're all set on how to watch the Super Bowl halftime show 2021 online, you might be wondering what kind of show we'll be getting this year, since the pandemic is still going on.
While details of the performance are mostly under wraps, the show's producer, Jesse Collins, said people can expect some big surprises and that the show will be completely live.
"It's all happening in that stadium, in that moment," the producer told Entertainment Tonight. "We're not bouncing off to another stadium and then cutting in, like some people have had to do (before). We are fortunate enough in this situation that we are able to do a live, live show.
"It's gotta be about entertainment from a truthful perspective. Get away from the massive sets, all the hoopla, the flying this and that. And get to the core of what makes an artist special.
"I think there's a lot of stuff happening in the show that people aren't going to expect. It's just going to be fun. It's so perfect."
The Weeknd has used $7 million of his own money to make his 'cinematic' performance perfect as he gears up for the Super Bowl halftime show in Tampa Bay, Florida.
The halftime show is the highlight of the Super Bowl, and last year saw J.Lo and Shakira take to the stage with an extravagant performance.
Sharing the lengthy process of piecing his show together in a recent interview with Billboard The Weeknd was eager to share his grand plans for the show, saying: "We've been really focusing on dialling in on the fans at home and making performances a cinematic experience, and we want to do that with the Super Bowl."
According to Billboard, the Weeknd's entire team took six months of Zoom calls and email chains to put it together, saying it was: "A Rubik's cube of problems."
The singer's appearance at the 55th Super Bowl halftime show was announced in November when he took to social media to share that he'd be "performing on the iconic stage". He was sure to mention in a press release that he was humbled at the thought of performing: "We all grow up watching the world's biggest acts playing the Super Bowl, and one can only dream of being in that position. I'm humbled, honoured and ecstatic to be the centre of that famous stage this year."
performing on the iconic stage. see you 02/07/21 @pepsi #pepsihalftime #SBLV pic.twitter.com/oYlQyvKRwhNovember 12, 2020
See more
JAY-Z has recently taken over as advisory for musical events at the Super bowl and describes The Weeknd as an "extraordinary performer" who is going to put on "an extraordinary experience".
The Rockafella records owner went on to commend his career and musical impact, saying: "The Weeknd has introduced a sound all his own. His soulful uniqueness has defined a new generation of greatness in music and artistry."
Ahead of his February 7 show, The Weeknd has confirmed he'll release a compilation - The Highlights - featuring 18 of his biggest hits, including Can't Feel My Face, Starboy, The Hills and Love Me Harder, his hit collab with Ariana Grande.
Since December 2020, Kudzai has worked as a trainee journalist at FUTURE, writing about fashion, entertainment and beauty content for My Imperfect Life.

Kudzai previously worked as a freelance fashion wardrobe stylist, directing magazine photoshoots and coordinating the fashion direction of recording artists.

A fully qualified Journalism and Media graduate from De Mont Fort University, Kudzai graduated in the summer of 2020.