The crazy new bra hack that you'll love (or hate)
We can't decide whether this latest TikTok trend is genius or ridiculous!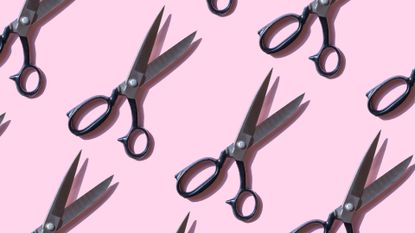 (Image credit: Getty Images)
Everybody loves a good Tik Tok hack and the latest trend, which has become famous as the #bralette challenge, has us all tearing our bras apart. All over TikTok, people are ripping the padding out of their old bras to give their clothing a new lease of life.
Now we hear what you're saying, why on earth would anyone ruin a perfectly good bra? Well, don't fear!
This trend isn't about ruining your favorite bra that you wear every day. This is for that old bra that's been knocking about in your drawer for ages and you don't have the heart to throw it away but you also can't see yourself ever wearing it again.
Maybe it's overly padded or maybe your boobs have grown and you need less padding in your bras.
Either way, this new trend will allow you to transform your unusable bras into upcycled unlined bralettes that can be added back to your wardrobe as a staple item, to wear alongside your comfy loungewear.
The videos show that by taking a pair of scissors to your padded bras, you can carefully remove the padded section, and voila! You have made a cute lace bralette out of a bra that you never wore anyway!
In a video with over 16 million views, Lila Geller showed her viewers how to cut the padding out of their bras without damaging the lace exterior.
Tik Tok users absolutely loved this trend as it showed how to upcycle their old-fashioned overly padded bras, to more demure unlined bras.
Fans loved this hack, one commented on the video: "I did this and it is actually life changing". Another stated: "Wait omg this would be cute because you don't have to spend much money on expensive lace ones".
Some fans are more skeptical with one asking: "Just wondering does it feel itchy from cutting them down like that?" Another viewer stated that she would not be hopping on the trend due to her bra size. "Some of us A cup elite ladies need the padding honey", she wrote.
Bra-wearers across the globe are now jumping on this trend, with TikTokers in the UK upcycling their cheap bras from Primark.
The results of this trend are amazing and it requires no effort. If you have an old bra with too much padding, consider giving it a makeover with this hack that just requires a pair of scissors!
Laura Harman is a journalist who has written for Woman & Home, Grazia and Good to Know and regularly contributes to My Imperfect Life.