This glass of water hack has racked up over 5.8million views but is it the legit way to see what products your hair needs?
Suddenly 'hair porosity' has entered our beauty lexicon.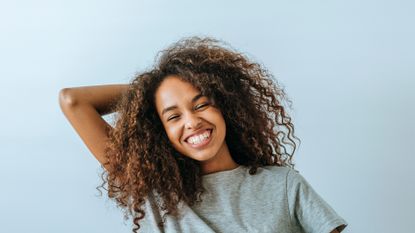 (Image credit: F.J. Jimenez/ Getty Images)
According to a viral video, the way to discover the best product for your strands is to float hair in a glass of water.
Chloe Amore Beatty, 21, from North Carolina, has become a social media sensation after revealing her hacks for natural hair.
In the TikTok video - which has racked up more than 5.8 million views - Chloe says putting a strand in a glass of water to see if it floats will tell you the porosity of hair - and which haircare to use as a result.
In the clip , Chloe says: "If it rises to the top and stays at the top, you have low porosity hair. If it completely sinks down to the bottom you have high porosity hair. If it flats in the centre, you have normal porosity hair."
What is hair porosity?
Much like your skin, your hair also has 'pores'. Think of the pores on your strands as being like shingles on a roof. If your hair is highly porous, the shingles are lifted. If your hair has low porosity, the shingles lie flat against the strand and side step frizz or split ends.
Everything from heat damage and bleach to not using the best brushes for curly hair can cause hair porosity and affect a strand's ability to absorb and retain moisture. Hair with high porosity can absorb the most moisture or water, but it's unable to hold onto it.
Does the 'float hair in a glass of water' hack work?
The jury is still out on Chloe's evaluation, with some hair experts pointing out that if a strand is plucked from a brush, styling products may affect the outcome of the jar test.
A more tried and trusted way to see if your hair is porous is to take a clean dry strand of hair and simply spritz some water on top of it. If the strand soaks the water up right away, it's indicative of having highly porous hair. If the water sits on top of your strands for longer and drips off, then your hair likely has a low porosity.
The upshot is, if your hair is highly porous a bond-repairing treatment like the Olapex No.3 Hair Perfector is a good solution. Don't expect miracles overnight but at least you're on track with a prescriptive hair healer.
Fiona Embleton is a multi-award-winning beauty editor who has tested over 10,000 products in her 10 years + of writing and shooting beauty stories. For the past four years, she was the Senior Beauty Editor at Marie Claire, having previously worked in the role of Beauty Editor at both Stylist and Cosmopolitan. She has recently gone freelance and alongside My Imperfect Life, she has written for titles including ELLE UK, ELLE Canada, Buro 247, Harper's Bazaar Arabia, Vogue Scandinavia, and ES Magazine. Beauty journalism allowed her to marry up her first-class degree in English Literature and Language (she's a stickler for grammar and a self-confessed ingredients geek) with a passion for make-up and skincare, photography, and catwalk trends. She loves jumping on the latest internet-breaking beauty news, dissecting the best red carpet looks, and having the crème de la crème of dermatologists, make-up artists, and hairstylists on speed dial so she can tap them for the best advice. She's a discerning beauty shopper and knows it can be confusing trying to navigate what's hype and what really works. So if she really likes something, you can trust that she has reached that opinion by vetting it against everything else she's ever tried. Her career highs? Interviewing Cate Blanchett and winning a Jasmine Award for the deeply personal feature Cancer Stole My Mother's Scent.