Wave Sleep: meet the app that trains your brain to sleep better
So needed in 2021.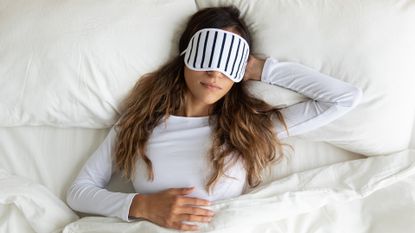 (Image credit: fizkes/Getty Images)
Sleep - the proper deep, can't-remember-your-dreams kind - has been pretty elusive for many of us over the past months. Stress around the pandemic has undoubtedly played a big part in disrupting our sleep patterns, which is why we 're looking increasingly to apps to lend a hand.
In fact, during the Coronavirus pandemic some of the best meditation apps like Headspace, Calm and Ten Percent Happier have seen a surge in usage.
Figures show that downloads for 'mindfulness' apps hit 750,000 during the week of March 29 last year, when countries around the world went into lockdown. That's a 25 percent increase from the weekly average in January and February, according to mobile insights and analytics platform App Annie.
Now there's a new kid on the wellbeing block. Wave Sleep, an app founded by Mason Levey and Brad Warsh, uses a combination of relaxation techniques and live sessions (imagine a very chilled out version of Instagram live) to help coach you in good sleep habits.
There are scenarios you can immerse yourself in to help you sleep: falling asleep rocking in a hammock, for example, or in your favorite pre-pandemic hangout. And, perhaps, as expected, you're walked you through a number of techniques to help you relax: breathing exercises, guided meditation and visualization.
But it's the role of music on this app that really peaked our interested. As the sleep guides walk you through each session, music plays softly in the background. But it's not just elevator music - the effect is far more intentional than that. According to Matthew Wong, the director of music for Wave Sleep, the technique is called Brainwave Entrainment.
The idea behind it is that by tuning sounds in a particular way, it creates a musical 'wave' that mimics the brain waves during REM sleep. In plain English, after listening to the music, the brain begins to match the frequencies and waves of the tunes so you fall into a deep sleep.
Pretty clever, no?
See you virtually in your pyjamas at the coffee shop on the East side around 10pm tonight.
You can download the app in the app store for free until March 12, after which time it will be $10 a month.
Fiona Embleton is a multi-award-winning beauty editor who has tested over 10,000 products in her 10 years + of writing and shooting beauty stories. For the past four years, she was the Senior Beauty Editor at Marie Claire, having previously worked in the role of Beauty Editor at both Stylist and Cosmopolitan. She has recently gone freelance and alongside My Imperfect Life, she has written for titles including ELLE UK, ELLE Canada, Buro 247, Harper's Bazaar Arabia, Vogue Scandinavia, and ES Magazine. Beauty journalism allowed her to marry up her first-class degree in English Literature and Language (she's a stickler for grammar and a self-confessed ingredients geek) with a passion for make-up and skincare, photography, and catwalk trends. She loves jumping on the latest internet-breaking beauty news, dissecting the best red carpet looks, and having the crème de la crème of dermatologists, make-up artists, and hairstylists on speed dial so she can tap them for the best advice. She's a discerning beauty shopper and knows it can be confusing trying to navigate what's hype and what really works. So if she really likes something, you can trust that she has reached that opinion by vetting it against everything else she's ever tried. Her career highs? Interviewing Cate Blanchett and winning a Jasmine Award for the deeply personal feature Cancer Stole My Mother's Scent.