Model Winnie Harlow is the first-ever face of Paul Mitchell and she's excited about celebrating Black hair in its full glory
When supermodels become trailblazers...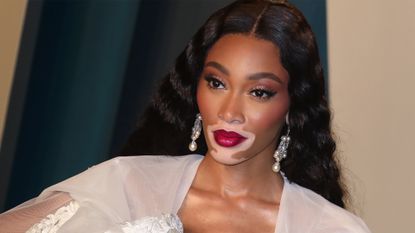 (Image credit: Toni Anne Barson/Getty Images)
She's been a force for change since her debut on America's Next Top Model in 2014 and now Winnie Harlow is the new face of Paul Mitchell.
Today the haircare giant announced that it had signed the style icon as its first Global Ambassador.
For the brand's 2021 campaign, Harlow was photographed by renowned photographer Micaiah Carter with images that were both a nod to the '90s supermodel and those that reflected Winnie's love of glamorous hairstyles, something she says she inherited from her mother.
Winnie says in the release: "Expressing myself through hair is a fun experience that represents different stages in my life. I get to create new personas, personalities and characters with every look—from super sexy with long, straight hair, a chilled-out feel with curly waves, and a little tomboy with a short cut."
She adds: "Partnering with an iconic brand like Paul Mitchell is close to my heart, as my mom was a hairdresser growing up. I loved seeing her transform a client's hair, put a smile on their face, and leave them happy and ready to rule the world."
Winnie followed this up with a message to her 8.4m followers on Instagram:
"A powerful hair style will make you feel like you can conquer the world. Words cannot describe how happy I am to be @paulmitchell's First ever Global Ambassador🌎 With the help of Paul Mitchell and @cesar4styles I will show you how changing your hair can change your whole outlook. #paulmitchell #WinniexPM"
The haircare industry finally got the memo about being more inclusive in its representation of diverse campaign models and range of products for different hair types - everything from conditioners that nourish tight coils to the best brushes for curly hair.
Mitchell's decision to really celebrate black hair with a variety of styles is all the more monumental considering race-based hair discrimination is something many women of color still have to contend with on a daily basis. In fact, 1 in 5 Black women feel societal pressure to straighten their hair for work, according to research from World Afro Day and De Montfort University.
Harlow's hairstylist César DeLeön—additional clients include Beyonce, Jennifer Lopez and Ariana Grande—has also been announced as Brand Ambassador for Paul Mitchell. The new campaign will feature a variety of looks DeLeön created especially for Harlow
Fiona Embleton is a multi-award-winning beauty editor who has tested over 10,000 products in her 10 years + of writing and shooting beauty stories. For the past four years, she was the Senior Beauty Editor at Marie Claire, having previously worked in the role of Beauty Editor at both Stylist and Cosmopolitan. She has recently gone freelance and alongside My Imperfect Life, she has written for titles including ELLE UK, ELLE Canada, Buro 247, Harper's Bazaar Arabia, Vogue Scandinavia, and ES Magazine. Beauty journalism allowed her to marry up her first-class degree in English Literature and Language (she's a stickler for grammar and a self-confessed ingredients geek) with a passion for make-up and skincare, photography, and catwalk trends. She loves jumping on the latest internet-breaking beauty news, dissecting the best red carpet looks, and having the crème de la crème of dermatologists, make-up artists, and hairstylists on speed dial so she can tap them for the best advice. She's a discerning beauty shopper and knows it can be confusing trying to navigate what's hype and what really works. So if she really likes something, you can trust that she has reached that opinion by vetting it against everything else she's ever tried. Her career highs? Interviewing Cate Blanchett and winning a Jasmine Award for the deeply personal feature Cancer Stole My Mother's Scent.