World Mental Health Day: Why you should get involved with the #MoveforMentalHealth challenge
This World Mental Health Day, the #MoveforMentalHealth challenge wants to kickstart conversations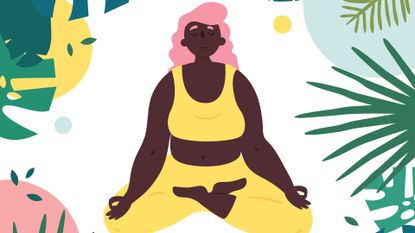 (Image credit: Getty Images)
This World Mental Health Day, the World Health Organisation is asking people to get involved with the #MoveforMentalHealth challenge.
We've heard of every challenge under the sun over the past few months, but this one seems like it's definitely worth our time. Close to one billion people globally have a mental disorder, with almost 800,000 people dying by suicide every year. That's one person every 40 seconds, according to the World Health Organisation (WHO).
It's impossible to deny the need for mental health services, yet global health bodies say the support is just not enough.
In low and middle income countries, more than 75% of people with mental health conditions receive no treatment for their conditions. This, says the WHO, is a result of chronic under-investment over many decades.
That's why they're launching the #MoveforMentalHealth challenge for World Mental Health Day on 10 October.
Ahead of World Mental Health Day, WHO, @UnitedGMH & @WFMH_Official launch a global social media challenge to get the 🌎🌍🌏 moving on #MentalHealth .Join us and #MoveForMentalHealth across @tiktok_us , @Facebook and @instagram !More details 👉https://t.co/h7QHCkRNmx pic.twitter.com/J6RYrQdn4kOctober 9, 2020
See more
The collaboration between the WHO, United for Global Mental Health and the World Federation for Mental Health is challenging people to post videos of what they do in support of their mental wellbeing. This could be dancing, walking, yoga, cooking, painting or anything else - using the hashtag #MoveforMentalHealth.
The partnership hopes the campaign will kickstart conversations around mental health and highlight the importance of investment in services.
DJ Marshmello has been one of the first to join in on TikTok, with a video of himself dancing along to his song with Demi Lovato - It's OK not to be OK.
Elisha London, CEO and founder of United Global for Mental Health said: "Our world wasn't set up to respond to the growing mental health needs before Covid-19, and it certainly isn't now. That's why now more than ever we need the world to move for mental health, and as individuals, communities, businesses, governments and funders we must prioritise action on, and investment in mental health."
Director General of WHO, Dr Tedros Adhanom Ghebreyesus, said: "As we continue to live through a global pandemic, we need movement on mental health, perhaps more than we have ever needed it before.
"We need to move for our own mental health, the mental health of our friends and colleagues, and more importantly, so that there is a massive increase in investment for mental health services at national and international levels."
On Saturday, WHO is also launching a digital stress management guide on What's App, which will include short, easy to follow guided exercises to help reduce stress.
With the year we've all had, we're sure everyone could benefit from reducing their stress right now.
Beth Gault is a freelance journalist and editor. She is the former news editor at fashion magazine Drapers and has written for multiple titles across lifestyle and business media, including GoodtoKnow and Woman's Own. She loves chatting about ending period poverty, is a self-confessed coffee snob, and is never one to turn down a good book.