This stress-relieving workout increased in popularity by 25% this year
Will you be joining in?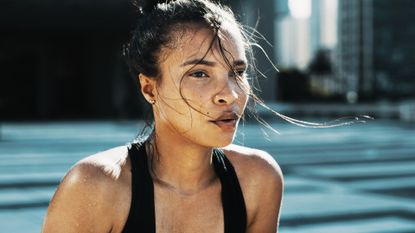 (Image credit: Delmaine Donson/GETTY IMAGES)
It's no secret that exercise is key when it comes to clearing your mind and taking the stress out of life, everything from amping up your at-home workouts with the best resistance bands to a brisk hike can help unwind and give a much-needed boost of clarity and positive vibes.
And while gyms were closed and group sports were cancelled for the majority of this year, workouts didn't stop as people took to at-home workouts or tried something completely new to get their daily endorphin boost. In data from 30 countries across the globe, ClassPass has revealed that yoga was the workout most people turned to this year, increasing in popularity by a massive 25 per cent. It seems the combination of exercise, mindfulness and meditation paired with millions of yoga tutorials online meant that people all over the world were turning to the ancient Indian practice to relax, unwind and get fit.
Originating in ancient India, yoga consists of a series of poses joined together in a flowing sequence known as vinyasa, breathing exercises known as pranayama can make up part of the yogic sequence and sessions usually end with a period of meditation. There's an abundance of styles and flows yoga fans can follow depending on individual preference and skill level. Yoga was also the most popular workout for someone taking their first livestream class proving anyone can get involved.
Sounds fun, how can I try yoga?!
• Sign up to Class Pass to find yoga classes in your area
• Head to YouTube to find millions of free follow along sessions, my current fave is Hatha Yoga Traditional Practice with Yogacharya Rakesh
• Check out Yogarise for online membership packs with 20% off
The ClassPass study also revealed the most popular time to workout on a weekday is 12pm as people cram a sneaky workout into their lunch breaks, while the most popular day of the week to work out on is Wednesday.
Lydia is a freelance travel writer, and Lifestyle News Editor at My Imperfect Life
Her travel writing has been published in BBC Good Food, Oh magazine, Harper's Bazaar UK, Town&Country, ELLE UK, MailOnline, Woman, and woman&home
She began her career compiling fashion and beauty pages for teen magazines at the BBC where she interviewed and styled some of the world's biggest pop acts—from Taylor Swift and Demi Lovato to One Direction—before joining celebrity magazine Now, as Fashion and Beauty Director, and later Woman magazine as Lifestyle Director.
Travel has been a constant passion over the course of Lydia's 14-year career. At 19, she took her first solo trip to Guatemala, Belize, and Mexico and has gone on to explore parts of 53 countries, returning to many often.
At 23, she quit her job and traveled out of a backpack for a year, living on just $26 (£20) a day. Of the 15 countries she visited, 13 were explored by land in a bid to cut her carbon footprint. Some highlights from the trip include a teaching by the Dalai Lama in the foothills of the Himalayas, sleeping on the world's largest salt flat, Salar de Uyuni in Bolivia, and being completely overwhelmed by the magnificent Iguazu Falls on the Argentina-Brazil border.
In 2015 Lydia traveled solo through India and Nepal for three months, visiting some of the most spiritual places in the world, and completing Nepal's Annapurna Base Camp trek over the course of nine days.
In 2021 she spent three months traveling solo through Portugal and Spain where she was on a mission to hunt out the best restaurants, find one-off boutique hotels and visit incredible art exhibitions.
Day-to-day she manages a global team of nine news writers and oversees news content on My Imperfect Life
Follow Lydia on Instagram @lydiaswinscoe