Best resistance bands for women: upgrade your home workout with these nifty bands
These resistance bands for women will help boost your workout anytime, anywhere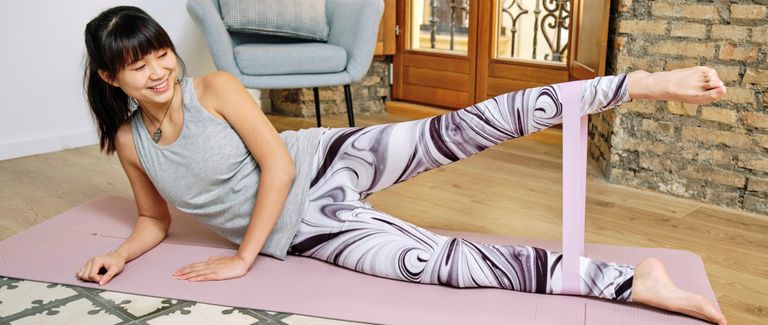 (Image credit: Getty)
While some people now have a living room filled with kettlebells and five different types of dumbbells courtesy of the coronavirus lockdown, those who value space have been getting their fitness "glow-up" using good ol' resistance bands for women instead.

The exercise bands can be easily tucked away when you're not using them, they don't cost a lot, and they're great for burning fat and gaining muscle mass.
Having tried and tested a wide range, we think the fabric Proworks Glute Band is one of the best activewear accessories you can get for a decent price—especially if it's your booty you're looking to build.
If you're willing to spend a bit more though, Shreddy's short resistance bands have all the benefits of the Proworks ones but they're vegan, come in cuter designs, and you'll receive digital exercise guides when you place your order.

So without further ado, let's take a deep dive into the best resistance bands for women—whether you want to use them as yoga accessories or in place of the best dumbbells for women—along with which one is the right one for you:
How to choose the best resistance bands for women
Resistance bands for women have certainly gained popularity in recent years, thanks to an increase in band-based workout classes, used by a number of popular fitness influencers like Lilly Sabri, Alice Liveing and Grace Beverley (founder of Shreddy), and a general awakening to their benefits. As a result, there are plenty on the market, which can make choosing one a bit overwhelming and also leave you wondering: 'Really though, do resistance bands work?' Fear not! There are a few things you can keep in mind to help you pick the right one:
Tension level
Most resistance bands come in light, medium, heavy or very heavy tension levels (for the super brave out there). If you're at the beginning of your fitness journey, we'd recommend starting light and working your way up as you go. Those with more experience should try medium or heavy. Many resistance bands on the market come in a set, however, so you can always buy one of those and give every level a go!
Fitness goals
The type of band you buy depends heavily on what you're going to be using it for: rehabilitation, improving pull-ups, increasing mobility or building muscle. It can also depend on the area of the body you're aiming to exercise. Longer bands and bands with handles are better for working out your upper body, for example, while looped fabric resistance bands are good for glute work as they don't roll up on your thighs.
Price point
An advantage that weights have over resistance bands is longevity. No matter how attached you get to your stretchy work-out buddy, after heavy use resistance bands start to lose their tension and you'll have to experience a break-up more devastating than that of Anna Faris and Chris Pratt (no, we're still not over it). You want to spend enough money that you get a quality product but not so much that you resent having to purchase a new one once yours is spent.
The best resistance bands for women to add to your workout routine
Best resistance band for your buck
Robust, non-slip fabric resistance band
Specifications
Material: Mix of cotton, polyester and latex
Set: No
Reasons to buy
+Comfortable+Non-slip technology
Reasons to avoid
-Not stretchy enough to do certain exercises-Only available in two colours
The Proworks Glute Band is our pick for one of the best resistance bands for women that you can buy at an affordable price. Although it doesn't come as a set, it's inexpensive and does the job well. If you're trying to decide which strength level to purchase, we tried the product in medium and it was tougher than expected. If you really are looking for a medium level, we'd suggest ordering it in light instead.
Our favorite thing about the Proworks Glute Band is that it stays in place. No one wants to put a resistance band around their thighs and do a squat, only to look down and realize it has rolled up and is cutting into their skin. What's great about this band is that its material and width make it comfortable to wear, while the loops of non-slip latex on the inside ensure it doesn't roll up.
As the name suggests, it's great for building glute muscles and working the lower body in general. Each band comes with a small pamphlet detailing a handful of exercises you can use it for, such as clams, wide stance squats, and lying kickbacks.
Best resistance band worth a splurge
2. Shreddy short resistance band
Comfortable and high-quality fabric resistance band
Specifications
Material: Mix of polyester, custom cotton and rubber
Set: No
Reasons to buy
+Comfortable+Attractive designs+Vegan+Bonus PDF workout guide
Reasons to avoid
-A bit pricier-Not stretchy enough to do certain exercises
We're not sure whether the higher price tag given to the Shreddy bands is because they're associated with social media-spawned mogul and company founder Grace Beverley (you may know her as Grace Fit UK), or because they're just top quality. Having tried some of them out, we'd wager it's the latter.

The material alone is high caliber, vegan, feels good against the skin, and doesn't pinch or dig in. On top of that, the bands are aesthetically pleasing, coming in colors such as pink and a jazzy neon green, and patterns that include tropical leaves and—very fitting—peach emojis.
The one downside is that extended moves such as hamstring curls and tricep kickbacks aren't possible since the fabric bands aren't stretchy enough (the same issue arises with the ProWorks band, FYI). But there are plenty of other exercises you can carry out with a Shreddy band, particularly when it comes to lower body. What's more, when you place an order, you automatically receive a free 45-page PDF containing suggested exercises, circuits, and diagrams you can do with (and even without) your new purchase.
Best resistance band for those on a budget
3. Belus Premium Resistance Bands With Carry Bag
A wallet-friendly set of four resistance bands
Specifications
Material: Natural latex
Set: Yes
Reasons to buy
+Good range for low price+Versatile+Pretty colours
Reasons to avoid
-Can dig in-Can roll down
The phrase "cheap and cheerful" comes to mind with this bargain of a resistance band set. It's so inexpensive you could barely complain if it wasn't good—though thankfully it is. You get four tension levels (light, medium, heavy and extra heavy) in a handy drawstring carry bag, and the pink and purple colors are pretty pleasing on the eye.
The material feels thick enough that you're not worried it will snap with every kickback or arm row as with some rubber resistance bands, so you end up performing every move with confidence rather than flinching each time you feel it moving slightly on your skin (just us?).
The bands do tend to roll down and occasionally dig in when doing exercises such as squats, but for the majority of moves they're ideal.
Best resistance band for versatility
4. FitBeast Resistance Bands
Super adaptable resistance band set for full-body workouts
Specifications
Material: Natural latex
Set: Yes
Reasons to buy
+Huge range of bands for the price+Durable+Accessories included
Reasons to avoid
-Ugly-Pricier
You'll feel like a real work-out pro with this extensive set from FitBeast—even if, like us, you start out a bit confused by all the different bits and pieces it comes with. The set consists of five resistance tubes—color-coded according to the equivalent weight (10lbs, 20lbs, 30lbs, 40lbs and 50lbs)—as well as foam handles, ankle straps, a door anchor, and a bag to keep everything in.
It's a bit different from your average resistance band set, but once you get used to it you realize it's simple to use and is super adaptable. You can pretty much work out any part of your body from your own home using these bands and their accessories. If you're unsure where to start, the kit comes with a large set of exercise diagrams for you to copy or we've got some great resistance bands exercises to put you through your paces.
Best resistance band for sensitive skin
5. OMERIL Resistance Bands Set
A set of five no-pinch resistance bands
Specifications
Material: Natural latex
Set: Yes
Reasons to buy
+Comfortable+Good range+Pretty colors
Reasons to avoid
-Can roll up-Strong smell
For some people, the main deterrent for incorporating resistance bands into their workout is the pain they can cause if they dig into you or pinch your skin. OMERIL has taken this on board and produced these resistance bands geared towards those with sensitive skin. We tested them out and, while we don't think they're 100-percent effective, they are much less circulation-stopping than other rubber resistance bands for women. They can still roll up, but they don't tend to dig in or nip at skin.
The set comes with five different bands (light, medium, heavy, extra heavy and extra extra heavy) in pleasing shades of purple. Having such a range means you can use them for an abundance of exercises or ramp up the resistance for specific exercises over time as you get stronger.
One thing to be wary of: the scent of latex is strong with these ones and they will likely leave you smelling like you've been hanging out at some sort of Fifty Shades-esque party, if you know what we mean.
Now that you have a rundown on the general best resistance bands for women, you can dive even deeper into the world of exercise bands, whether you want to know if latex vs fabric resistance bands will work better for you, how to tone your butt using the bands, or how to clean resistance bands once your sweat session is complete. Explore away!