The best resistance bands for women to elevate your at-home workout
Our tried-and-tested edit of the best resistance bands for women is here to help you up your fitness game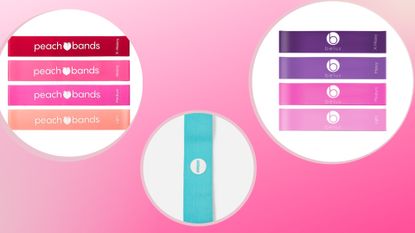 (Image credit: Future/brands pictured)
The best resistance bands are a great space-saving way to effectively strength train without the need for bulky equipment. So, as people who value floor space, we couldn't be happier about their return. They can be easily tucked away when you're not using them, they don't cost a lot, and they're great for burning fat and gaining muscle.
Having personally tried and tested a huge range of resistance band options, our fitness expert found that the fabric of Proworks Glute Band is one of the top activewear accessories you can get without spending a shedload—especially if it's your butt that you're looking to build.
If you're willing to spend a bit more, however, Shreddy's short resistance bands have all the benefits of Proworks' offering with the added benefits of being vegan, coming in cuter designs, and the fact that you receive digital exercise guides when you place an order.
Whether you prefer to use them as yoga accessories alongside your best yoga mats, or as part of an arm-toning tool in lieu of best dumbbells for women, below are our tried-and-tested picks from the best resistance bands for women.
Top deals on resistance bands for women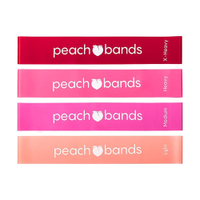 Peach Bands Resistance Bands Set: was $19.95 now $15.95 (save $4)
As their name suggests, these brightly-colored bands are particularly great for at-home glute workouts.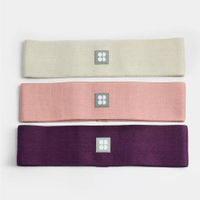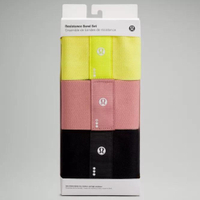 Lululemon Resistance Bands 3 pack: was £40 now £24 (save £16) | Lululemon
Offering three levels of resistance as well as three colorways, this Lululemon resistance band trio is seriously discounted RN.
How we tested the best resistance bands for women
Testing the best resistance bands for women was hard work. We exercised every day for eight days, using a different band for each workout. Once we narrowed down our top three, we worked out for another seven days straight, using all three during every workout. This allowed us to see how they fare when used often.
We assessed the following:
Comfort
Strength
Durability (did they lose their resistance after extended use?)
Multifunctionality
Price point
Aesthetic
When choosing which products to test, we decided to pick a variety of resistance bands: fabric, latex, booty bands, full-body bands, different strengths, singular bands, sets of bands, etc. This meant we could evaluate exactly what is on the market when it comes to resistance bands, and which of these we'd find most useful.
The best resistance bands for women to try:
1. Shreddy Short Resistance Band
The best resistance band worth a splurge
Specifications
Material: Mix of polyester, custom cotton and rubber
Set: No
Reasons to buy
+
Comfortable to use
+
Attractive designs
+
Vegan option
+
Bonus PDF workout guide
Reasons to avoid
-
A bit pricier
-
Not stretchy enough to do certain exercises
We're not sure whether the higher price tag given to the Shreddy bands is because they're associated with social media-spawned mogul and company founder Grace Beverley (you may know her as Grace Fit UK), or because they're just top quality. Having tried some of them out, we'd wager it's the latter.

The material alone is high caliber, vegan, feels good against the skin, and doesn't pinch or dig in. On top of that, the bands are aesthetically pleasing, coming in colors such as pink and jazzy neon green, and patterns that include tropical leaves and—very fitting—peach emojis.
The one downside is that extended moves such as hamstring curls and tricep kickbacks aren't possible since the fabric bands aren't stretchy enough (the same issue arises with the ProWorks band, FYI). But there are plenty of other exercises you can carry out with a Shreddy band, particularly when it comes to the lower body. What's more, when you place an order, you automatically receive a free 45-page PDF containing suggested exercises, circuits, and diagrams you can do with (and even without) your new purchase.
2. Belus Premium Resistance Bands With Carry Bag
The best affordable resistance bands for women
Specifications
Material: Natural latex
Set: Yes
Reasons to buy
+
Good range for low price
+
Versatile application
+
Pretty colors
Reasons to avoid
-
Can dig in and roll down
The phrase "cheap and cheerful" comes to mind with this bargain of a resistance band set. It's so inexpensive you could barely complain if it wasn't good—though thankfully it is. You get four tension levels (light, medium, heavy and extra heavy) in a handy drawstring carry bag, and the pink and purple colors are pretty pleasing to the eye.
The material feels thick enough that you're not worried it will snap with every kickback or arm row as with some rubber resistance bands, so you end up performing every move with confidence rather than flinching each time you feel it moving slightly on your skin. (Just us?)
The bands do tend to roll down and occasionally dig in when doing exercises such as squats, but for the majority of moves, they're ideal.
3. FitBeast Resistance Bands
The best resistance band for versatility
Specifications
Material: Natural latex
Set: Yes
Reasons to buy
+
Huge range of bands for the price
+
Durable quality
+
Accessories included
Reasons to avoid
-
Ugly design
-
Pricier than most options
You'll feel like a real workout pro with this extensive set from FitBeast—even if, like us, you start out a bit confused by all the different bits and pieces it comes with. The set consists of five resistance tubes—color-coded according to the equivalent weight (10lbs, 20lbs, 30lbs, 40lbs and 50lbs)—as well as foam handles, ankle straps, a door anchor, and a bag to keep everything in.
It's a bit different from your average resistance band set, but once you get used to it you realize it's simple to use and is super adaptable. You can pretty much work out any part of your body from your own home using these bands and their accessories. If you're unsure where to start, the kit comes with a large set of exercise diagrams for you to copy or we've got some great resistance bands exercises to put you through your paces.
4. OMERIL Resistance Bands Set
The best resistance band for sensitive skin
Specifications
Material: Natural latex
Set: Yes
Reasons to buy
+
Comfortable
+
Good range
+
Pretty colors
Reasons to avoid
-
Can roll up
-
Strong smell
For some people, the main deterrent to incorporating resistance bands into their workout is the pain they can cause if they dig into you or pinch your skin. OMERIL has taken this on board and produced these resistance bands geared towards those with sensitive skin. We tested them out and, while we don't think they're 100% effective, they are much less circulation-stopping than other rubber resistance bands for women. They can still roll up, but they don't tend to dig in or nip at the skin.
The set comes with five different bands (light, medium, heavy, extra heavy and extra-extra heavy) in pleasing shades of purple. Having such a range means you can use them for an abundance of exercises or ramp up the resistance for specific exercises over time as you get stronger.
One thing to be wary of: the scent of latex is strong with these ones and they will likely leave you smelling like you've been hanging out at some sort of Fifty Shades party if you know what we mean.
5. Peach Bands
Best resistance band for leg and glute workouts
Specifications
Material: Natural latex
Set: Yes
Reasons to buy
+
Comfortable to use
+
Stretchy material
Reasons to avoid
-
Not stretchy enough for upper body workouts
-
The latex smell is a bit strong
Though a bit pricier than other options, the Peach Bands are definitely worth the near-$20 and will help to leave your glutes on fire after a killer workout routine. These latex bands come with four different strength levels: Light (10-12 lbs), Medium (15-20 lbs), Heavy (20-25 lbs), and X-Heavy (30-35 lbs).
If you're not sure which one would suit you, we tried the light and medium levels and would say the medium is great for beginners and intermediates.
One of our favorite things about the Peach Bands is that not only do they stay in place but there is no pinching, and the bands don't roll up in the middle of a squat. These bands are super comfortable and soft against your skin as they are made out of lightweight latex, and the width of the bands makes them suitable no matter how big your thighs are.
The Peach Bands are color-coordinated and work to lift, sculpt and tone your legs and booty. They are also flexible and durable, they also come with a super cute bag for you to store your resistance bands in. This makes the bands easy to travel with, so if you're going to the gym or even on holiday you can just tuck them in your bag and squeeze in a workout whenever you want.
6. Fit Simplify Resistance Loop Exercise Bands
Best resistance band for heavier tension
Specifications
Material: Natural latex
Set: Yes
Reasons to buy
+
Comes with a lifetime guarantee
+
Durable quality
Reasons to avoid
-
The bands could be bigger
-
A bit on the expensive side
The Fit Simplify Resistance Loop Exercise Bands are a little bit pricier than other resistance bands on the market, but they aren't expensive for no reason. Made from high-quality, 100-percent natural latex that's free of non-natural Thermoplastic Elastomer (TPE), there are five different resistance levels on offer. The heavy-duty, 12-by-two-inch resistance loop bands offer extra-light and light bands for beginners and medium and heavy and extra-heavy bands for more intermediate and advanced training.
The Fit Simplify Resistance Loop Exercise Bands don't pinch and they stay flat the whole way through your workout. They are also durable and snap back to their original shape after a workout. These bands can be used for general exercise as well as for yoga and Pilates. Also, if you do run into any problems, Fit Simplify offers a lifetime guarantee on the entire set, so you can send it back for a full refund.
The Fit Simplify bands also come with a small black bag so you can roll up the bands and carry them anywhere, as well as a little booklet that gives you 10 exercises that you can do with the resistance bands. If you buy directly from the Fit Simplify website you also get access to a bonus instruction guide, an online video workout guide, and a 41-page e-book, which includes dozens of different illustrated exercises.
7. Bala Bands Set of 5
The best resistance band for beginners
Specifications
Material: Natural latex
Set: Yes
Reasons to buy
+
Non-slip fabric
+
The bands have motivational sayings on them
Reasons to avoid
-
The light band is too stretchy and could have more resistance
The Bala Bands Set of 5 is a true accessory for the gym. On each band, there are motivational quotes such as "Keep It Movin'" and "Every Movement Matters," which are super cute and motivated us to finish our workout even more.
These bands are designed for yoga, aerobics, and rehabilitation, and to pair with our best home workout tips. They also come with a black mesh carrying case, making it easy to carry these motivational bands anywhere.
The Bala Bands come in a pack of five with varying resistance strength: 0.35mm (X-light), 0.5mm (Light), 0.7mm (Medium), 0.9mm (Heavy) and1.1mm (X-heavy). The different strengths allow you to change the bands you use as you progress in your fitness journey and become stronger, or just choose a different band for a different exercise. The bands also come in pretty colors allowing you to work out in style.
The only downside we found with these bands is if you're not a beginner you may find the Bala Bands don't have as much resistance as you might want.
How to choose the best resistance bands for women
Tension level. Most resistance bands come in light, medium, heavy, or very heavy tension levels (for the super brave out there). If you're at the beginning of your fitness journey, we'd recommend starting light and working your way up as you go. Those with more experience should try medium or heavy. However, many resistance bands on the market come in a set, so you can always buy one of those and give every level a go!
Fitness goals. The type of band you buy depends heavily on what you're going to be using it for: rehabilitation, improving pull-ups, increasing mobility, or building muscle. It can also depend on the area of the body you're aiming to exercise. Longer bands and bands with handles are better for working out your upper body, for example, while looped fabric resistance bands are good for glute work as they don't roll up on your thighs.
Price point. An advantage that weights have over resistance bands is longevity. No matter how attached you get to your stretchy workout buddy, after heavy use resistance bands start to lose their tension. You want to spend enough money that you get a quality product but not so much that you resent having to purchase a new one once yours is spent.
Now that you have a rundown on the general best resistance bands for women, you can dive even deeper into the world of exercise bands, whether you want to know if latex vs fabric resistance bands will work better for you or how to clean resistance bands once your sweat session is complete. Explore away!
Liv is a freelance journalist currently studying English at university. She loves covering everything from entertainment and politics to lifestyle and travel. As well as writing for My Imperfect Life, Liv has bylines in The Times, HuffPost, Den of Geek, Bustle The Metro and The Bookseller.