What were those 'receipts' Zack from 'Love Is Blind' mentioned during the reunion?
While confronting Irina on the reunion, Zack from 'Love Is Blind' touted 'receipts' posted on his Instagram. But what exactly did they say?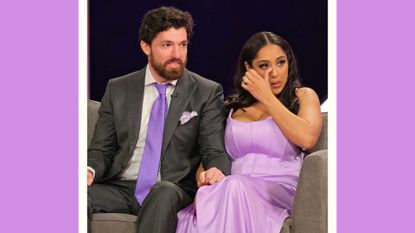 (Image credit: Netflix)
You might have thought that the saga of Irina and Zack, Love Is Blind's onetime fiancés and now exes, was over now that we know that Zack ultimately chose and married Bliss at the end of Love is Blind season 4. But the feud between the former couple was alive and well during that Love Is Blind live reunion (once the stream finally started, of course.)
When Zack Goytowski and Irina Solomonova sat down with the rest of the season 4 cast to discuss what went down in the pods and beyond, it wasn't a surprise that the former went after the latter's bad behavior, especially her treatment of him during their "honeymoon" trip to Mexico.
"You did a lot of things that hurt a lot of people, including me, and, I mean, you only see 10 percent of it on the camera. There was so much stuff that happened that was just unbelievable," the 32-year-old lawyer told Irina.
"Trust me, Irina, Micah, everybody here who did something. We all did something stupid. And so I 100% forgive you Irina," Zack added. "My last comment, I stand on that. I have receipts. The only receipts I think the world should see are the ones I posted on my Instagram today."
So, exactly what receipts was Zack referring to? Here's what we know.
Zack 'Love is Blind' Instagram post: what did he say?
On Sunday, April 16, hours before the reunion aired, Zack posted a series of notes he wrote about his mother and his upbringing on his Instagram page. "When I was going through my mother's things after she died, I found a small note. It was dated shortly after the day that I had sat down with her in that small town in the middle of nowhere. It said 'Somehow she found a little hope in her hopelessness.' We all can be someone's hope in the hopelessness," read the caption. "These are the receipts."
"If there's anything you remember about me. This is what I hope you remember. I believe all life is redeemable. And the one thing we all need is grace," the note began.
Detailing his mother's struggles with mental illness and addiction, the note read: "They are moments that I never would have gotten if I held onto the pain of the past, and chosen not to forgive. Grace isn't fair. But if we choose to give it every day, we make the world a better place for everyone."
Ending his conversation with Irina at the reunion, Zack told her: "I really believe Irina that you will become an amazing person one day. I believe that and I forgive you for what happened and I hope the world does too."
Fans react to those Zack 'Love is Blind' Instagram receipts:
All of us looking up Zack's Instagram for these receipts lol #LoveisBlind4 #loveisblind #LoveIsBlindLIVE #LoveIsBlindS4 pic.twitter.com/FO713yK8NuApril 17, 2023
See more
Anyone else trying to find the receipts that Zack posted on his Instagram??? Help a sister out #LoveIsBlindApril 17, 2023
See more
Receipts?!?!?! 👀👀👀 #gobletgang #zack #LoveIsBlind #LOVEISBLINDreunionApril 18, 2023
See more
Have y'all seen these "receipts" Zack mentioned? Nothing to do with Irina at all. 😑 #LoveIsBlindApril 18, 2023
See more
Everyone heading to Zack's instagram right now #LoveIsBlindLIVE #LoveIsBlindS4 #LoveisBlind4 #loveisblind pic.twitter.com/pKu9UAVPkEApril 17, 2023
See more
Everyone racing to Zack's Instagram #loveisblind pic.twitter.com/t3u0gLuxzTApril 17, 2023
See more
Not Zack bringing the drama, tea and receipts. #loveisblind #LoveIsBlindLIVEApril 17, 2023
See more
NOT ZACK CHECKING IRINA & HE SAID HE GOT RECEIPTS ON HIS INSTA YALL!!!! Fiodfmodjfjen#LOVEISBLINDreunion #LoveIsBlindLIVE #LoveIsBlindS4 #LoveIsBlind pic.twitter.com/W7SmrfAYTvApril 17, 2023
See more
Why did I think that Zack actually had real receipts on his Instagram 😐 #LoveIsBlind #LoveisBlind4 #LoveIsBlindLIVE #LOVEISBLINDreunionApril 17, 2023
See more
Me leaving the Netflix browser to go Google Zack's Instagram account to try to find those receipts #LoveisBlind4 #LoveIsBlindLIVE #loveisblind pic.twitter.com/gfr5wHWXb1April 17, 2023
See more
If these "receipts" Zack is talking about are the lyrics to I Hope You Dance…😒#LoveIsBlind #LoveIsBlindS4April 18, 2023
See more
Christina Izzo is the Deputy Editor of My Imperfect Life.
More generally, she is a writer-editor covering food and drink, travel, lifestyle and culture in New York City. She was previously the Features Editor at Rachael Ray In Season and Reveal, as well as the Food & Drink Editor and chief restaurant critic at Time Out New York.
When she's not doing all that, she can probably be found eating cheese somewhere.